Your sales team members may be superstars, but they need motivation like everyone else. So if your team is struggling or you want to help them achieve their full potential, it's time to motivate them!
With that in mind, I've prepared a list of great examples of motivational emails you can send to your sales team. Let's hit those targets!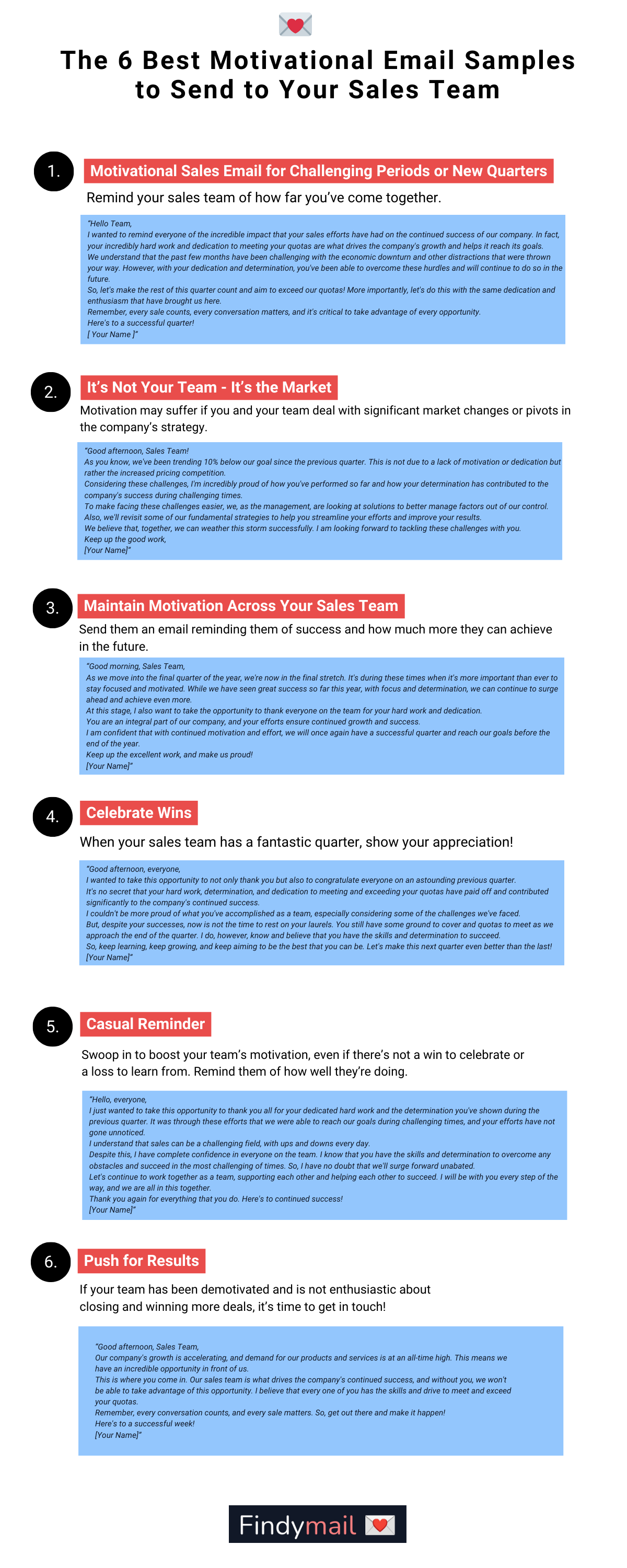 Why Is Motivation Critical to Sales?

You've heard that increased motivation helps your sales team reach its goals and increases focus, but several other benefits flow from this:
Higher engagement. Demotivation is a concern considering everything your sales team has to work through, from cold calls to rude customers and pressure to meet their quotas. And demotivation is a certain road to disengagement.
Keeping your team motivated will increase employee engagement and reduce turnover, keeping your rockstars with your company longer.
Improved productivity. When your team becomes demotivated and disengaged, their productivity suffers. Every task takes longer, deals get stuck in the pipeline, and other team members pick up the slack, inevitably leading to unnecessary stress.
Conversely, when you take the steps necessary to boost your sales team's motivation, you'll encourage them to perform at their best and maintain their productivity.
Increased persistence. Motivation can have a significant impact on your team's confidence. If they're not motivated, they'll have less confidence to sell, handle objections poorly, and lose deals.
Increased skill development. Think of motivation as Perpetuum Mobile: the better your team performs, the more motivated they'll be. All you need to do is jumpstart their motivation so that they're eager to perform better, earn more, and expand their skill sets to keep growing as sales professionals.
Increased sales. Ultimately, when your team is more engaged, productive, and motivated, they'll meet their goals more easily. They'll interact and engage with more customers, hop on sales calls happily, close more deals, and help you generate more revenue.
Motivation improves employee retention. Finally, when your employees are motivated, they'll be more satisfied with their jobs. And when they are, they'll be more loyal and less likely to leave for other companies.
6 Motivation Email Samples You Can Use to Motivate Your Sales Team

Now that you've seen why motivation is crucial for the continued success of your business, the immediate question is: how do you increase and maintain motivation levels in your sales team?
Well, you can do this in many ways, from incentive schemes and regular sales role-play training to effective compensation strategies and more.
One of the simplest ways to keep motivation high, though, is by using motivational emails. You can use these in various situations, from when sales numbers are down to a new product launch or when you want to boost your team's enthusiasm.
No matter what you plan to use motivational emails for, you need to write them correctly. Prep the right attitude and give actionable feedback to make your team members feel appreciated and a part of a team working towards a common goal.
With that in mind, let's look at some examples you can use when writing motivational emails to your team!
Example 1: Motivational Sales Email for Challenging Periods or New Quarters

Remind your sales team of how far you've come together. Simply replace the challenges, goals, and track records we're referencing in our example, and fire away!
"Hello Team,
I wanted to remind everyone of the incredible impact that your sales efforts have had on the continued success of our company. In fact, your incredibly hard work and dedication to meeting your quotas are what drives the company's growth and helps it reach its goals.
We understand that the past few months have been challenging with the economic downturn and other distractions that were thrown your way. However, with your dedication and determination, you've been able to overcome these hurdles and will continue to do so in the future.
So, let's make the rest of this quarter count and aim to exceed our quotas! More importantly, let's do this with the same dedication and enthusiasm that have brought us here.
Remember, every sale counts, every conversation matters, and it's critical to take advantage of every opportunity.
Here's to a successful quarter!
[ Your Name ]"

Example 2: It's Not Your Team - It's the Market

Motivation may suffer if you and your team deal with significant market changes or pivots in the company's strategy. Remind your team that they don't hold all the responsibility, but there are always ways to make the most of sales results.
"Good afternoon, Sales Team!
As you know, we've been trending 10% below our goal since the previous quarter. This is not due to a lack of motivation or dedication but rather the increased pricing competition.
Considering these challenges, I'm incredibly proud of how you've performed so far and how your determination has contributed to the company's success during challenging times.
To make facing these challenges easier, we, as the management, are looking at solutions to better manage factors out of our control. Also, we'll revisit some of our fundamental strategies to help you streamline your efforts and improve your results.
We believe that, together, we can weather this storm successfully. I am looking forward to tackling these challenges with you.
Keep up the good work,
[Your Name]"

Example 3: Maintain Motivation Across Your Sales Team

If you've had a productive quarter and want to ensure your team keeps going, send them an email reminding them of success and how much more they can achieve in the future.
"Good morning, Sales Team,
As we move into the final quarter of the year, we're now in the final stretch. It's during these times when it's more important than ever to stay focused and motivated. While we have seen great success so far this year, with focus and determination, we can continue to surge ahead and achieve even more.
At this stage, I also want to take the opportunity to thank everyone on the team for your hard work and dedication.
You are an integral part of our company, and your efforts ensure continued growth and success.
I am confident that with continued motivation and effort, we will once again have a successful quarter and reach our goals before the end of the year.
Keep up the excellent work, and make us proud!
[Your Name]"
Example 4: Celebrate Wins
Often, managers forget to praise their teams for excellent results while being quick to criticize shortcomings. So when your sales team has a fantastic quarter, show your appreciation!
"Good afternoon, everyone,
I wanted to take this opportunity to not only thank you but also to congratulate everyone on an astounding previous quarter.
It's no secret that your hard work, determination, and dedication to meeting and exceeding your quotas have paid off and contributed significantly to the company's continued success.
I couldn't be more proud of what you've accomplished as a team, especially considering some of the challenges we've faced.
But, despite your successes, now is not the time to rest on your laurels. You still have some ground to cover and quotas to meet as we approach the end of the quarter. I do, however, know and believe that you have the skills and determination to succeed.
So, keep learning, keep growing, and keep aiming to be the best that you can be. Let's make this next quarter even better than the last!
[Your Name]"
Example 5: Casual Reminder
Swoop in to boost your team's motivation, even if there's not a win to celebrate or a loss to learn from. Instead, remind them of how well they're doing and give them the push they need to exceed quotas.
"Hello, everyone,
I just wanted to take this opportunity to thank you all for your dedicated hard work and the determination you've shown during the previous quarter. It was through these efforts that we were able to reach our goals during challenging times, and your efforts have not gone unnoticed.
I understand that sales can be a challenging field, with ups and downs every day.
Despite this, I have complete confidence in everyone on the team. I know that you have the skills and determination to overcome any obstacles and succeed in the most challenging of times. So, I have no doubt that we'll surge forward unabated.
Let's continue to work together as a team, supporting each other and helping each other to succeed. I will be with you every step of the way, and we are all in this together.
Thank you again for everything that you do. Here's to continued success!
[Your Name]"
Example 6: Push for Results
If your team has been demotivated and is not enthusiastic about closing and winning more deals, it's time to get in touch!
"Good afternoon, Sales Team,
Our company's growth is accelerating, and demand for our products and services is at an all-time high. This means we have an incredible opportunity in front of us.
This is where you come in. Our sales team is what drives the company's continued success, and without you, we won't be able to take advantage of this opportunity. I believe that every one of you has the skills and drive to meet and exceed your quotas.
Remember, every conversation counts, and every sale matters. So, get out there and make it happen!
Here's to a successful week!
[Your Name]"
Get Your Team Motivated!
Your sales are only as high as your sales team's motivation. And while you will need long-term strategies to keep them motivated, a sales email can help in a pinch.
It takes only a few minutes to write, but it means the world to your team!