TikTok is now one of the most popular social media platforms, which makes it a great place to gather leads. Plus, because the platform has built-in messaging, it's relatively easy to get in touch with someone, right?
Not so fast! Most people on TikTok don't often check their messages because they're not expecting business communications, so you'll need to send them emails.
So today, I'll show you how to find emails on TikTok and get in touch with your leads!
Why You Shouldn't Rely on TikTok Messages
While you can get in touch with leads through direct messages, you'll often find that your DMs will be ignored. This is simply because there are tons of scammers on TikTok, and one of the best ways to avoid them is to ignore their messages.
In the process, your legitimate (albeit cold) messages will be ignored too.
Also, many professionals prefer email to other forms of messaging. So, even though they might read TikTok messages, they'll be more likely to respond to emails.
Another reason to consider finding email addresses on TikTok is that having email addresses allows you to automate your sales processes.
For example, you could add your TikTok leads to your lead gen list that fits their ideal customer profile.
If you use cold outreach tools, you'll be able to plug their email into the sequence with the highest chances of converting them.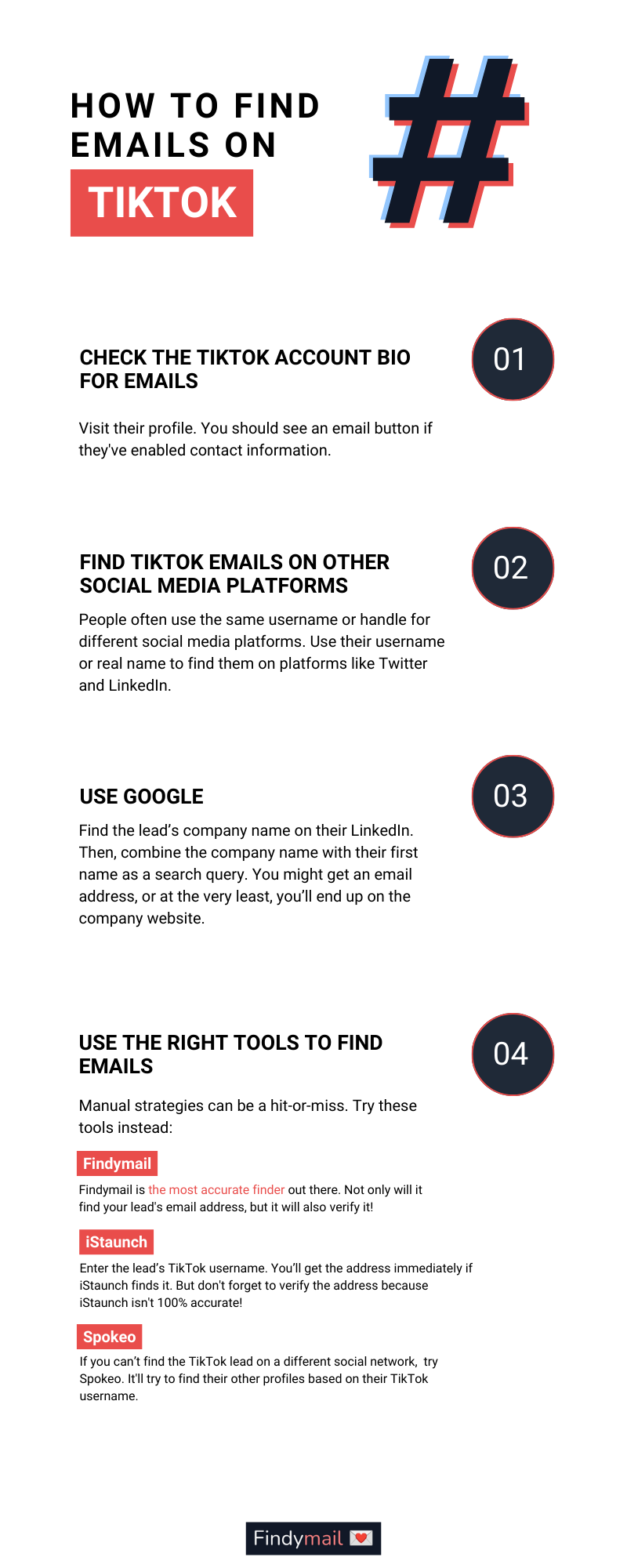 4 Ways to Find Email Addresses on TikTok

1. Check the TikTok Account Bio for Emails
The simplest way to find someone's email address on TikTok is by checking their account bio. Unlike typical TikTok users who use personal accounts, many people use business accounts if they use the platform for their businesses. They'll likely add their email address to their TikTok bio.
To find the email address on TikTok, you'll:
Go to the person's TikTok account by clicking on their avatar. You can also search for the account using the search feature.
Once on the profile page, you should see an email button if the person has added an email address to their account.
Clicking this button will open your email client, ready to send an email.

If they haven't added an email address to their account, they might've added a link to their website or other social media platforms like LinkedIn and Twitter. Grab that information from the bio, and I'll show you how to use it to get their email address in a second!
2. How to Find TikTok Emails on Other Social Media Platforms
If the person hasn't provided an email address in their bio, check their other social media platforms.
For example, people often use the same username or handle for different social media platforms. This means you could use their username or real name to find them on platforms like Twitter and LinkedIn. Here, they might have added their email addresses to their bio:
If they haven't added their email address or social links to their Twitter or TikTok profile, check their personal or company websites for email addresses. You might find them on the About, Contact, or Team pages.
3. Use Google
Now, what if the person didn't add their email address or other social links to their TikTok account?
What if you've already found them on other social media platforms or their website, but you've had no luck finding an email address?
Then, as a last resort, you could also try Google.
Find TikTok Leads' Email Addresses with Advanced Search
Find the lead's company name on their LinkedIn. Then, combine the company name with their first name as a search query. You might get an email address, or at the very least, you'll end up on the company website.
You can also use Findymail. Enter the lead's first and last name, along with their company's domain, and Findymail will find and verify their email address for you:
⚠️ You need to know their name and company first! This does not work for emails of individuals
Manually look up email addresses with Findymail (or do it in bulk!)
4. Use the Right Tools to Find Emails
Now that you've seen (and tried) the tactics you can use to find someone's email address on TikTok, you've probably realized that all these strategies are hit-and-miss. Success isn't guaranteed.
However, the right tools shift the balance in your favor.
iStaunch
Enter the lead's TikTok username. If iStaunch finds an associated email address, you'll get it immediately.
Remember that you should still verify the email addresses you get from iStaunch. Otherwise, your emails could bounce and affect your deliverability.
Spokeo
If you can't find the TikTok lead on a different social network, try Spokeo. Enter their username, and Spokeo will try to find their other profiles.
As a bonus, these addresses will always be verified before you send an email, so you won't waste time or wreck your sender reputation.  
Are you ready to find that TikTok lead's email address?