Welcome back, my fellow sales warriors! If you're feeling the burn of the daily grind and could use a good laugh, then you're in for a treat.
I've scoured social media and YouTube to bring you a collection of funny sales videos that are sure to lift your spirits and give you a fresh perspective on the art of selling.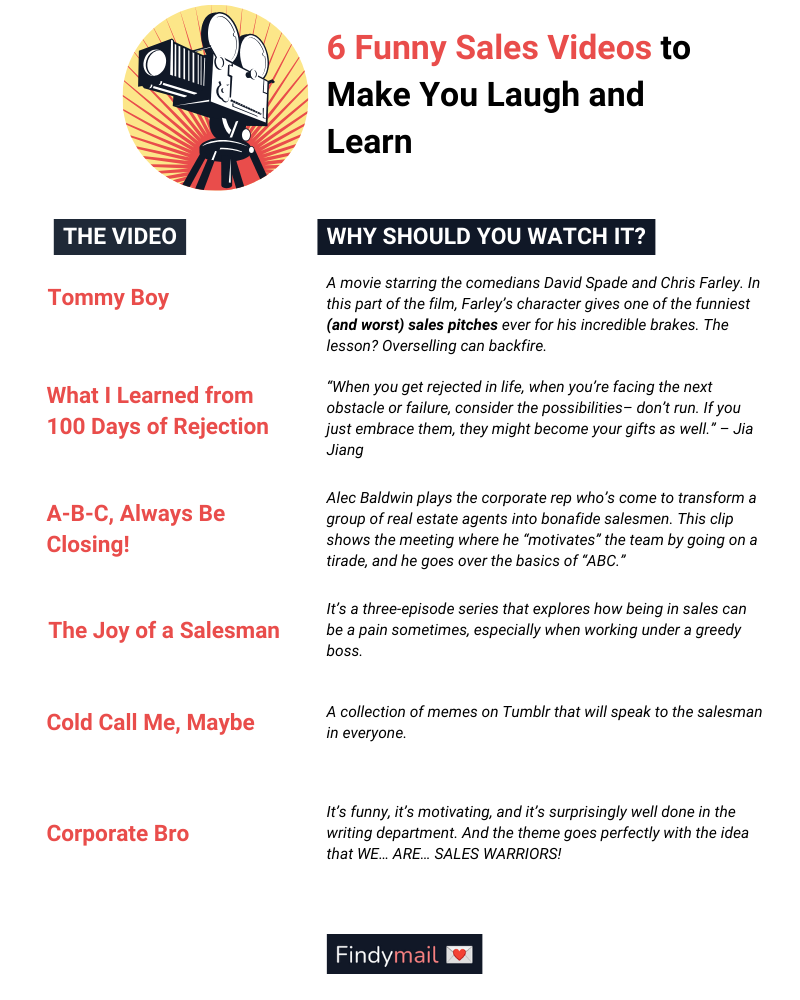 Whether you're a seasoned sales veteran or just starting your first sales job, these clips are guaranteed to put a smile on your face and give you something you can apply to your next sales meetings (or what not to do when giving your pitch).
Dive in and enjoy the show!
1) Worst Sales Pitch Ever?
Our first clip comes from 1995's Tommy Boy, a movie starring the comedians David Spade and Chris Farley. In this part of the film, Farley's character gives one of the funniest (and worst) sales pitches ever for his incredible brakes. While it's hilariously over the top, it does give a good example of how overselling can backfire on you.
The best part for me is when he goes through the whole shebang, setting the car on fire and ending it with: "All because you want to save a few extra pennies…"
Ha! It Gets me every time—definitely a great scene for when you need to get a quick chuckle in.
2) Learning to Deal with Rejection
Our next video is a Ted Talk titled What I learned from 100 days of rejection by Jia Jiang. He delves into what it's like to face one of our greatest fears: rejection. However, Jiang is a fantastic storyteller and comes across as genuine, friendly, and– of course– hilarious.
When you get to the part about the "burger refill," you'll let out a legit chortle. Oh, and the "Olympic doughnuts" is a good one too.
But what I really like about this video is the underlying message Jiang smartly conveys:
"When you get rejected in life, when you're facing the next obstacle or failure, consider the possibilities– don't run. If you just embrace them, they might become your gifts as well." – Jia Jiang
Check out more of my favorite sales TED talks right here.
3) Always Be Closing
Hailed as one of the greatest movie lines of all time, "A-B-C, Always Be Closing!" is a mantra most AEs and sales pros, in general, have an annual subscription to.
This comes from the 1992 movie Glengarry Glen Ross. Sure, some of the humor is a product of its time, but when I need some motivation to start my day, I check it out to keep ABC at the front of my mind.
Alec Baldwin plays the corporate rep who's come to transform a group of real estate agents into bonafide salesmen. This clip shows the meeting where he "motivates" the team by going a tirade, and he goes over the basics of "ABC."
Of course, I'm not encouraging you to go to the dark side as they do in the movie, but there are some principles you can take and adapt, so you keep ABC in the back of your mind.
4) The Joy of a Salesman
If you've worked for a company with messed up practices, you'll get a chuckle– even if it is a little dark– out of The Joy of a Salesman.
It's a three-episode series that funnily explores how being in sales can be a pain sometimes, especially when working under a greedy boss.
That's why I personally took the entrepreneurial route and advocate working with a company that values and appreciates what you bring to them. And if you're in a management position, make sure you hear out your team and keep them motivated.
As the creator says, "If you are in sales, or have ever been in sales, you will get this. If you've never been in sales, you probably won't get it."
5) Cold Call Me, Maybe
OK, we're taking a step away and going over to Tumblr with Cold Call Me Maybe– a collection of memes that speak to the salesman in my heart.
Although it's been a few years since they've made a few posts, it's fun to go back in time with the funny gifs and content that's still relatable today.
And yes, I had Tumblr days too. (I just replaced them with B2B sales books these days.)
6) The Corporate Bro Offers Some of the Funniest Sales Videos
If you're looking for a quick dose of laughs, the Corporate Bro has you covered.
You can check out his Instagram and Youtube for short, 1 to 2-minute-long funny sales videos. There's a lot to choose from, but if I had to pick one for you to check out right now, it would have to be the Gladiator video.
It's funny, it's motivating, and it's surprisingly well done in the writing department. And the theme goes perfectly with the idea that WE… ARE… SALES WARRIORS!
Sorry, I'm watching as I write this, and that gets video gets me pumped every time. If you enjoy this video, you'll for sure love the rest of Corporate Bro's content!
Wrapping Up
Well, that's it for our roundup of the 6 funniest sales videos on the internet! I hope you enjoyed these clips as much as I did and got some inspiration for your next pitch.
If you're hungry for more laughs and learning, be sure to check out the rest of the content I shared. Who knows? You might just find your new favorite cold outreach tool or discover the right questions for high-value prospects.
And if you come across any other hilarious sales videos, don't keep them to yourself! Share the laughter and spread the love on Twitter @Findymail.