Everyone who's cracked the art (and science) of the cold email will tell you there's nothing to it. However, they forget to mention that you'll need a darn good cold outreach tool to automate, personalize, and scale your campaigns.
So today, I'm here to walk you through 10 excellent cold outreach tools (based on use cases). It's time to rock your leads' socks off!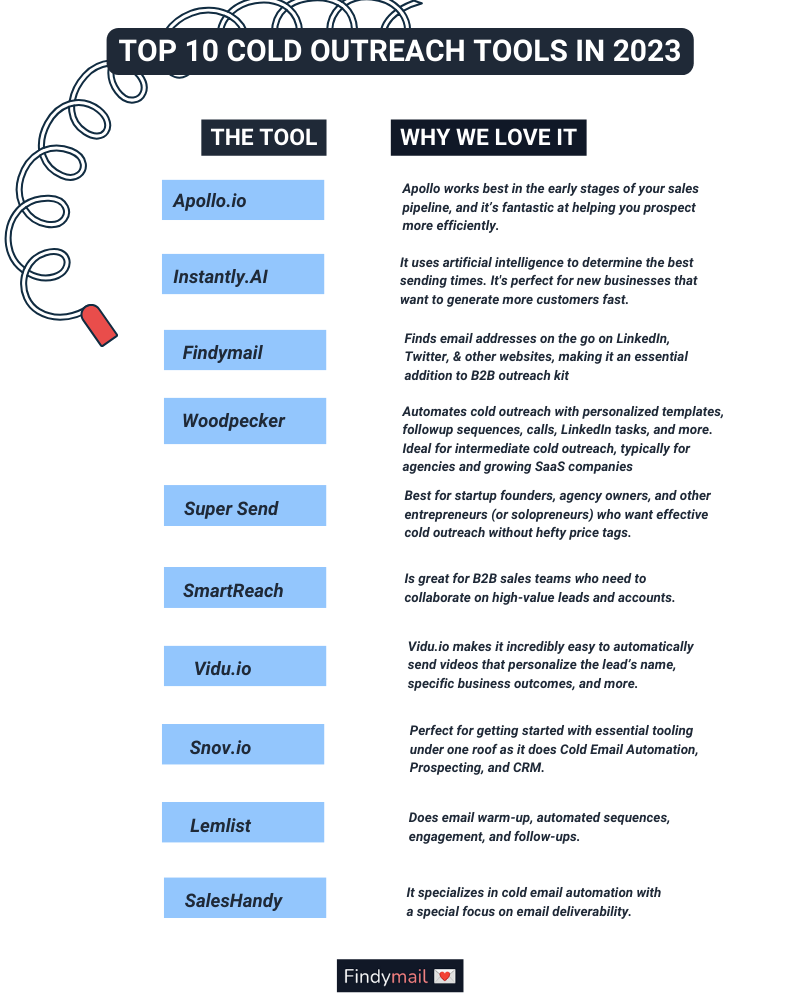 1. First Things First: If You Need a Robust Prospect List, No One Does It Like Apollo.io

Apollo.io isn't lying when they say they're one of the best prospecting sources on the planet.
Their contact database contains over 220 million contacts with verified email addresses and over 200 data attributes, including:
VC funding
Persona match
Engagement activity
Once the leads are in your CRM, Apollo will enrich them and keep you updated on job changes, company news, and other data you can use to time your proposal perfectly (and even personalize your cold email icebreaker).
Apollo also offers sales automation which includes our favorite cold emails. You can use customized and personalized cold email templates, automate other follow-up tasks, and more, so it's a great way to scale your B2B outreach efforts.
The one thing that gets me excited about Apollo is the new "Buying Intent" feature. They compare available company data online to help you determine when a company is interested in purchasing.
Who Should Use Apollo.io?

Apollo works best in the early stages of your sales pipeline, and it's fantastic at helping you prospect more efficiently.
Its relatively affordable starter paid plan at $49/mo makes it simple to use, even if you're an entrepreneur or part of a small sales team.
However, it won't always find every lead's email address, so I recommend pairing it with Findymail's Apollo scraper.
2. Scaling Your Cold Outreach with Instantly.AI

Finally, Instantly is an interesting cold outreach tool because of its AI features. Don't get your hopes up, though: no one's going to write your cold emails for you.
However, Instantly will use artificial intelligence to determine the best sending times.
Otherwise, Instantly's cold outreach offer is pretty standard, starting from email warmup, inbox rotation, and customized cold email campaigns.
Who Should Use Instantly?
Instantly is perfect for new businesses that want to generate more customers fast. There are no bells & whistles - what you see is what you get, and in most cases, it'll be enough to generate momentum.
The dashboard is highly-visual, so even if you're new to cold outreach, you'll have no trouble setting up the initial and follow-up campaigns.
With some of the more advanced plans (Instantly starts from $37/mo), you'll also get email deliverability insights, A/B testing, and the ability to collaborate with team members.
3. Your Cold Outreach Is Only as Effective as Your Contact Information (but Findymail Can Help)

Findymail doesn't offer cold outreach, but it makes your lead lists more effective.
Suppose you've got a huge list of Sales Navigator leads. What's next? Sending countless connection requests and InMails?
With Findymail, you can bulk-export your Sales Navigator leads, get and verify their email addresses, and upload them as .CSV to your preferred outreach tool.
Go from this…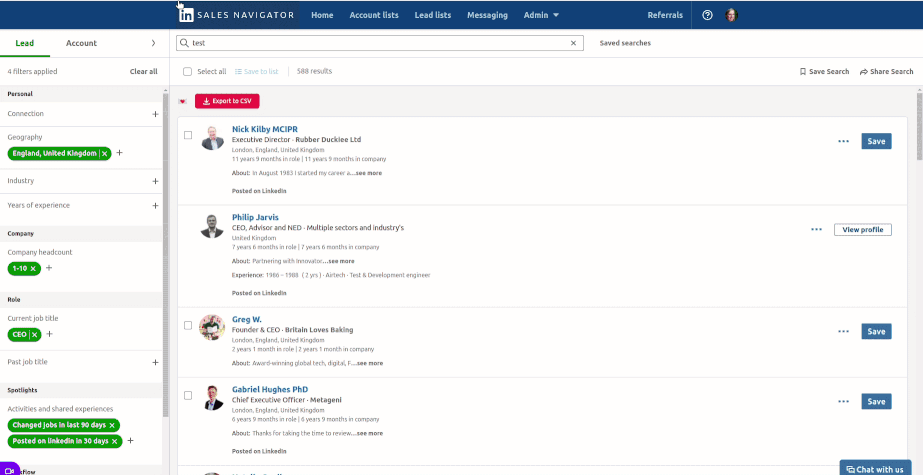 To a list complete with your leads' email addresses:
Similarly, Findymail can export your Apollo contacts, verify their emails, and clean the data, so your emails don't result in bounces.
Find Anyone's Email Address (Yes, Even on LinkedIn)

With Findymail's Chrome extension, you can also find email addresses on the go on LinkedIn, Twitter, and websites.
Even if you already use a different email finder, it's worth ensuring total accuracy when you consider that $49/mo gives you 1000 verified emails and the ability to find emails within your Google Sheets just by using the right formula.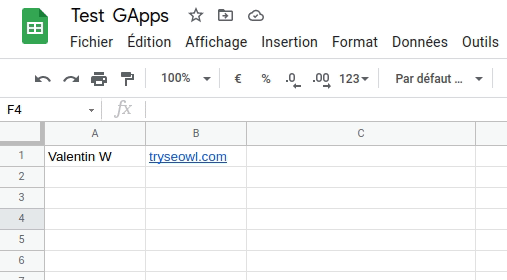 Who Should Use Findymail for Cold Outreach?

Findymail is a great addition to any B2B outreach kit, so you can use it as a newbie who needs verified email addresses and as an experienced outreach professional who wants to increase their deliverability.
4. Woodpecker Is Still One of the Best Cold Outreach Tools

… and for a good reason. These days, you can throw a stick without hitting a Woodpecker user. This handy platform automates cold outreach with personalized templates, follow-up sequences, calls, LinkedIn tasks, and more.
Although, if I'm being honest: you'll mostly use Woodpecker for your cold email sequences.
As part of its cold email suite, Woodpecker offers:
Deliverability monitoring
Engagement monitoring
Inbox warming
You can modify your follow-up sequences based on the prospect's behavior, so you never email them too much or make them wait for a response.
Who Should Use Woodpecker?

Woodpecker is a great choice for intermediate cold outreach, typically for agencies and growing SaaS companies. Unfortunately, the more people you want to contact per month (and the more inboxes you want to use), the higher your price, so it's not well-suited to scaling.
5. Just Want to Score Your First 100 Customers? Try Super Send

Super Send is a new contestant in the cold outreach space, but it's proving to be an all-in-one for entrepreneurs and startup founders who want to land more customers (and not boil the ocean with intricate sales automation).
You'll be able to schedule automated sequences across multiple channels, including email, Twitter, and LinkedIn. They're easy to set up and fully support all the cold email goodies like spintax.
If you're new to cold outreach, you'll also get email inbox warming and inbox rotation, so your email deliverability doesn't get affected even if you want to reach out to thousands of leads every single day.
Who Should Use Super Send?
So far, it's proven to work best for startup founders, agency owners, and other entrepreneurs (or solopreneurs) who want effective cold outreach without hefty price tags.
Super Send starts from $50/mo for 5,000 messages sent. Compared to other tools in this category, it's significantly more affordable.
Keep in mind that you'll need lead lists and email addresses first, which leads me to the following tool…
6. The Best Cold Outreach Tool for High-Touch Prospects: SmartReach
When reaching out to high-touch prospects or CEOs, every part of your cold outreach strategy should be pristine.
Fortunately, SmartReach was built with account-based sales in mind. It offers all the standard cold outreach features (automation, deliverability, collaboration) with the addition of workflows and flashy new features.
Automated time zone detection (send emails when your prospects are working)
Merge tag
Liquid syntax

The workflows are a nice touch. For example, if a prospect doesn't express interest after a few follow-up emails, you can automatically add them to the "Do Not Contact" list.
Who Should Use SmartReach?
SmartReach is great for B2B sales teams who need to collaborate on high-value leads and accounts.
If you want to strengthen your credibility, SmartReach ensures your emails are perfectly timed and your inboxes warm. You'll also get detailed insight into the health of your accounts.
SmartReach starts from $99/month for five users. You'll be able to contact up to 5000 prospects through unlimited campaigns and follow-ups.
7. Personalize Your Videos, Memes, and Images with Vidu.io
We've all gotten used to using spintax and templates, but humans are visual creatures. Why not include personalized visuals in your next cold email?
Vidu.io makes it incredibly easy to automatically send videos that personalize the lead's name, specific business outcomes, and more. Another neat way of standing out to your prospects once they've opened your email is using memes and gifs.
Once you choose a template, simply plug Vidu.io into your standard cold outreach tool, and you'll be good to go!
Who Should Use Vidu.io?
Any sales rep who needs to make an impression.
You can use it if you're a solopreneur to grab attention or scale the approach with your entire sales team if you're a manager. Visual personalization is universally powerful!
The best part is that Vidu.io isn't even that expensive. Initially, I expected four-figure sums, but it offers a free plan for up to 30 gifs and memes per month. Paid plans start from €29/month, but you'll need the €69/month/user plan for personalized videos.
8. Cold Email Automation, Prospecting, and CRM: Meet Snov.io
Snov.io describes itself as a sales toolbox, which is pretty accurate. It's almost an all-in-one tool; the only thing missing is a beefier prospect database.
However, you can scrape email addresses based on domains, and Snov.io has a Chrome extension to get emails on the go. Plus, you'll get a technology checker, too.
Once you've found (and verified) the lead's email, you can add them to your Snov.io CRM. If you're not drinking the Salesforce kool-aid yet, you might like this CRM's approach to organizing deals and keeping your pipelines in context.
(It's free, too!)
Who Should Use Snov.io?
Snov.io is perfect for startups and small, agile sales teams in general. Once you scale to 50+ people, you'll probably need a more robust CRM.
However, Snov.io is perfect for getting started with essential tooling under one roof.
Plus, it's pretty affordable, starting from $39/mo.
9. Lemlist: Cold Outreach and Personalization
Lemlist covers all the essentials: email warm-up, automated sequences, engagement, and follow-ups.
But what it does better than any other tool in the all-in-one range is personalization.
In addition to personalizing your emails with liquid syntax, you'll also get personalized images and landing pages.


You can also create sequences for your team, so even if there are hand-offs between different sales roles, you'll keep everyone on the same page with cold email and call schedules, custom tasks, and more.
As you expand your outreach to multiple channels, Lemlist will support you with LinkedIn workflows, video prospecting, and more.
Who Should Use Lemlist?
Lemlist is pretty helpful for any growing company with a lead list. The landing pages are a nice touch for strengthening your personalization game.
However, keep in mind that Lemlist starts from $59/month/user, and you'll need the $99/month/user plan to get custom landing pages. This can be off-putting unless you're flying solo or have a decent tech budget.
10. Focusing Exclusively on Cold Email? You'll Love Saleshandy
If you know cold email works for your business and you don't want to dabble in cold calls, vast sales processes, and other add-ons, try Saleshandy.

It specializes in cold email automation with a special focus on email deliverability. For example, if one of your emails bounces, Saleshandy will pause your entire sequence so you can review the recipient list.

After setting up your cold email sequence, you can create your follow-up plan. Each campaign can have up to 10 stages, giving you plenty of options to win over your prospects.
Who Should Use Saleshandy?

Saleshandy is perfect for teams who focus on cold email. Though, you'll find it very useful even if you're not a cold outreach pro. It makes sending effective cold emails incredibly simple with email warmup, verification, and other goodies in the toolbox.
Automating your outreach with Saleshandy starts from $27/month for up to 10k emails.
Is There One Cold Outreach Tool to Rule Them All?

While every tool wants to promise it's the only piece of software you'll need for cold outreach, the reality is different.
When you first start your cold outreach efforts, it'll be enough to have an email finder like Findymail and a tool like SuperSend or Woodpecker to automate your efforts.
However, as you scale, you'll find yourself needing more power. You'll need Apollo for basic prospecting, Findymail for verification (and tracking down email addresses that Apollo can't find), cold email template tools, and your standard sequence automation tools.
The makings of any successful outreach pro are in their tech stack. Start testing the right tools early, and you'll have your winning stack by the time you need to scale!