You could be a darn good seller, ace every sales meeting, and negotiate better than Warren Buffet, but you'll need great prospecting if you ever want to make it to the pitch. But if you're struggling - you're not alone. I used to struggle with prospecting, as do 42% of sales reps.
The good news is that I've tested hundreds of approaches, all to bring you the 11+ best prospecting strategies to boost your forecasted revenue this year:
Build a fresh ICP
Plan to prospect consistently
Use the Cold Calling 2.0 method
Follow-up
Find hard-to-reach prospects
Automate sales referrals
Break the ice with small gifts
Scale personalized cold emails
My favorite cold call framework
Use inbound prospecting
Do offline prospecting properly
Try omnichannel prospecting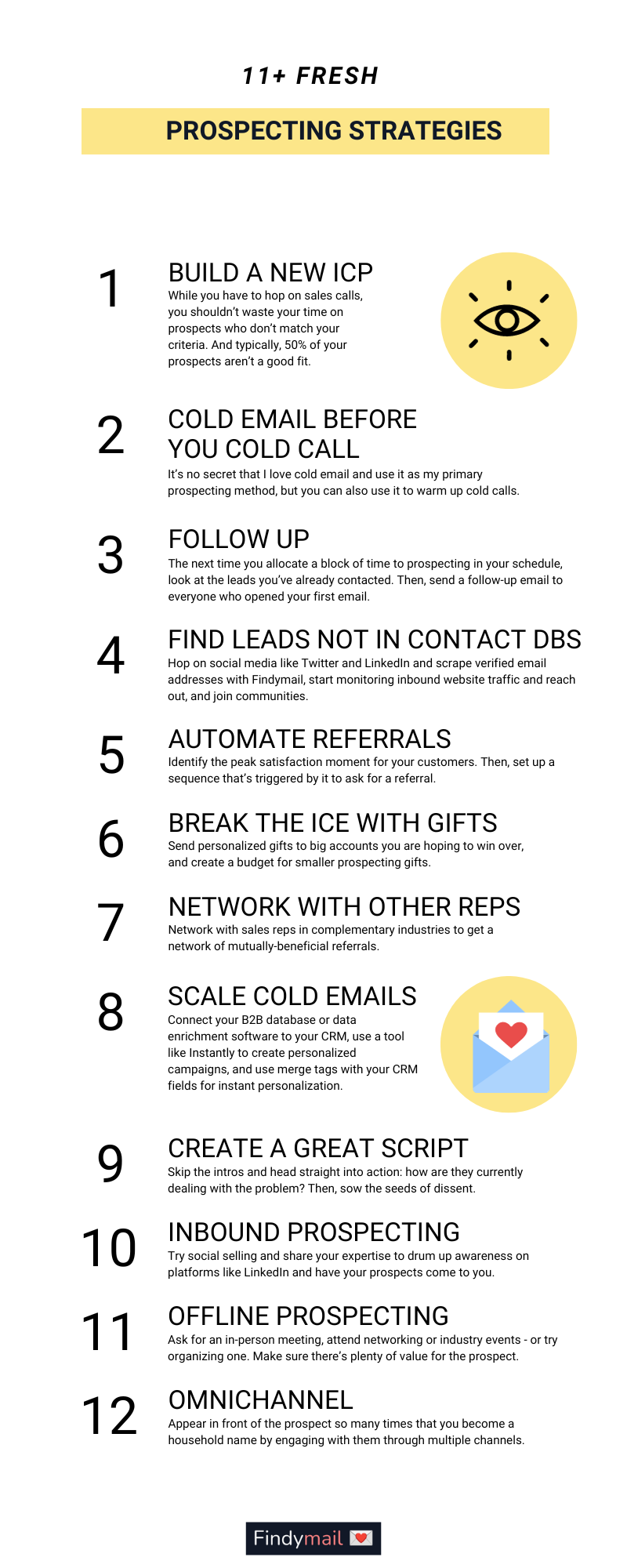 Ready? Let's dive in!
The Top 11+ Prospecting Strategies
1. Problems of Output Are Problems of Input
As if they work for Nike, many sales reps I talk to subscribe to "just doing it." While you have to hop on sales calls, you shouldn't waste your time on prospects who don't match your criteria. And typically, 50% of your prospects aren't a good fit.
How to Filter for Ideal Prospects
When assembling your lead lists, be extremely critical and qualify leads like that's your sole purpose.
Nail your ICP down to the details, including technographic and behavioral signals. Use a data enrichment service.
Model your ideal prospect based on your best customers. Who do you convert the easiest, and who brings the most revenue? Use that data to find the right prospects at scale with a B2B contact database.
Keep your ICP fresh. Your prospects' priorities constantly change. Regularly verify your prospect data to update organizational relevance and remove leads that no longer fit.
How to Consistently Prospect
I don't want to sound like a sales guru, but consistency really is critical. You can't win deals if your sales pipeline is empty because you haven't been prospecting consistently.
Once you find your ideal strategies (read on) and buyers, automate tasks with cold outreach software to ensure your lead pool doesn't dry up.
I recommend checking out one of the best B2B sales books, Jeb Blount's Fanatical Prospecting. As Blount explains:
"Time blocking is transformational for salespeople. It changes everything. When you get disciplined at blocking your time and concentrating your power, you see a massive and profound impact on your productivity."
He emphasizes the importance of data when evaluating your prospecting activities; are you wasting your time on methods that feel like pulling teeth to both you and your ideal prospects?
Track your prospecting activities and results. Then, adapt accordingly.
Your prospecting mix could be 60% cold calls, 20% cold emails, and 20% in-person prospecting. It could also be 90% email and 10% social. But you need to have that data to know what's working.
Prospect. Then, prioritize.
2. Cold Calling? Start with a Cold Email to Warm up Prospects
It's no secret that I love cold email and use it as my primary prospecting method, but you can also use it to warm up cold calls.
Aaron Ross calls the approach Cold Calling 2.0, which he used to generate $100M in ARR for Salesforce. As he explains:
"The tipping point of the Cold Calling 2.0 process was born: sending mass emails to high-level executives to ask for referrals to the best person in their organization for a first conversation."
The trick is that you'll now be talking to people who know to expect the conversation. Typical cold calls interrupt the prospect's day. Cold Calling 2.0 gives you a foot in the door, so you can focus on convincing and negotiating faster.
(Plus, that intro from their manager can be really powerful! 😉)
Cold Calling 2.0 Prospecting Strategy
Identify the prospect.
Send an email to the prospect's higher-up or manager.
Use a compelling subject line to stand out in the inbox.
In the email, ask to speak to the relevant person about the problem the company has and your product can solve.
When you get a response/introduction, ask to hop on a call - effectively turning your cold call into a much warmer conversation.
If the targets themselves don't respond (but the managers do), you can still cold call and use the "They're expecting my call" argument to bypass the gatekeeper.
3. Add Following up to Your Prospecting Strategy
Raise your hand if you haven't looked at your lead list since making the first contact. Good - we're about to change that.
Your sales cycle is long if you're in a typical B2B industry. You're not selling $10 jewelry; you're selling an offer that requires your leads to think about it. 90% of your prospects need time alone to do their research, but most don't mind engaging with you.
So the next time you allocate a block of time to prospecting in your schedule, look at the leads you've already contacted. Then, send a follow-up email to everyone who opened your first email.
(If you want to follow up with prospects who haven't opened your email but are a good fit, resend it with a new subject line.)
Send a standard, polite follow-up email or add more value to the conversation by sharing a specific resource.
Personally, I recommend following up at least once. If you hear back from the prospect, but the conversations are spotty, keep following up. Typically, 80% of sales are made after the fifth follow-up contact.
4. Find Leads that Aren't in the Contact Database
I know; contact databases are more scalable when you're prospecting for hundreds and thousands of leads at once. But if you're looking for your next white whale, consider prospecting manually:
Hop on social media like LinkedIn and Twitter to identify leads that might not be on your list yet. (Install the Findymail email finder extension to get their verified email while browsing.)
Collect information on the leads visiting your website pricing and case study pages.
Join networks and communities your ideal prospects use—for example, Slack groups.
Once you've identified the lead, it's time to get their contact information!
How to Get a Prospect's Email Address
I already mentioned Findymail - an email finder allowing you to export lead data (with contact info) from Sales Navigator and Apollo.

I built it because, just like you, I wanted to find prospects worth my time. But their email addresses weren't in the typical contact databases.
That's why Findymail uses proprietary algorithms to track down the correct email addresses. They're verified, so you won't waste credits on addresses that might bounce (as is the case with most contact DBs). You can even use it as a Google Sheets formula!

5. Automate Asking for Sales Referrals
Start reaching out to happy customers to see if they have anyone in their network that's struggling with the same problem your company helped resolve.
Identify the peak satisfaction moment for your customers. (In my experience, that's when they see the first optimal results pour in.)
Then, get in touch via email and ask for a sales referral with an introduction.
6. Break the Ice with a Small Gift
There are two ways to use this prospecting strategy:
Send Gifts to Qualified Prospects
If you use account-based marketing and sales or smarketing, list the top prospects who fit your ICP criteria. Then, send them a meaningful and personalized gift. It can be anything from a relevant conference ticket to customized comic books.

Now, that's how you sell to a large enterprise account!
Budget Gifts for Prospecting
Try a smaller, less personal gift if you want to cast a wider net or conserve your budget. For example, you can gift them a New Yorker subscription or a book, like this Reddit user:
A small token of appreciation like a book goes a long way towards helping you bypass the gatekeeper, break the ice with the prospect, build rapport, and establish a more personal connection.
7. My Favorite Prospecting Hack: Network with Sales Reps in Complementary Industries
This is a slight variation on the sales referral prospecting strategy, but it can be really useful.
Let's say you offer an email finder tool as I do with Findymail. You'd connect with sales reps (or founders) who offer complementary products like cold outreach automation.
When someone gets in touch with you asking for the best cold outreach tool, you point them to the other company's rep. And vice versa.
All you have to do is make mutually-beneficial introductions. Of course, you don't want to shill a bad product. Make sure their product is a good fit for your audience because you do want to increase your authority in front of your existing customers with an excellent recommendation.
Network with Your Own Vendors
If the fit is there, contact the Account Executives at companies you buy from and say you want to partner up. Maybe there's a good fit between accounts, or you can create sales collateral together. Either way, they'll be more incentivized to help you since you're already working together.
8. Scale Personalized Cold Emails
Whenever I see a generic cold email in my inbox, I get this sudden urge to facepalm. Think: "Quick question" as the subject line, followed by a long-winded email that doesn't mention me or my company's needs - just what this "expert" can do for us.
There's literally no reason to do it these days, not when it's so easy to scale personalized cold emails.
Connect your B2B database or data enrichment software to your CRM.
Use a cold outreach tool like Instantly.ai to set up personalized campaigns.
Use merge tags and connect them with fields from your CRM to supplement information.
And fire away!
For example, you can send an email that sounds super personal just based on the information you've collected:

Replace the content in the red boxes with merge tags, auto-populate with data enrichment information, and you'll be good to go!

Make the prospect feel like you researched their specific situation, from specific challenges and goals to industry-relevant case studies. Cover the key points with your email, including the 4 why's:
Why act? -> Agitate on the pain points and explain the benefits.
Why now? -> Explain why now is the perfect time.
Why us? -> What makes you uniquely qualified to help the prospect? Reference relevant industry experience, customers, or research.
Why trust? -> Reference previously attained results.
The four why's in action.

When you've mastered the foundational cold email automation, branch out into follow-ups, drip campaigns, and more.
Spice up Your Cold Email Prospecting with Personalized Images and Videos
Most cold email tools these days have started offering image personalization.
Think memes (I do love a good meme) or a pic of you, inviting them for virtual coffee.

A bit too presumptuous for my liking, but check out that image personalization! Merge tags give me life.

Similarly, tools like Vidu allow you to create personalized videos. This is a great option for an introductory email and helps you connect personally with the prospect.
If you pair it with a good subject line, you'll see way higher click-through and booking rates on your cold emails.
9. The Best Framework for Cold Call Prospecting Scripts
Many salespeople like using pleasantries. While this might work for some prospects, if your prospects are busy and shoulder a lot of responsibility, skip straight to business.
I love the Route, Ruin, Multiply framework:
Identify the key priority for this stakeholder. The more specific, the better. For example, it could be the risk management strategy, user acquisition strategy, etc. Talk about high-level goals to heighten the importance of the conversation.
On the call, skip the intros and head straight into the action. This will increase the urgency, making the prospect feel like you know something they don't.
"This is [your name] from [your company]. Who's in charge of your [priority] strategy?"
If you're talking to the person in charge, ask them how they currently handle it.
"Great. How are you handling it now?"
If they're not the stakeholder, ask to be referred.
When they respond, whether that's to say they use a different vendor or handle it internally, you'll want to sow the seeds of dissent.
"Got it. So, how's that/how's using [existing vendor] working out for you?"
Pause there. No one's process is perfect, and neither is any software vendor. Chances are, frustrations will bubble up. They'll think of at least one thing that's not working for them right now.
If they talk - use it to create an angle to sell your product.
If they're happy with their existing solution - if they don't sound convincing, try to suss out problems based on previous conversations. Alternatively, pitch your service as an upgrade to their existing stack and reference other similar companies that worked with you and the results you generated.
Constantly measure and iterate on your scripts. You can even create evaluation rubrics for every call, measuring which parts of your script the prospect responded best to and which put them off.
10. Inbound Prospecting Strategies
Prospecting is primarily outbound, but you should still try attracting your prospects (instead of the other way around). Plus, 79% of prospects want their sales reps to be trusted advisors.
Put your sales conversation knowledge to work; start building your digital footprint.
Social Selling
In addition to delivering 40-50% more business, social selling is a great way to tap into the networks your target prospects know and trust. Ask your best existing customers about their influencers and the publications they follow.
Then, produce content to build a brand based on resolving your customers' challenges. You or your marketing team can even contact influencers for collaboration.
Keep an open mind regarding the communities and people your prospects trust. Don't assume - go out there and find out where exactly they're hanging out and whose content they're reading every day.
For example, LinkedIn groups are more or less dead. Slack communities, on the other hand, are thriving.
Share Your Expertise
Share your case studies online in the right formats, depending on your prospects' preferred social networks.
Similarly, don't be afraid to hop on Reddit and Quora to answer questions and prove you're great at resolving X challenges for Y companies.
You can even host a webinar to resolve a specific challenge for multiple prospects at once and move them through your funnel.
One caveat to building your presence for inbound prospecting is that it's a long-term investment. If you frequently switch careers or industries, it may not be as useful. But if you've been selling your own product or you plan to continue working in the same industry, owning a network will be immensely helpful.
11. Offline Prospecting Strategies
If you work in outside sales (or just want to try something new), you'll need the right offline prospecting strategies to help you:
Start with a conversation or an email exchange first, then mention you're in their area. Make sure you assess their level of interest correctly, especially if you're traveling only to meet them.
Organize an event. For example, get your company on board for creating a lunch & learn. It's often a great way for your prospects to get out of the office and get valuable knowledge in return.
Make sure there's value in it for them. If you're asking to deliver a presentation at their HQ, you need to convince them they'll get value out of that meeting alone. This means sharing research, relevant case studies, or takeaways they can implement (even if they don't agree to your proposal).
Walk-ins? Be careful. Do detailed research before you appear in their HQ, and frame the visit politely.
12. Hard-to-Reach Prospects? Use Omnichannel Prospecting Strategies
If your ideal prospects are busy CEOs, who skim-check their inboxes, try omnichannel prospecting strategies.
The key is to appear in front of them enough times for your name to ring a bell once they check their email.
For example, you could use the following approach:
Send them a cold email
DM them on Twitter
Follow-up with a case study via email
If you can also add ABM and retargeting ads to the mix, more power to you!
Be mindful of the value each message provides. Understand their buying situation; they may need to discuss the offer with multiple stakeholders, weigh it against their budgets, etc.
Address those objections and streamline the process for them as much as possible.
Best Practices for Prospecting
Don't Sell Right Away
Warm up your prospects first! Your first conversation (especially in complex sales) should be focused on understanding the prospect by asking high-value questions.
Get to the bottom of their pain so you can present the perfect, tailored pitch.
Learn from Closed-Lost Deals
I love the smell of a closed-won deal in the early morning almost as much as I love my morning coffee. The truth is, though, you can't win every deal - but you do need to know what went wrong.
Schedule a follow-up email asking the prospect what went wrong. You can say you're closing the accounts for the year, and you're curious about what you could have done better.
You may find that the prospect wasn't qualified enough (a good signal to strengthen your qualification process), your tactics weren't convincing enough, or a third thing entirely.
Use the Right Tools
Technically, you can do all of this manually, but it's never going to scale. Your sales game is as scalable as your tools, so make sure you've got the right tools in the kit:
Measure and Improve Your Prospecting Strategies
Finally, get your sales KPIs in order.
You can track everything from conversation length and quality to cold email response and open rates.
Then, choose the most important metrics. Depending on your volume, you can choose optimization areas for each week. For example, you might work on your cold call conversions one week, and your email deliverability the next.
Stay on Top of Your Game with the Right Prospecting Strategies
The more people I meet, the more I'm convinced that sales folks are the most creative ones. And while we'll think of all sorts of shenanigans to woo prospects (one Redditor even found a restaurant that was struggling and rented a private lunch room for their prospects), what matters is that we stay creative.
A few years ago, generic cold emails worked. These days, you can't get anywhere without a personalized cold email.
Start by adding proven tactics to your sales plan. Then, put your own creative spin on it. If you intrigue the right prospect with your outreach, you'll be able to make them do anything.