Did you know that email brings a whopping ROI of $36 for every $1 spent? Or that it helps convert 40x more leads than Facebook or Twitter?
That's right; email is still one of the most powerful tools in your marketing arsenal.
Of course, there's a catch. It's only effective if you can get real, verified emails for your targets.
And let's be real, finding those emails can be a pain in the you-know-what. I've tried all sorts of email finder tools over the years, and I've gotta say, most of them left me pretty frustrated.
My emails would bounce and negatively affect deliverability– not cool.
In the end, I decided to build my own email finder tool, Findymail. It's been a game-changer for me, and it's easily my #1 tool for finding verified emails.
But I know that not everyone has the time or inclination to build their own tool, so I've put together a list of the 15+ best email finder tools for lead gen.
Let's get started!
The Top 15 Email Finders for Lead Gen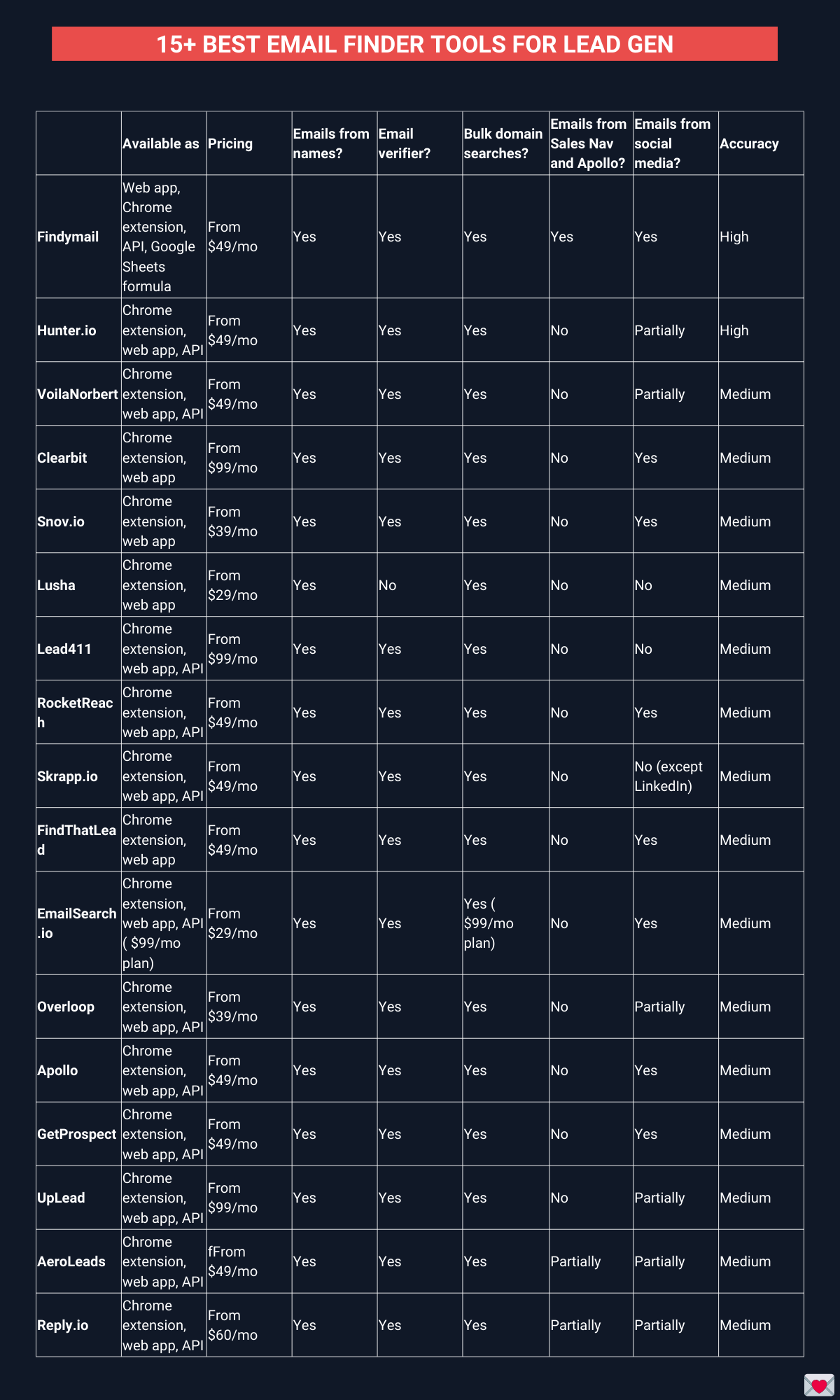 #1 Findymail
Price: Starts at $49.00/month (10 FREE credits available)
Available as: Chrome extension, API, web app
Okay, I know what you're thinking– "Of course, you're putting your tool at the top of the list." But hear me out: Findymail is the real deal.
It uses a proprietary algorithm to verify emails and can get emails from names and social media accounts like LinkedIn and Facebook. Plus, it offers bulk domain searching and can scrape lead gen tools like Sales Nav and Apollo.
(Findymail also integrates easily with Instantly, one of the best cold outreach tools out there.)
Want to see it for yourself? Try Findymail - your first 10 credits are on me!
#2 Hunter.io
Price: Starts at $49.00/month (free trial)
Available as: Chrome extension, web app, API
Hunter.io is a solid email finder tool with a team account option, making it an excellent choice for businesses. It allows you to search by name or domain, features bulk searching, and can scrape Twitter for emails. It can verify emails and has an email tracker, but it charges credits for both searching and verifying emails.
Unfortunately, it doesn't work with LinkedIn, which may be a dealbreaker for some users.
Overall, Hunter.io is a reliable option for finding verified emails.
#3 VoilaNorbert
Price: Starts at $49/month (free trial available)
Available as: Chrome extension, web app, API
For those who need to find emails quickly, VoilaNorbert is worth considering. With features such as bulk domain and name searches, and the ability to search LinkedIn for emails, it's easy to see why it's a popular option. It also offers an email tracker, campaign sending, and drip campaigns.
However, VoilaNorbert can be hit or miss when finding valid emails. And in some cases, it may not find any emails at all.
#4 Clearbit