Sales referrals add crucial trust between you and a new prospect. However, they often fall to the side in an effort to close the next best deal. So today, I'll show you how to ask for top-notch sales referrals and automate the process with email templates.
Let's dive in!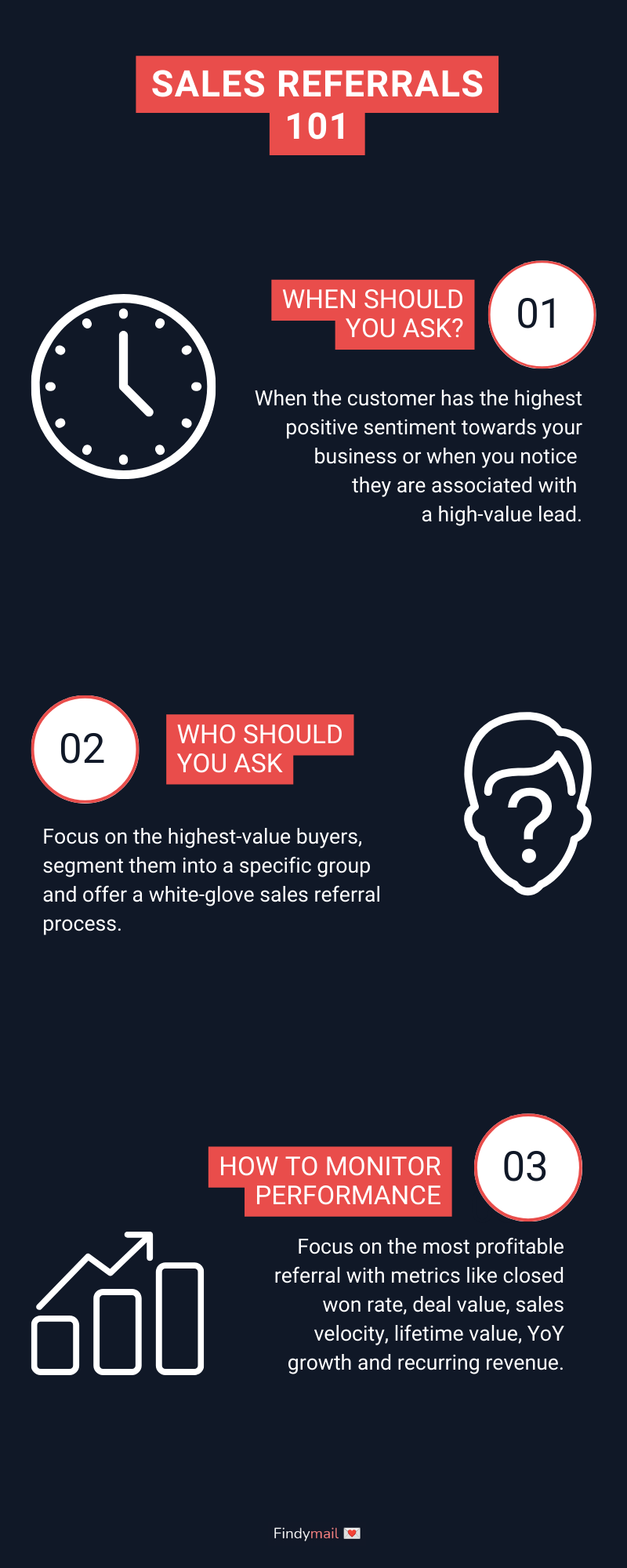 1. Meet Your Sales Referral Strategy
No matter how strong your sales pipeline is, referrals are still one of the best ways to close more high-value deals faster. 90% of business purchasing decisions are made through peer recommendations, and B2B companies frequently see faster closing times when sales come through referrals.
But as we create cold email sequences, we tend to forget about sales referrals. Sometimes it's because we're unsure about the timing. Other times, we simply don't know how to ask appropriately.
When Should You Ask for a Sales Referral?
Ask for a sales referral when the customers have the highest positive sentiment towards your business. (Track it with NPS surveys.)
Other times to consider asking for a sales referral include:
Peak engagement with your brand and/or product
Upgrades and milestone moments
After they leave positive feedback in an internal survey or online
You can also ask for a sales referral and an introduction when you notice that a customer is connected with a high-value lead.
Who Should You Ask for a Sales Referral?
You don't lose anything by asking as many satisfied customers as possible. However, if you're angling for the highest-value buyers, segment them into a specific group and offer a white-glove sales referral process.
For example, you can ask all your satisfied customers to refer other peers to you programmatically with a scheduled email marketing campaign. Team up with your marketing colleagues through smarketing to get even stronger referrals!
However, you should get the timing right and prepare personalized communication templates for your highest-value segments. Think of CEOs and CMOs in established companies who frequently attend high-profile events and connect with other professionals in your target audience.

How to Monitor Your Sales Referral Strategy Performance
Every referral is different, and you want to double down on the most profitable ones. Look at the following metrics to understand how each referral affects your revenue:
Deal value
Sales velocity
Lifetime value
YoY growth
Recurring revenue
If you're using different approaches, evaluate them separately. For example, you may find that programmatic sales referrals don't perform as well as one-on-one requests for introductions. This is normal, but the insights will help you improve your process in the future.
2. How to Ask for Sales Referrals: 2 Methods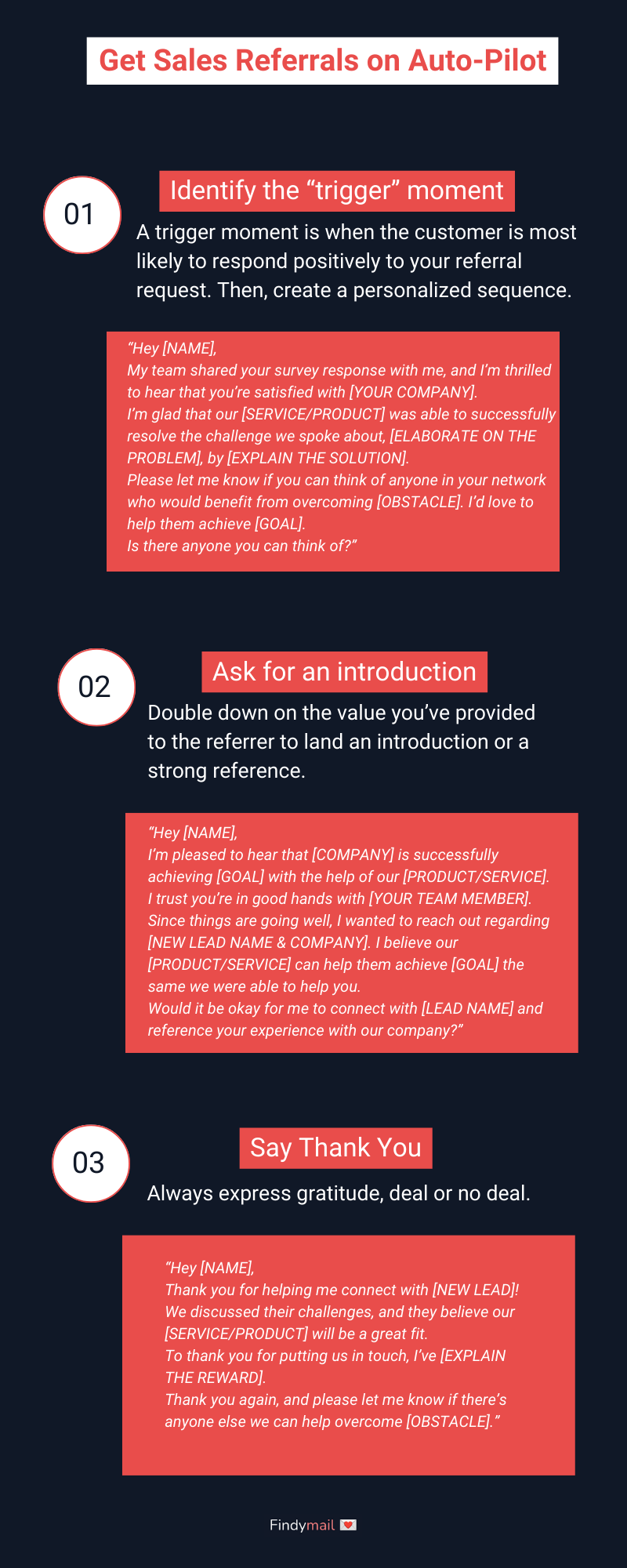 Option A: Ask for Sales Referrals on Auto-Pilot

Firstly, identify the "trigger" moment. When is the customer most likely to respond positively to your referral request?
Then, create an automated sequence to send a referral request with a personalized template.
For example, your sales referral email is triggered by a 7+ NPS survey. You could create an email template referencing the customer's specific pain point they came to you with and remind them that you successfully resolved it.

"Hey [NAME],
My team shared your survey response with me, and I'm thrilled to hear that you're satisfied with [YOUR COMPANY].
I'm glad that our [SERVICE/PRODUCT] was able to successfully resolve the challenge we spoke about, [ELABORATE ON THE PROBLEM], by [EXPLAIN THE SOLUTION].
Please let me know if you can think of anyone in your network who would benefit from overcoming [OBSTACLE]. I'd love to help them achieve [GOAL].
Is there anyone you can think of?"
Personalization is critical.
If you ask for a vague sales referral, it'll be more challenging for customers to think of someone. However, if you reference a specific issue they've also struggled with, you're more likely to get a highly-qualified lead.
You can follow up on your initial sales referral email, especially if the prospect missed it, but be mindful of the timing. Don't rush it; give it at least a week or two.

"Hey [NAME],
I know things can get busy, but I just wanted to follow up on my previous email.
If anyone you know struggles with [CHALLENGE], I'd love for them to see our [RESOURCE].
My team and I also recently prepared [RELEVANT RESOURCE], which would help with your [GOAL]. We'd love to hear your feedback!"
It always helps to have a resource (case study, article, etc.) on hand to attach to your follow-up emails. You want to emphasize value and not make customers feel like they're setting their peers up for a cold email sequence.
Option B: Ask for an Introduction

Let's say you found a fantastic lead on Sales Navigator and your existing customer is a mutual connection. This is where you want to double down on the value you've provided to land an introduction or a strong reference.
First, make sure the customer is satisfied. Then, reach out to them with a personalised email:

"Hey [NAME],
I'm pleased to hear that [COMPANY] is successfully achieving [GOAL] with the help of our [PRODUCT/SERVICE]. I trust you're in good hands with [YOUR TEAM MEMBER].
Since things are going well, I wanted to reach out regarding [NEW LEAD NAME & COMPANY]. I believe our [PRODUCT/SERVICE] can help them achieve [GOAL] the same we were able to help you.
Would it be okay for me to connect with [LEAD NAME] and reference your experience with our company?"
Unless your relationship with the customer is strong, you don't have to ask for an introduction. You can find the lead's email address through LinkedIn and Findymail:
Alternatively, you could ask for an introduction, again emphasizing that you were able to help the referrer.
3. Don't Forget to Say Thank You!
Finally, don't forget to thank the customer for their referral, regardless of whether it is a successful deal.

If the referral is positive, try to offer something in return:
"Hey [NAME],
Thank you for helping me connect with [NEW LEAD]! We discussed their challenges, and they believe our [SERVICE/PRODUCT] will be a great fit.
To thank you for putting us in touch, I've [EXPLAIN THE REWARD].
Thank you again, and please let me know if there's anyone else we can help overcome [OBSTACLE]."
If it's negative, thank them anyway, explain that you and the referee weren't a good fit, and ask them if they can think of anyone else in their network.
Set Yourself up for Success When Asking for Sales Referrals

Getting high-quality sales referrals won't be a problem when you keep in touch with your customers, so don't let relationships go cold. If the relationship has unfortunately gone cold, kickstart it with a high-value B2B buyer question.
When you automate, ensure you (or the person on your team who guided them through the sales process) appear as the sender.
No matter how happy your customers are, they'll be even happier when they become trustworthy advisors to their peers. And it all starts with asking for sales referrals!