Let's face it; email outreach is a vital component of your B2B lead generation efforts. Without email, you'll gather hardly any leads, have no conversions, and close no sales. The problem is that, to reach out to prospects through email, you need their verified email addresses.
Now, LinkedIn can be a treasure chest of email addresses if you know where to look. In this post, we'll look at the most practical ways to find someone's email address on LinkedIn.
Option A: Look at The Lead's LinkedIn Profile to Find Their Email Address

One of the simplest ways to find someone's email address on LinkedIn is by looking at their contact information on the platform.
Here, you'll click on Contact Info on their profile page and find the email address on the dialog box that opens (if they shared it).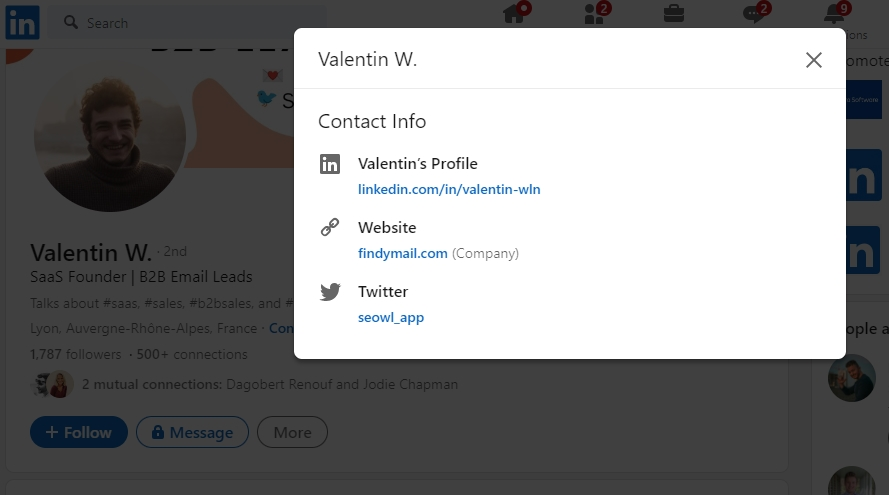 While this method for finding someone's email on LinkedIn sounds relatively simple, there are a few problems with this approach:
For one, you'll only get this information when the person is a first-degree connection. This means you'll need to send them a connection request and wait for them to accept your request, which may or may not happen.
Even then, some LinkedIn users choose not to make their contact information publicly available. As such, you might not get the email address, even if you're connected.  
How to Find LinkedIn Connections' Email Addresses in Bulk

Another option is to download your LinkedIn profile data. Here, you can choose what information you want to export, including your connections and email addresses. You can almost think of this as a sort of bulk export of email addresses.
Option B: Ask for The Lead's Email Address

To solve this problem and get someone's email address without first sending a connection request, you can ask them for it. However, because many people are reluctant to share their contact information online, there are no guarantees that they'll give it to you.
Despite this, there are some things you can do to improve your chances. For instance, ensure you have an appropriate profile picture, an engaging headline and summary, and what value you offer. Basically, you want to convince them that they should give you their email address, and if your profile is well-presented and professional, you might succeed.
Plus, if you're running a massive outbound outreach campaign, you won't be able to message thousands of potential leads. Stick with this option only if you have a highly-curated list of key leads.
Option C: Find Your LinkedIn Lead Online

Even if someone doesn't list their email address on LinkedIn, or you're not connected to someone on the platform, they might provide their personal, company, or employer's website address. You can then navigate to the site to find their email address.
Whether it's their site, their company's, or their employer's site, you might find their email address on the About, Contact, or Team pages.
However, remember that some people might not list their email addresses, so success is not guaranteed.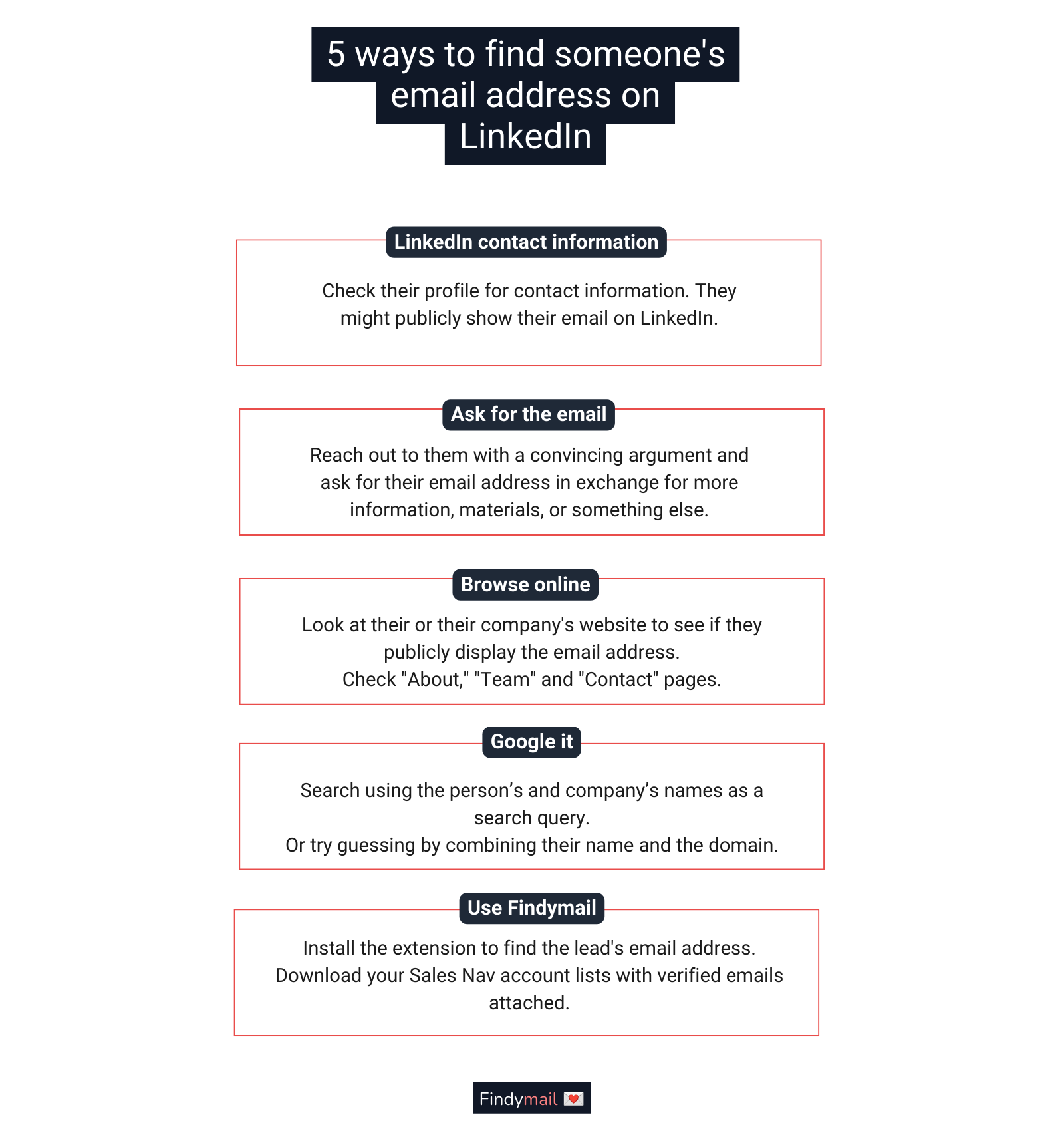 Can You Find Someone's Email on LinkedIn via Google?

As mentioned earlier, you generally need a first-degree connection to someone on LinkedIn to find their email address. Also, they might not list a website on their profile.
Here, Google can be extremely helpful. There are several ways you can use it to find the email address.
Most people list their companies or the companies they work for on their LinkedIn profiles. You can search for these companies' names on Google to find their websites or domain names. Once you've found this information, you search using the person's and company's names as a search query.
Another option is to combine the person's name and the company's domain and use this as a search query. In other words, you'll guess the person's email address using the available information. For instance, you could use their name, surname, the company name in different combinations to find the email address.  
Option D: Use LinkedIn Sales Navigator to Find Someone's Email on LinkedIn

Since LinkedIn Sales Navigator gives you more information about the leads you're not connected with on the platform, you can use it to find someone's email on LinkedIn.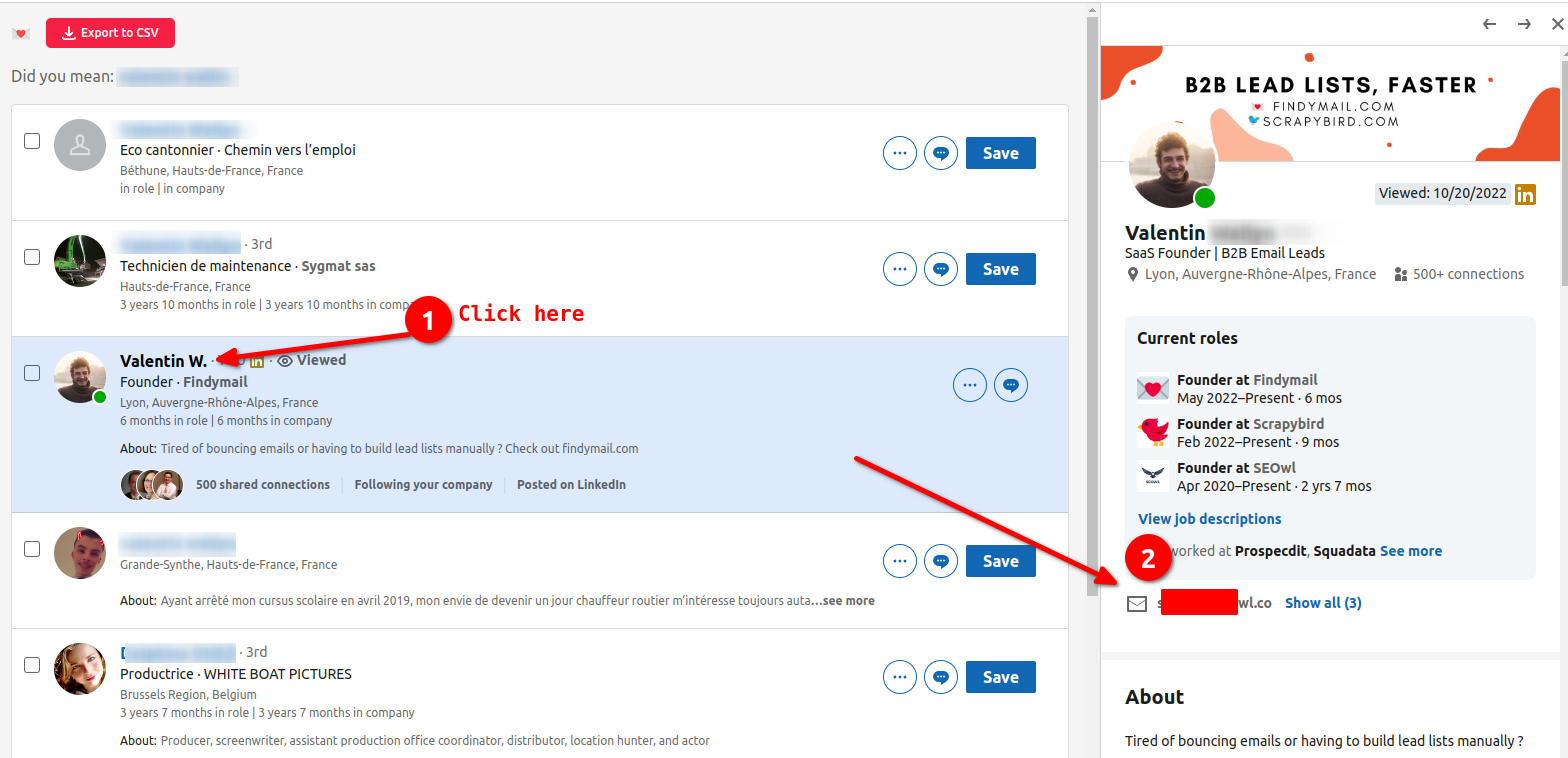 Search for leads like you'd usually do when compiling lead gen lists, and LinkedIn will show you a list of results.
Select the people you want to reach out to. When you click on the lead's name, Sales Navigator will provide you with information, including a brief description about them, the name of the company they work for, and their role in the company.
When it comes to email addresses, there are a few possibilities. Firstly, if the person is a first-degree connection, you'll find their email address in the sidebar if they chose to share their contact information. Likewise, you could also find their email address if they are second or third-degree connections and they decided to share their contact details. Keep in mind, however, that only a few people do this.

If you're not connected to the person, Sales Navigator won't give you their email address. In this instance, you'll need to follow the process above by using Google (or other methods) to figure out their email.

The Best Option to Find Someone's Email on LinkedIn

Most of the methods we've dealt with aren't exactly efficient. In fact, you'll spend a lot of time and effort when you use them without any guarantees that you'll find accurate email addresses.

Luckily, there is a better solution! Use Findymail's email finder Chrome extension.
Install Findymail and then navigate to the Sales Navigator page with your lead gen list. From there, click on Export to CSV and grab a cup of coffee.
Findymail will take care of finding someone's email on LinkedIn for you by:
Scraping the LinkedIn contacts for their email addresses
Automatically cleaning the data
Finding verified B2B emails (avoid the annoying bounces)
Exporting the emails in a clean CSV file
You'll get the correct email addresses for your LinkedIn leads while saving time. Plus, your mailing domain will stay clean of spam because you'll see fewer bounces with verified addresses. All you have to do is pick the right people and brew a strong cup of coffee.
After all, you'll get a robust contact list in just a few minutes, and it'll be outreach time!