That's it. 2022. The year you improve your LinkedIn profile.
Let's be honest, though. You didn't stumble upon this site. Right now, you're debating which form of LinkedIn account is ideal for you.
The solution isn't precisely clear-cut. There are many different LinkedIn membership tiers available. However, we aim to guide you in the appropriate direction.
You're in the perfect place if you're a salesperson trying to decide whether Sales Navigator is worthwhile or a marketer trying to explain the Premium price tag. Let's begin with the fundamentals.
LinkedIn Account Types
No matter what you do or who you are, LinkedIn has something to offer you. If you're looking to connect with other professionals or grow your enterprise team, LinkedIn is the perfect platform for you.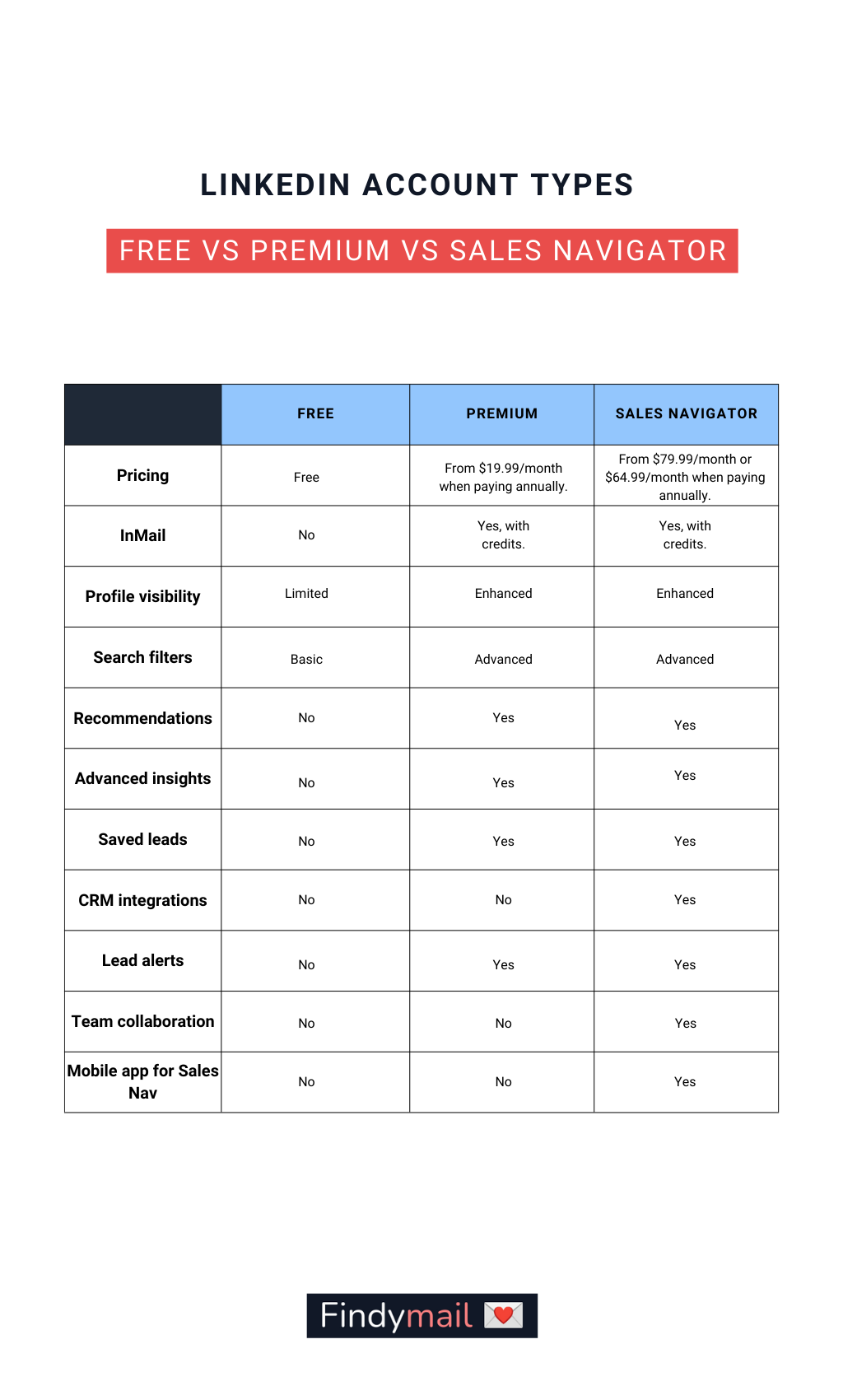 There are seven different kinds of LinkedIn accounts in total:
LinkedIn Account, free
$29.99/month for LinkedIn Premium Career
$59.99/month for LinkedIn Premium Business
$79.99/month for LinkedIn Sales Navigator
$134.99/month for LinkedIn Sales Navigator Advanced
$2,399/year for LinkedIn Recruiter Lite
Recruiter on LinkedIn: $8,999+/year
Since this is a sales-focused blog, we'll concentrate on just three different sorts of LinkedIn accounts: what a free LinkedIn account gets you, what a LinkedIn Premium account gets you, and how far a LinkedIn Sales Navigator account can take you.
Your Free LinkedIn Account
"Best for starting out."
Anyone can open a free LinkedIn account. Having a free LinkedIn account allows you to:
Enhance your LinkedIn professional profile (work experience, education, interests, etc.).
From your personal relationships and second-degree ties, create a professional network.
Recruiters and people outside of your immediate network can send you InMail messages.
Find LinkedIn profiles by company, industry, or interest.
Save several searches (and set up alerts).
Since there are always restrictions, LinkedIn's free account level has the following restrictions:
100 results can be returned from your searches.
InMail credits are not awarded when you message someone who is not in your network.
Only the latest five persons to see your profile are visible to you.
An excellent method to become comfortable with the site is to create a free LinkedIn account. However, you could soon feel the need to move up to a higher level of LinkedIn membership.
LinkedIn Premium: What You Get
"Best for someone trying to find a job and advance."
Your initial level of membership on LinkedIn is Premium.
With LinkedIn Premium, you receive:
5 InMail credits monthly
Unrestricted knowledge of who has viewed your profile
1000 results for your advanced searches for job and pay insights specific to your industry
Most people utilize Premium to further their own professional networks and professional objectives.
Annual Plan & Premium Business
You have the option of paying for Premium yearly, which will cost just $19.99/month and save you 33% annually.
Additionally, LinkedIn provides LinkedIn Premium Business. This level of membership also includes unlimited people searching and Business Insights, an HR-focused feature with new hires and role breakdowns (and 15 inMails instead of 5).
LinkedIn Sales Navigator: How Far You'll Go
"Best for salespeople trying to develop their pipeline and generate leads."
The LinkedIn account type designed for sales professionals is Sales Navigator. LinkedIn's premium is enhanced by Sales Nav, including:
Prospecting on-platform: Sales Nav lets you save notes on profiles.
Sales spotlights: Track who follows your business, change positions and appears in the media.
Lead recommendations: These are based on your vertical and audience (they immediately pop up at the top of your saved accounts) (they automatically pop up at the top of your saved accounts).
Extra InMail credits: Each month, Sales Nav provides you 20 InMail credits (or 60 every quarter if you let them roll over).
However, we're certain these two aspects make LinkedIn Sales Navigator essential for all sales reps.
Advanced Search Filters: Use LinkedIn's advanced search criteria to sort leads by area, job title, firm size, and other factors. To qualify leads, you can use search criteria like prior companies, seniority level, and term exclusion. For additional information, see our article on LinkedIn Sales Navigator's advanced search.
Saved Leads & Accounts: In and of itself, LinkedIn is a prospecting tool. To maintain organization and progress with your lead generation, save searches, lead lists, and accounts. Up to 15 searches and 1500 leads can be saved at once for further use.
Sales Nav is a gold mine for lead generating only based on these two aspects. We actually wrote a complete guide on how to use Sales Navigator.
Priced at $79.99 is LinkedIn Sales Navigator per month.
Annual Plan & LinkedIn Sales Navigator Team
By choosing the annual subscription option, you can lower the monthly cost of LinkedIn Sales Navigator (both Professional and Team accounts) in true SaaS form.
Professional and Team accounts are also known as Core and Advanced accounts.
For a single member, a year costs $779.88 (or $64.99 per month). A Team account costs $1240 for a year ($103.33 per month).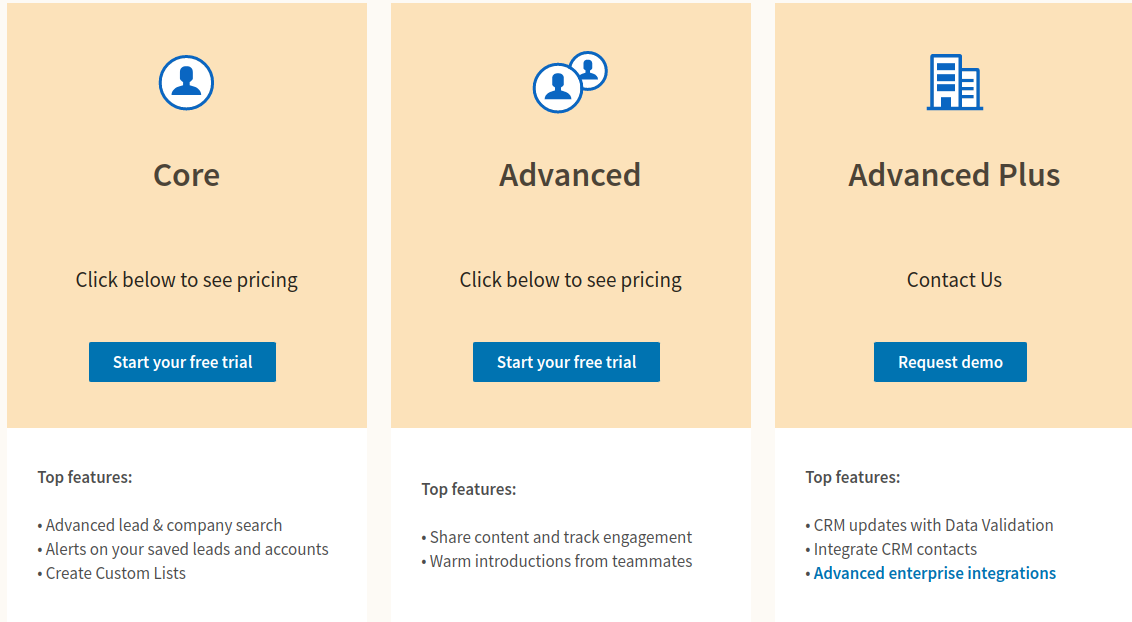 Multiple seats and various team-oriented features are added by LinkedIn Sales Navigator Team.
Integrations with CRM, PointDrive presentations and use reporting are further features. Additionally, the Team level increases the number of saved leads to 5,000 and the amount of InMail credits to 50.
Choosing Your LinkedIn Membership Level
LinkedIn is an expert in its field. Because different people utilize the site for various goals, the professional/social network provides many LinkedIn accounts kinds. Some people require it to advance in their careers. Others require it to locate, screen, and contact prospects.
If you fall under the category of sales-oriented? The pricing of LinkedIn Sales Navigator is entirely justified. For less than $800 today, you can get a full year's worth of access to practically unlimited lead data. Doesn't it sound fairly good?
At what level of LinkedIn membership are you currently — and where do you aspire to be?