For modern sales professionals, LinkedIn Sales Navigator Smart Links is a powerful sales platform that can help them reach prospects in an easy-to-use engaging manner. Have a read of this in-depth article to help you understand the tool better.
As a business owner who has been in the industry for the past 3 years, I'm always looking for new methods of growing my business and connecting with new targeted prospects.
I already had clear ideas of what my ideal customers looked like and essentially just needed a way of introducing my business to them. After a recommendation, I decided to use LinkedIn Sales Navigator Smart Links.
It's an investment that I definitely don't regret as I have been able to build accurately grouped lists of prospects, nurture my business relationships and organize all my outreach efforts in one place. It's a fantastic platform that I can recommend to any salesperson or marketer.
With 690 million members, LinkedIn is the greatest professional network globally, the market pool is enormous. Why not take advantage of that?
What are Sales Navigator Smart Links?
In a nutshell, Sales Navigator Smart Links are a method of hosting customized sales content and assets (such as PDF case studies, sales presentations, demo videos, pitch decks, brochures, etc.) and linking them to ads, emails, web pages, and posts.
The assets will be stored on platforms such as LinkedIn. They are utilized by many businesses as part of their B2B marketing strategies.
LinkedIn first introduced Smart Links in early 2020 replacing the PointDrive feature which was similar in function. The tool allows businesses to target specific audiences and markets as well as foster business connections and interactions while social selling.
Why Use LinkedIn's Sales Navigator Smart Links?
You may already be sharing and tracking links using other websites such as Bitly or Hubspot so you could be wondering why you should switch to using LinkedIn's Sales Navigator Smart Links. Well, LinkedIn has some interesting features.
One of the best features of LinkedIn's Sales Navigator Smart Links is the level of analytics that Smart Links give. Marketers and social sellers will be able to see how many people viewed their Smart Links, which pages were viewed, for how long, if they forwarded them and when. Smart links also allow you to see how long they visited specific pages.
You can be more informed about the buying decision process and easily get information and analytics on all the stakeholders involved. Unlike landing pages, Smart Links will immediately capture information on all the people who click the links without them having to fill in a form.
Additionally, LinkedIn allows up to 15 files to be bundled up in a clean visually appealing manner. The link can then be easily shared on any channel (messages, chats, email, etc.). This enhances customer experience and results in more sales.

How to Use LinkedIn Sales Navigator Smart Links
LinkedIn Sales Navigator Smart Links can be used in the following ways:
Prospecting in LinkedIn messages.
Adding Smart Links to cold emails
Posting Smart Links in social media posts and landing pages
Making LinkedIn posts with Smart Links
Important : You need to be either on the "Advanced" or on the "Advanced Plus" of Sales Navigator. You won't have access to Smart Links if you're only on the "Core" plan !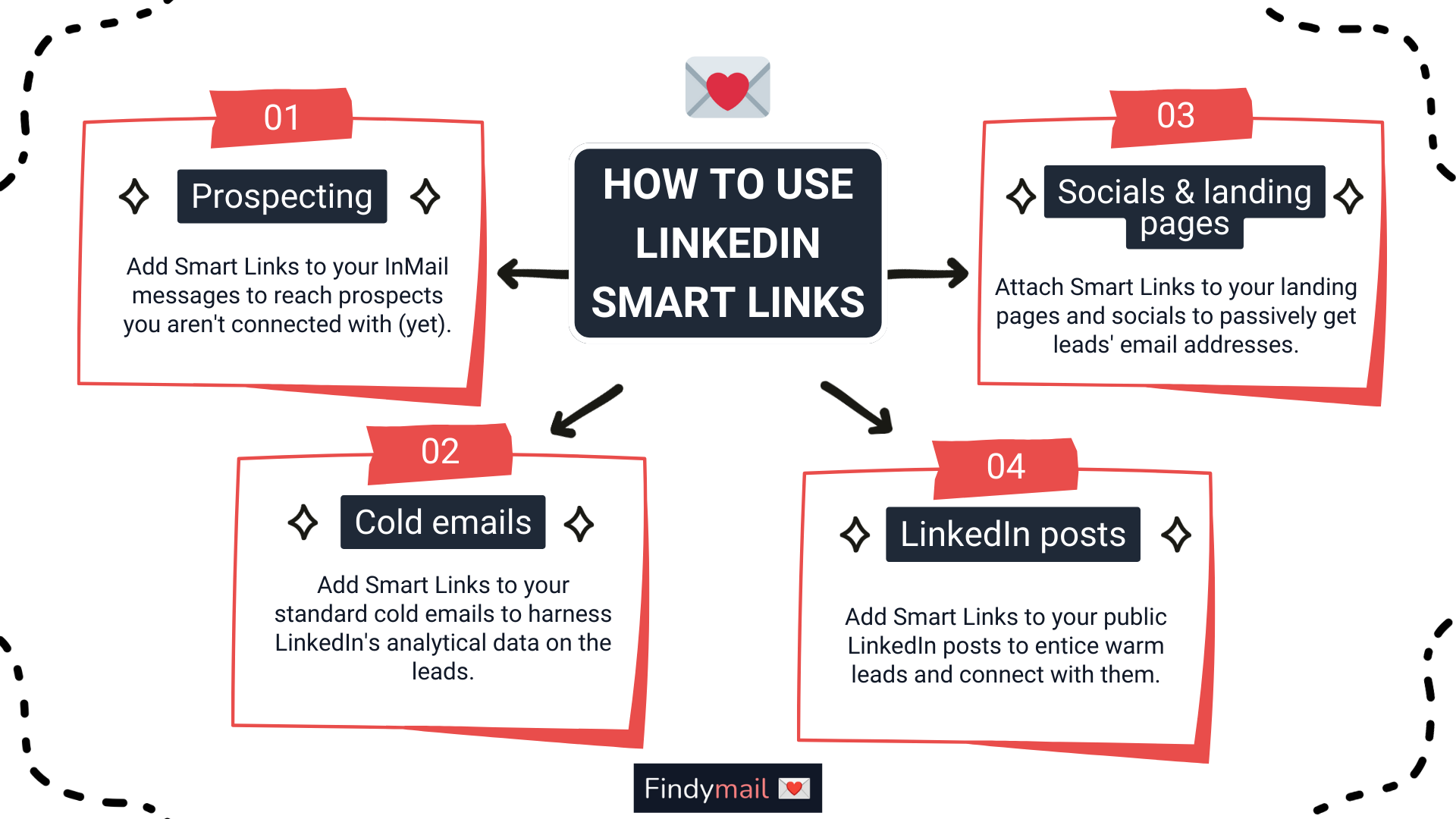 Prospecting in LinkedIn Messages
LinkedIn Sales Navigator Smart Links has a special feature known as InMail. Once you have identified potential clients and customers, InMail allows you to send out messages with the Smart Link attached.
It is quite handy as it also allows you to send out messages to anyone, even people that are not in your connections. The link will be visually stimulating as it shows up as a thumbnail image.
Adding Smart Links to Cold Emails
A Smart Link can also be added to cold emails from your email server (Yahoo, Gmail, Outlook, etc.) although the preview will not be shown. If someone clicks on the link,
LinkedIn will allow you to collect analytical data on their profiles. You will then be able to send follow-up emails to those who did not reply.
Posting Smart Links in Social Media Posts and Landing Pages
Instead of collecting emails on your website or webpage, opt to have a Smart Link attached. When people visit the website and click on the link, you'll passively get their LinkedIn profiles which is an easy process.
Once you have their profiles, follow-up messages can be sent to them on LinkedIn. I have found that this creates less friction as web users get tired of always having to submit their emails when browsing websites. You can also attach the same Smart Links to your business profiles on social media.
Making LinkedIn Posts with Smart Links
Maybe you have some prospective clients/customers already in your network. You could make a public post with your Smart Link to entice them. A customizable preview will be displayed to help attract them.
How to Create a LinkedIn Smart Link
To start, it is important to first determine if LinkedIn Smart Links is a good investment for your business, then if you are on the Basic Profession Plan upgrade to Sales Navigator Advanced or Advanced Plus to access the Sales Navigator feature.
From there, you can create a LinkedIn Smart Link easily using the following steps:
Head to the Smart Links tab at the top of your Sales Navigator account.
Click the +New Smart Link in the top right
Create the Smart Link by:
Adding a title
Uploading sales content from your computer or cloud storage or copy and paste links
Reorder the content to your liking if necessary (the files further up are likelier to get more clicks)
Click the Permissions box to enable recipients to download the content
Click Create
4. Preview the Smart Link to ensure it is to your preference
5. Click Copy Link in the overview section
6. Send it out or attach the link to your social media and landing pages
What Files Can I Add to a LinkedIn Smart Link?
LinkedIn Smart Links very conveniently allows you to aggregate all major file types but up to a maximum file size of 200MB and only 15 assets. The following can be tracked and viewed:
PDF (300-page limit
Microsoft Word & PowerPoint
PNG, JPEG, GIF images
MP4, QuickTime, WMV, AVI video types
The following are download-only:
TIFF images
Microsoft Excel
Apple: Keynote, Pages, and Numbers
ZIP files
CSV files
TXT files
Smart Links Use Cases for Sales Navigator
Smart Links can be used in numerous ways. The best way is in paid advertising. You can identify and filter out your target audience and then create a paid LinkedIn ad with assets that when clicked redirect to the right asset using Smart Link. The filter option allows you to display the ads only to those that fit your customer criteria. In my experience, case studies are the best type of sales content that one can use to see bigger sales and engagement.
Smart Links also helps you gather user analytics that can be used by the marketing department of your business to strategize and follow up. It's a great method of collecting important information.
You can also utilize these links in your company page posts and are more engaging for the audience as they do not have to be prompted to leave the LinkedIn website. Links that lead to external pages have been ranked lower in user engagement.
Conclusion
All in all, I think the LinkedIn Sales Navigator Smart Links feature is a fantastic tool to apply in one's business and personally, it has allowed me to engage with a wider pool of prospective customers in a simplified, appealing manner.
The analytical data that you can gather is also invaluable for any business. I can advise any business owner that is interested in it to try it out. Ever since I incorporated the tool, my cosmetics business gathers over six figures in returns monthly, so that must definitely show something!
FAQs
How can I access Smart Links?
Smart Links are available in the Smart Links tab within your Sales Navigator profile.
Can I use Smart Links on mobile?
Yes! LinkedIn Smart Links are mobile-friendly and you can easily view data on your mobile devices. You cannot, however, create Smart Links on mobile.
Who can share Smart Links?
Only Sales Navigator Advanced or Advanced Plus accounts can access and share Smart Links.
Who can receive Smart Links?
Anyone can receive Smart Links if shared via Sales Navigator, InMail, or email.