In the world of sales, follow-up is a crucial aspect of closing deals and maintaining relationships with clients.
However, it's hard to strike the right balance between being polite and assertive. It's easy to get caught up in the initial pitch and not prioritize the follow-up, ultimately giving up on writing that template because your B2B contact database is already overflowing with fresh leads.
The thing is, I can personally attest to the impact of a strong follow-up strategy. When I first started, I'd send my first email, and if I never heard back– that was that.
However, when I began incorporating follow-up emails into my routine, I saw a massive improvement in my conversion rate.
So in this article, I'll show you my best tips and samples for writing winning and polite follow-up emails.
The Importance of Polite and Persistent Follow-Ups in Sales
One of the biggest challenges in sales is closing the deal, and the follow-up process plays a crucial role. Looking at stats from Brevet, it takes around 5 follow-up emails before you close a sale.
Yet, too many of our fallen colleagues fail to capitalize on that. 44% only follow up once. 94% stop after four emails. The reality is that your lead is busy; they may need time to consider their options, research, and get approval from stakeholders.
So, if they're showing you signs of life by interacting with your content, they're more than worth your time.

There's nothing wrong with a polite follow up like Sloovi's.
By following up with them politely, you'll show your commitment to finding a solution that meets their needs and keep the conversation going.
Polite follow-ups also demonstrate respect for the lead's time. They make them feel valued and show that you're serious about helping them solve a problem or helping them succeed– not just trying to get a sale.
Finally, by continuing to follow up, you can keep your brand on their mind and ensure they consider your products or services when they're ready.
And even if they don't become a customer right now, you've already laid the groundwork for when they decide to seek you out.
How to Master Writing Polite but Direct Follow-up Emails
The Subject Line for a Polite Follow-up Email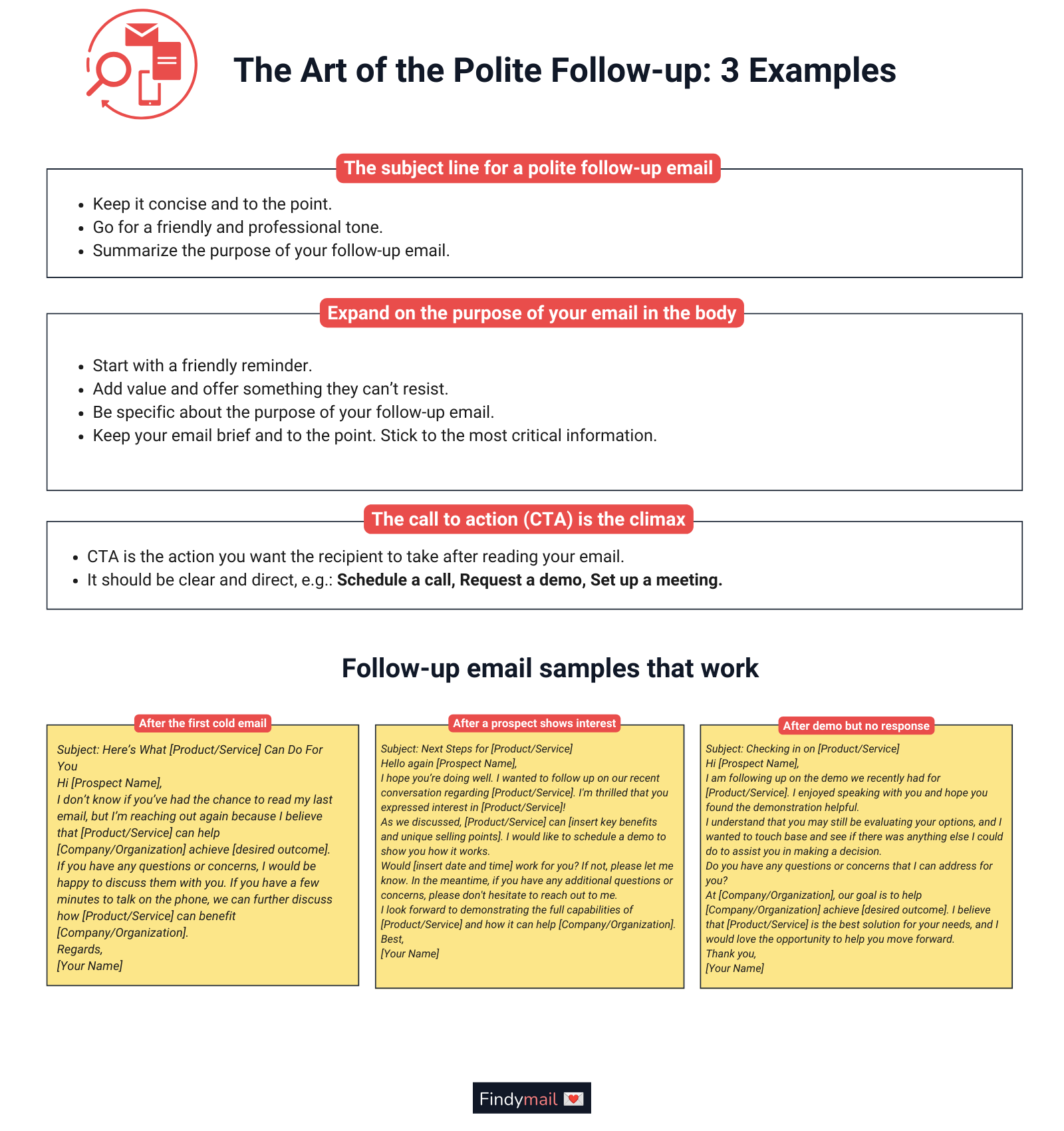 The subject line of your follow-up email is crucial in ensuring that your email gets opened. Sometimes, it can leave such a lasting impression that it'll get you a meeting, too.
Here are three examples of good subject lines for polite follow-up emails:
1. Subject: Following Up on [Product/Service]
2. Subject: Checking In on [Previous Conversation]
3. Subject: Opportunity to Discuss [Product/Service] Further
When writing a subject line, keep it concise and to the point. Avoid using capital letters, exclamation points, and other aggressive punctuation, as this can come across as pushy. If pushy is what you're going for - then, by all means.
But we're writing polite follow-ups today, so go for a friendly and professional tone that reflects the tone of the rest of your email.
Your subject line should be a summary of the purpose of your follow-up email and what the recipient can expect to learn from reading it. Keep it simple and relevant, and don't make false promises that your email can't deliver.
Remember, your subject line is the first thing the recipient will see and can make all the difference in whether or not they open your email.
The Body
The body of your follow-up email is where you can expand on the purpose of your email and the value you bring to the prospect.
Here are a few tips for writing a good body:
Start with a friendly reminder: Begin your email with a friendly greeting and a reminder of who you are and how you came to be in touch. This is especially important if it's been a while since your last email.
Add value: Offer something of value. You can also share a relevant case study or a testimonial from a satisfied customer to establish social proof.
Be specific: Be specific about the purpose of your follow-up email. Explain what you hope to achieve by reaching out and why it's essential for the prospect to respond.
Keep it brief: Keep your email brief and to the point. Avoid lengthy explanations or sales pitches that may overwhelm the lead. Stick to the most critical information and make it easy for them to understand.
But, as Christian explains, sometimes your leads want you to be direct. Know who your audience is!
The CTA
The call to action (CTA) is the climax. It's the action you want the recipient to take after reading your email. The CTA should be clear and direct, making it easy for the prospect to take the next step.
Here are three examples of good CTAs that you can use in your follow-up emails:
Schedule a call: "I'd love to schedule a call to discuss [Product/Service] further and answer any questions you may have. Let me know if you have time next week."
Request a reply: Use high-value questions to remind the lead of what's at stake, only requiring them to reply if they're still interested. "I would appreciate it if you could take a moment to reply to this email and let me know your thoughts. I'd be happy to answer any questions you may have."
Set up a meeting: "If you're interested in learning more about [Product/Service], I would be happy to set up a meeting with you at your earliest convenience. Let me know what time and date work best for you."
Remember, the goal of your follow-up email is to move the conversation forward and get a response from the recipient. A well-crafted CTA will make it easier for the recipient to take the next step.
Mistakes and Things to Avoid with Follow-up Emails
Being too pushy: Don't pressure the recipient into taking action or make them feel like they're being stalked.
Being vague: Make sure your emails are clear and concise and avoid being too general or ambiguous. E.g., don't reference "increasing your revenue" - reference a specific goal you can help with - "increasing your MQLs."
Ignoring previous interactions: Reference any previous emails or conversations you've had with the prospect.
Not personalizing: Personalize your emails by using the recipient's name and addressing their specific needs or interests.
Being negative or critical: Avoid using negative or critical language in your emails. Instead, focus on being helpful and offering solutions.
Guilt tripping: Don't make the prospect feel guilty for not responding or taking action. This can be perceived as manipulative, and leads won't take too kindly to that.
Follow-up Email Samples that Work
Now, let's get to the meat and potatoes– the samples and templates.
Follow-up After the First Cold Email
Subject: Here's What [Product/Service] Can Do For You
Hi [Prospect Name],
I don't know if you've had the chance to read my last email, but I'm reaching out again because I believe that [Product/Service] can help [Company/Organization] achieve [desired outcome].
If you have any questions or concerns, I would be happy to discuss them with you. If you have a few minutes to talk on the phone, we can further discuss how [Product/Service] can benefit [Company/Organization].
Regards,
[Your Name]
Follow-up After a Prospect Shows Interest
Subject: Next Steps for [Product/Service]
Hello again [Prospect Name],
I hope you're doing well. I wanted to follow up on our recent conversation regarding [Product/Service]. I'm thrilled that you expressed interest in [Product/Service], and I'm confident it will bring [Benefits] to [Company/Organization].
As we discussed, [Product/Service] can [insert key benefits and unique selling points]. I would like to schedule a demo to show you how it works.
Would [insert date and time] work for you? If not, please let me know, and I will be happy to find a time that fits your schedule.
In the meantime, if you have any additional questions or concerns, please don't hesitate to reach out to me. I'm here to help and support you in any way I can.
I look forward to demonstrating the full capabilities of [Product/Service] and how it can help [Company/Organization].
Best,
[Your Name]
Follow-up After Demo but No Response
Subject: Checking in on [Product/Service]
Hi [Prospect Name],
I am following up on the demo we recently had for [Product/Service]. I enjoyed speaking with you and hope you found the demonstration helpful.
I understand that you may still be evaluating your options, and I wanted to touch base and see if there was anything else I could do to assist you in making a decision.
Do you have any questions or concerns that I can address for you?
At [Company/Organization], our goal is to help [Company/Organization] achieve [desired outcome]. I believe that [Product/Service] is the best solution for your needs, and I would love the opportunity to help you move forward.
Thank you,
[Your Name]
Be Polite but Assertive
Even if you're new to follow-up emails, try one of these samples that show respect towards your lead's time. They won't hold it against you.
And remember: the key to sales success is not giving up and being persistent (not pushy), polite, and confident that you have the solution the prospect is looking for.
Now get up, follow up, and close those deals!