Always go into a sales meeting prepared. But when your lead list is reaching hundreds (and thousands) of entries, you can't track down prospect data and their contact information manually. You need a B2B contact database.
So today, I'll show you the 6 best B2B contact databases that will enrich your lead lists with more data, provide accurate email addresses and phone numbers, and help you scale your sales success.
Let's dive in!
Quick Breakdown: The Best B2B Contact Databases Compared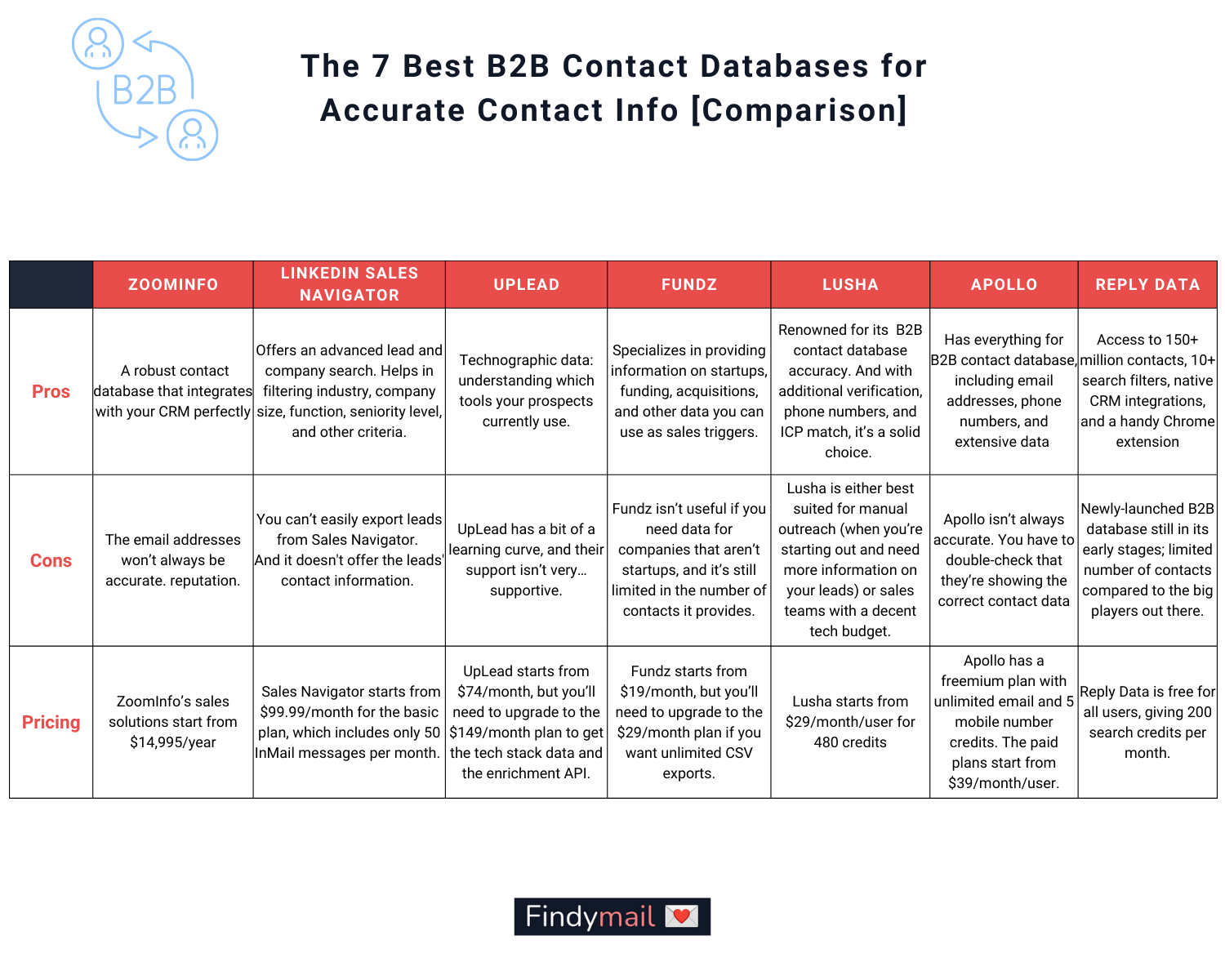 1. The Best B2B Contact Database for Enterprises: ZoomInfo
If you're looking for a robust contact database that integrates with your CRM perfectly, ZoomInfo is a great choice. Their API also makes it really easy to automatically pull information on leads, allowing you to qualify and score them quickly.
Why Is ZoomInfo One of the Best B2B Contact Databases?
Firstly, ZoomInfo goes beyond just showing you firmographics.
Once you upload your ICP to ZoomInfo, it'll automatically match you against lists of prospects currently researching solutions like yours. You won't just target and qualify leads based on their company size, challenges, and goals.; you'll also know who is expressing buyer intent.
(Plus, ZoomInfo offers visitor identification software, so you can reach out to the companies whose stakeholders have researched your solutions.)
Once you've enriched your lead lists with data, ZoomInfo can also help you set up sales automation workflows based on buying intent or your custom triggers. After the sales meeting, use its conversation intelligence algorithm to understand how the meeting went and analyze your sales data at scale.

And when it's time to scale, you can explore ZoomInfo's Marketing, Operations, or Talent OS solutions.
The Cons of ZoomInfo
Unfortunately, ZoomInfo's accuracy leaves much to be desired. The email addresses won't always be accurate. Plenty of people complain that when they verified the email addresses before sending emails, they were shown as incorrect. If they hadn't checked, their emails would've bounced, affecting their sender reputation.
If SMBs are your target audience, you may not find data on them in ZoomInfo. It's most accurate for enterprises.
Finally, if you're manually exporting contacts, you'll spend credits on it, and you won't be able to export more than 25 contacts at once. Integrating ZoomInfo's API is a more straightforward option.
ZoomInfo Pricing
While you won't see upfront pricing before your free trial runs out, ZoomInfo's sales solutions start from $14,995/year. The plans are highly customizable, so your mileage may vary depending on the credits, team members, and tooling.
2. The Classic Choice: LinkedIn Sales Navigator
Since everyone and their mothers are on LinkedIn, it makes sense for the Sales Navigator to be one of the most robust B2B contact databases. Most other databases also pull information from LinkedIn, especially when it comes to role changes and company news, so you'll be getting data straight from the source.  
Why Is Sales Navigator a Great B2B Contact Database?
Your Sales Navigator experience will vary depending on your chosen plan, but even the core plan offers an advanced lead and company search. You'll be able to filter by industry, company size, function, seniority level, and other criteria.
LinkedIn will even provide lead suggestions.
If you frequently do ABM or smarketing, you'll love the Alerts you can use to set up your sales triggers. You'll get a notification whenever something significant about your lead changes (e.g., a lead gets a promotion, their company raises funds, etc.).
Ultimately, it's hard to imagine selling without using Sales Navigator, but…
The Cons of LinkedIn Sales Navigator
… it's clunky. It's really, really clunky. For starters, you can't easily export leads from Sales Navigator.
You also won't get the lead's contact information with Sales Navigator. LinkedIn's idea was to have you rely on their InMail or direct messages (for which you buy separate credits outside your basic plan quota).
If you want Sales Navigator to sync with your CRM, you'll need to be on the Enterprise plan.
One way to work around the lack of automation in Sales Navigator is to use Findymail.
Findymail's Chrome extension adds the option to export Sales Navigator (and Apollo) leads separately or in bulk:
Then, Findymail finds and verifies the leads' email addresses, so you can safely send your cold email.
Sales Navigator Pricing
While LinkedIn doesn't show upfront pricing, Sales Navigator starts from $99.99/month for the basic plan, which includes only 50 InMail messages per month. Cold email isn't just an option - it's a necessity.
3. UpLead for B2B Contact Information
UpLead is the more cost-effective alternative to ZoomInfo, especially for smaller sales teams. However, you'll still get plenty of B2B contact information.
Why Use UpLead for B2B Prospecting?
UpLead has over 100M contacts, and it's more accurate than some other tools (ZoomInfo included). However, what really does it for me is the technographic data: understanding which tools your prospects currently use.
If you're in B2B SaaS sales, that's pure gold.
Plus, you'll see buyer intent data (similar to ZoomInfo) to identify the right time to reach out to a prospect.
The Cons of UpLead
Unfortunately, UpLead has a bit of a learning curve, and their support isn't very… supportive. But it's a good option if you're looking for a more affordable alternative to ZoomInfo.
UpLead Pricing
UpLead starts from $74/month, but you'll need to upgrade to the $149/month plan to get the tech stack data and the enrichment API.
4. The Best B2B Contact Database for Startups: Fundz

A new player in the B2B contact database market, Fundz specializes in providing information on startups, funding, acquisitions, and other data you can use as sales triggers.
Why Fundz Works Great for B2B Startup Contacts
Firstly, it's specialized. If your company exclusively sells to startups (or if they make up a significant portion of your customer base), you'll want specific information that other B2B contact databases may gloss over.
For example, Fundz will show you which funding type they've received.
Secondly, you'll get executive contact information. And if you want to make sure your lead data is always accurate, Fundz has an API that can be integrated with your CRM.
Cons of Fundz
Fundz isn't useful if you need data for companies that aren't startups, and it's still limited in the number of contacts it provides.
Fundz Pricing
Fundz starts from $19/month, but you'll need to upgrade to the $29/month plan if you want unlimited CSV exports.
5. Lusha for B2B Prospecting
Lusha prides itself on their B2B contact database accuracy. And with additional verification, phone numbers, and ICP match, it's a solid choice for your team.
Why Choose Lusha?
In addition to standard information, you'll also get the prospects' verified phone information, which can be a game-changer if you frequently do cold calling.
And with their API (only available on the Enterprise plan), you'll be able to enrich data in your CRM or spreadsheets.
Cons of Lusha
Unfortunately, Lusha is either best suited for manual outreach (when you're starting out and need more information on your leads) or sales teams with a decent tech budget.
Otherwise, you won't be able to bulk-export leads or enrich your lead data in real-time, which are features reserved for the Enterprise plan.
Lusha Pricing
Lusha starts from $39/month/user for 40 credits. It also offers a freemium plan with 5 credits and all the necessary prospecting information (email addresses and phone numbers).
6. Apollo: An Extensive B2B Contact Database

Finally, Apollo has been the go-to solution for B2B contacts for a while now, and it's for a good reason: they offer over 250M contacts at 60M companies and an outbound outreach tool.
Why Apollo Works Like a Charm for B2B Prospecting
Apollo has everything you might need in your B2B contact database, including email addresses, phone numbers, and extensive data (including VC funding, technographics, and persona match).
Plus, you can use it as a cold outreach tool, too!
Cons of Apollo
Unfortunately, Apollo isn't always accurate. You have to double-check that they're showing the correct contact data, as there have been cases where they've displayed invalid or no longer accurate information.
Apollo Pricing
Apollo has a freemium plan with unlimited email and 5 mobile number credits. The paid plans start from $39/month/user.
7. Reply Data: the new player
Reply has been around for quite some time, but their new B2B database - Reply Data - is brand-new and looks promising. Whether you're in sales, marketing, business development, or recruiting - Reply Data's got you covered.
Why Use Reply Data for Building Contact Lists?
With access to 150+ million contacts, 10+ search filters, native CRM integrations, and a handy Chrome extension - Reply Data has everything you need to build laser-focused prospect lists.
If your team is also looking for ways to effectively outreach your contacts - look no further. Reply is an all-in-one, AI-powered sales engagement platform, meaning users can engage their found prospects with tailored sequences and messaging with a single click.
Cons of Reply
Newly-launched B2B database still in its early stages; limited number of contacts compared to the big players out there.
Reply Data is free for all users, giving 200 search credits per month. Teams interested in a higher volume search can top-up more credits with a click.
Bonus Option: Only Need Email Addresses? Use Findymail
If you've taken care of prospecting research and all you need is the lead's email address, use Findymail.
Findymail works as a Chrome extension and an API.
You can find leads' email addresses when browsing online (for example, find email addresses for LinkedIn profiles) or retrieve emails in bulk when exporting from Sales Navigator or Apollo.
You can also use it as a Google Sheets formula to find email addresses for the leads you've collected without a B2B contact database, and much more!
Findymail Pricing
Findymail starts from $49/month for up to 1,000 verified emails, but you can try it for free with 10 credits.
How to Choose the Right B2B Contact Database
Your decision will depend on your company's size and goals. However, the best B2B contact databases should have plenty of data for your prospect type.
For example, Fundz will be great if you sell to startups, but you'll need ZoomInfo or Apollo for broader coverage.
At the end of the day, make sure your contact database gives you the right information to take some burden off your shoulders when doing prospect research. And if it has an API that integrates with your tech stack, you'll be set!