On average, you'll need 5 follow-ups to successfully close 80% of sales. So why would you give up after the first cold email?
Today, I'll show you how to develop an excellent cold email follow-up process + share my favorite templates that get responses.
Wait, Why Aren't People Responding to My Cold Emails?
The reasons for not getting responses fall into three categories:
Delivery problems - If you don't verify email addresses before sending cold campaigns (or if you haven't been warming up your inboxes), your emails may not even show up in front of leads.
Life happens - Leads get distracted, life is busy, and they may not have the capacity to deal with another email.
Your offer doesn't sound good enough - If the leads never open your email, your subject line might require more personalization.
Your mission is to identify the key causes for not getting initial responses.
If you've got delivery issues, focus on resolving them with email warmups or randomizing with spintax to avoid sounding the same with every template.
If your offer doesn't sound good enough from the get-go, personalize the subject lines with your follow-up and have a good cold email icebreaker.
Or, if your lead list is full of verified email addresses from top-quality prospects and you know your email resonates with them, your follow-up will need to deal with the fact that they're busy people.
What Should Your Cold Email Follow-up Strategy Look Like?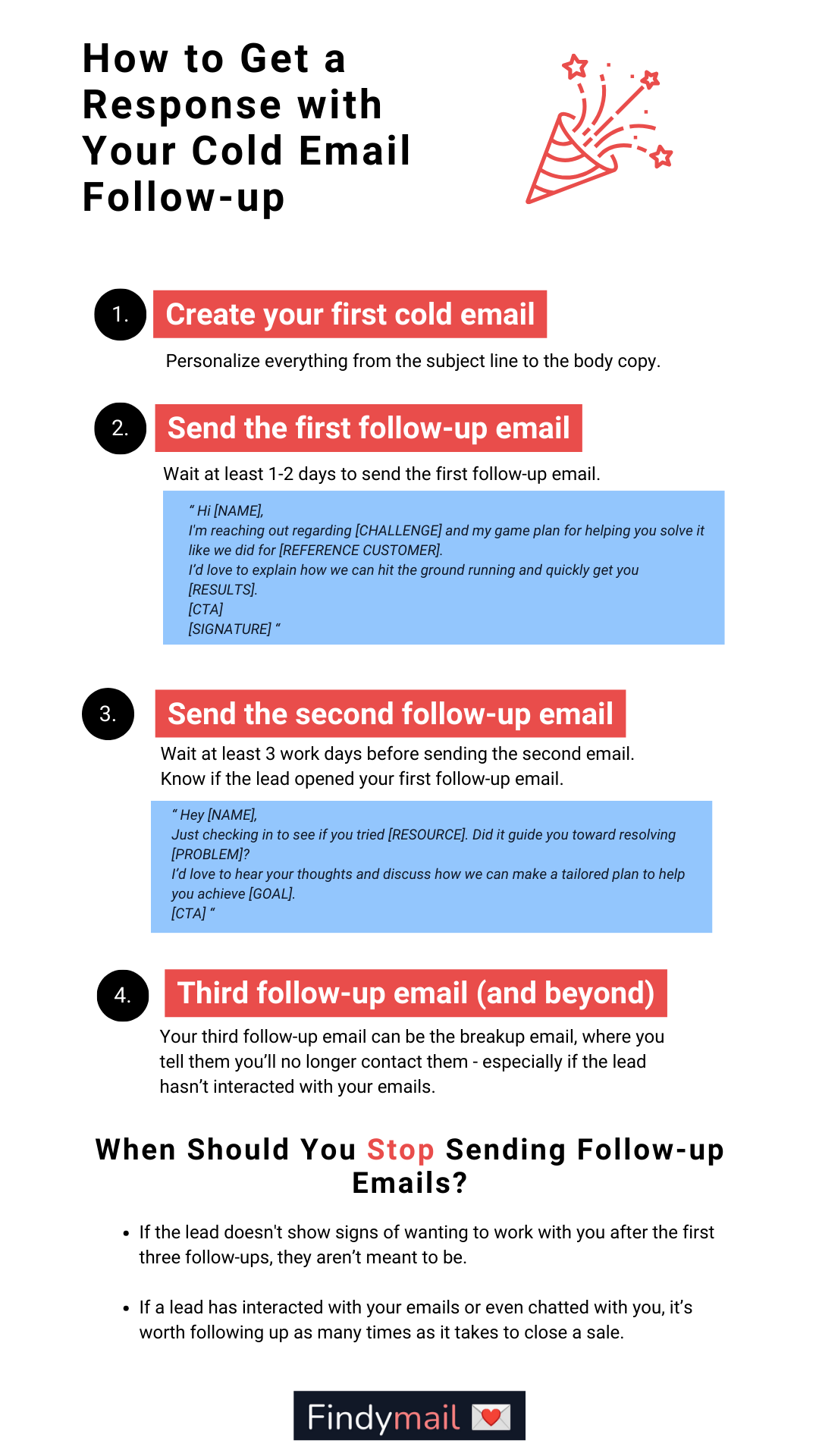 Now that you understand why you're not getting responses, it's time to get strategic!
Step 1. Create Your First Cold Email
This is your strong, enticing introduction. Make sure you personalize everything from the subject line to the body copy.
Go beyond essential first name personalization; personalize company news, the lead's boss's name, goals, and more.
Then…
Step 2. Send the First Follow-up Email
Wait at least 1-2 days to send the first follow-up email. (Depending on the cold email tools you use, you could even set up a trigger to fire off the follow-up 1-2 days after the prospect opens your email.)
Your first follow-up email should:
Add value. Can you reinforce your initial email's point somehow? For example, by sending a case study or referencing more reasons the lead should trust you can solve their problem.
Reinforce your initial offer. Don't try to offer something completely different - you're still offering the same thing, but with additional proof.
Have a different subject line. Sometimes, you can go with the standard reply to your initial email, but test a different subject line if your first email wasn't opened.
Have a more specific CTA. Instead of asking for meeting availability, suggest a few slots with specific days and/or times.
Finally, vary the length. If your initial email was long, make it more succinct, and vice versa.
Templates: The First Cold Email Follow-up
Head straight to action with a short email reminding the lead that you can solve their problems:
" Hi [NAME],
I'm reaching out regarding [CHALLENGE] and my game plan for helping you solve it like we did for [REFERENCE CUSTOMER].
I'd love to explain how we can hit the ground running and quickly get you [RESULTS].
[CTA]
[SIGNATURE] "
If your initial email was quick and to the point, reinforce your value with the follow-up email:
" Hey [NAME],
I've reached out to you [TIME] but haven't heard back, so I'd love to understand what's currently blocking you from dealing with [THE PROBLEM]. Most of my clients tell me they:
a) Don't have the time to dedicate to overcoming [THE PROBLEM], or
b) [GOAL] isn't at the top of the priority list, or
c) The time just isn't right, in which case I'll get out of your hair.
Tackling this issue can help you [RESULTS], as it's helped our customers, [REFERENCE CUSTOMER].
Still, life happens. Please let me know which of these you're currently struggling with, and I'll make sure it's smooth sailing from now on.
[CTA]
[SIGNATURE] "
Step 3. Send the Second Follow-up Email
Try to wait at least 3 work days before sending the second email. At this point, it's really helpful to understand if the lead opened your first follow-up email.
Your second cold email follow-up needs to add more tricks into the mix, and that depends on your previous approach:
Remind them of your value - e.g., ask them what they thought of your previous advice or materials.
Use a bolder CTA - e.g., directly ask them for availability.
Alternative offer - e.g., offer to send an email with more details instead of hopping on a call.
Templates: The Second Cold Email Follow up
Have you given them some pointers or resources to try in your first two emails?
Ask them what they thought with the second follow-up:
" Hey [NAME],
Just checking in to see if you tried [RESOURCE]. Did it guide you toward resolving [PROBLEM]?
I'd love to hear your thoughts and discuss how we can make a tailored plan to help you achieve [GOAL].
[CTA] "
If they open your email and show interest in your materials, ask them to take action:
" Hey [NAME],
Would [TIME] work for a chat about [OFFER]?
Let's get you up and running ASAP!"

Step 4. Third Follow-up Email (and Beyond)
Your third follow-up email can be the breakup email, where you tell them you'll no longer contact them - especially if the lead hasn't interacted with your emails.
However, for the rest of your sequence to continue, you'll need data:
Has the lead interacted with your emails? Did they open them, click through on the links, or respond to some of them?
Are you sure you're talking to the right person? If you're unsure, use the third follow-up email to double-check and ask them to get you in touch with the right stakeholder.
How did the prospect enter your funnel? If they're a cold lead, tread carefully. But if they've shown interest by, for example, filling out a lead gen form, double down on the sequence.
Templates: The Third Follow-up Email
Firstly, you can discretely acknowledge the interest they've shown if they interacted with your emails or your company:
" Hi [NAME],
I noticed you [ACTION*] about [GOAL]. We can help you resolve [CHALLENGE] even faster if you and I connect.
If you have any questions - please let me know. I'd love to understand your perspective!
[CTA] "

* The action here can be expressing interest in your company by asking for a demo, opening your previous email, or clicking on a link.
Alternatively, you can double-check that you're talking to the right person:
" Hey [NAME],
I know [GOAL] is a priority for [COMPANY NAME].
Could you put me in touch with the right person to talk to about overcoming [CHALLENGE], so we can get you on the right track as soon as possible?
[CTA]"
When Should You Stop Sending Follow-up Emails?
If the lead isn't right and they don't show signs of wanting to work with you after the first three follow-ups, then they just aren't meant to be. Sending even more emails will only get you on their bad side.
However, if a lead has interacted with your emails or even chatted with you, it's worth following up as many times as it takes to close a sale.
For example, let's say you have a qualified lead. Perhaps you even hopped on a cold or warm call with them. They could be precious to your business, but they reply spottily.
You should absolutely keep following up with them. In fact, they're worth keeping tabs on.
For example, you might want to sync your emails to personalize for company news to reach out at the right touchpoints (hiring cycle, funding rounds, big changes to their department).
If they want to keep moving through your sales pipeline, do everything in your power to keep the momentum going until you close.

Bonus: 2 Extra Follow-up Email Templates!
Triggered Follow-up Emails
Dealing with a highly-valuable lead? Set up trigger events that fire off follow-ups at the right time.

" Hey [NAME],
Congratulations on [COMPANY NEWS]! It was fantastic to learn more about your goals and roadmap.
It reminded me of our exchange about [GOAL]. Is resolving [CHALLENGE] still a priority for you?
I'd be happy to remind you of what we spoke about and explain how [PRODUCT/SERVICE FEATURE] can help you achieve [BENEFIT].
Can we chat at [PROPOSE TIME]? "

Play into FOMO with Your Follow-ups
If you're slowly approaching the break-up email point, but you want to salvage the lead, try using loss aversion or FOMO by reminding them of what they're missing out on:
" Hey [NAME],
I forgot to mention that we can get you [RESULTS] with [PRODUCT FEATURE].
Can we hop on a quick call [PROPOSE A TIME]? "
Or:

" Hi [NAME],
While we're exchanging emails, [COMPETITOR] is already working on [GOAL]. Let's get you even better results!
[CTA]"

Are You Ready to Land that Deal?
Don't get discouraged if a lead is interested but doesn't regularly respond to your emails!
Instead, create a personalized follow-up sequence or set reminders to reach out to them.
Remember: it takes a few follow-ups to close. Don't give up when you're so close to achieving your goal!