Tired of the same old boring virtual meetings?
It's time to spice things up with a virtual coffee chat! These laid-back meetings are the perfect way to connect with colleagues and potential clients in a fun and relaxed setting.
Whether you prefer a hot cup of joe or a refreshing iced latte, they're sure to perk up your day (and your networking skills).
In this article, I'll give you some awesome templates and tips for crafting irresistible virtual coffee meeting invitation emails that will have everyone eager to chat with you!
What's a Virtual Coffee Meeting?
So, what exactly is a virtual coffee meeting?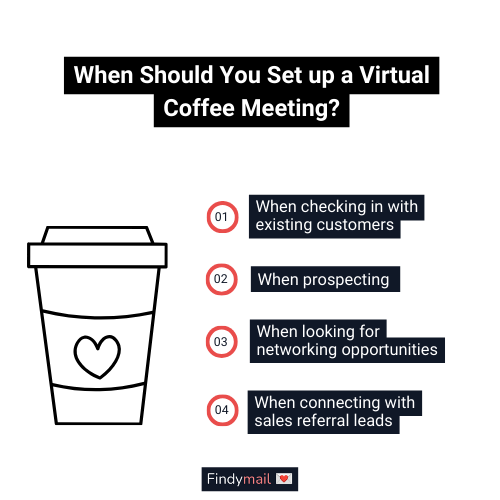 It's simply a meeting where you grab a cup of coffee (or tea, if you're feeling fancy) and hop on a video call to chat with someone. The best part? You can do it all from the comfort of your own home or office from anywhere in the world.
These meetings are super laid-back and relaxed, so there's no need to worry about dress codes or stuffy agendas. Whether you're looking to network, brainstorm ideas, or chat up a potential lead, a virtual coffee meeting is a perfect way to get it done.
When Should You Use Virtual Coffee Meetings?
Here are the main situations where a virtual coffee meeting should happen:
Checking in with Existing Customers
If you're an account manager or an account executive, virtual coffee meetings are a great way to stay connected with existing customers and show them that you value their business. By checking in on their progress and offering support, you can deepen your relationship and foster loyalty.
For example, a virtual coffee chat is a great time to ask your customers the right questions about how their business is doing, inquire about any challenges they may be facing, and offer helpful tips or advice based on your experience.
Over time, these interactions can build a strong foundation of trust and rapport.
Prospecting for Customers
If you're looking to connect with new customers that are struggling with a specific challenge, this can be a great way to offer your expertise and build a personal connection.
Ideally, these are warmed-up leads– they've engaged with your content or shown interest in your business– but haven't yet made a purchase. By offering to chat with them over coffee, you can learn more about what they're looking for and provide valuable insights.
For example, you could share success stories from similar clients or offer tips on how to overcome common obstacles.
Similarly, you can follow up with leads by inviting them to a virtual coffee meeting to keep things casual.
Networking & Collaborating
Online coffee meetings can help expand your professional network and explore potential collaborations.
Whether you're looking to partner with other businesses, acquire backlinks, or simply connect with like-minded sales professionals, a virtual coffee meeting can be a great starting point.
You could use the time to share ideas, discuss industry trends and books, or brainstorm new projects.
You never know where a virtual coffee meeting might lead– it could be the start of a fruitful partnership!
Sales Referral Leads
A virtual coffee meeting can also help generate attention and interest from sales referrers and referees. By getting to know your leads and their needs, you can demonstrate your value and build trust over time.
For example, you could chat with potential sales referral sources over coffee and ask about their business and clients.
If you're talking to a sales rep in a similar industry, reciprocate with your own referrals, so you can show them that you're interested in a mutually beneficial relationship.
Getting More Yes's to Your Coffee Meeting Invites
Follow these 5 tips to increase your virtual coffee meeting invitation email acceptance & response rate!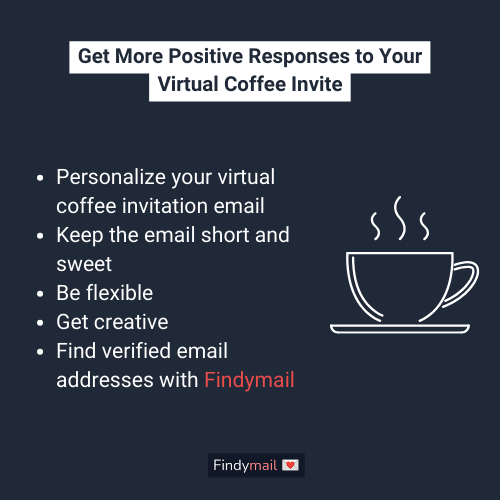 1) Make Your Virtual Coffee Meeting Invitation Email Personal
Don't be like a robot and send the same generic invitation to everyone. Personalize your message and show that you care. Make it clear that you value their time and expertise. For instance, mention a recent post or article they shared, or bring up a common interest you have.
2) Keep it Short & Sweet
Let's be real; nobody has time to read a novel-length invitation. Keep your message brief and get straight to the point. Explain why you want to meet and how it will benefit them.
Make sure your subject line clearly shows that you're inviting them for a virtual coffee chat, too!
3) Be Flexible
We're all living busy lives, so make sure you offer some flexibility. Propose a few different meeting times and video conferencing platforms that work for both of you. That way, it's easy for the other person to say yes.
4) Get Creative
You can use a tool like Vidu.io to embed images and videos of yourself, motivating the person on the other end to take you up on the offer. It's a fantastic way to add a human touch and show off your personality!
Similarly, try using emojis in your emails to make them come across as super friendly.
5) Find Verified Email Addresses
If you want to make sure your virtual coffee invitation gets to the right person, try using Findymail. It's a powerful email lookup tool that helps you find verified email addresses for your target audience.
With Findymail, you can be confident that your message is going to the right place, and you'll increase your chances of getting a response from the person you're trying to reach.
4 Templates of Virtual Coffee Metting Invitation Emails
Checking in on Existing Customer
Subject: ☕ Time to brew up some ideas!
How's it going, [First Name]?
As your go-to [industry/product/service] advisor, I wanted to check in and see how your business is doing these days. It's been a while since we last spoke, and I'd love to hear about any exciting new projects or challenges you've been tackling.
As always, I'm here to support you and your business in any way I can. Whether it's a brainstorming session, some pro tips on [related topic], or just a friendly ear to vent to, I'm here.
I'd love to schedule a virtual coffee meeting to chat more!
So let me know if you're up for it, and we'll schedule a time that works best for you. Looking forward to catching up and brewing up some awesome ideas together!
Cheers,
[Your Name]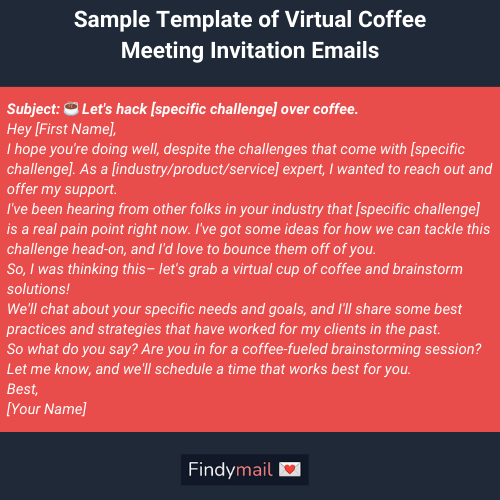 Reaching out to Leads for a Virtual Coffee with a Specific Challenge
Subject: ☕ Let's hack [specific challenge] over coffee.
Hey [First Name],
I hope you're doing well, despite the challenges that come with [specific challenge]. As a [industry/product/service] expert, I wanted to reach out and offer my support.
I've been hearing from other folks in your industry that [specific challenge] is a real pain point right now. I've got some ideas for how we can tackle this challenge head-on, and I'd love to bounce them off of you.
So, I was thinking this– let's grab a virtual cup of coffee and brainstorm solutions!
We'll chat about your specific needs and goals, and I'll share some best practices and strategies that have worked for my clients in the past.
So what do you say? Are you in for a coffee-fueled brainstorming session? Let me know, and we'll schedule a time that works best for you.
Best,
[Your Name]
Networking & Collabing
Subject: ☕ Join me to sip, connect, and conquer the world.
Hey [First Name],
I hope you're crushing it today! I stumbled upon your profile in [industry/topic], and it looks like you're doing some pretty amazing things.
I'm also in [industry/profession], and  I'd love to chat and see if there are any opportunities for us to connect, collaborate, and conquer the world together.
Let's break the virtual ice over a cup of coffee! It's the perfect opportunity for us to chat, swap stories, and share our experiences. And, of course, enjoy a good cup of joe.
Just let me know, and we'll schedule a time that works for us.
Cheers,
[Your Name]
Pitching a New Idea to a Warm Lead
Subject: ☕ Brainstorm over a coffee?
Hey [First Name],
How's it brewing? We're excited to share our latest and greatest idea with you - one we think could be a game-changer for your business!
As a brand that's always looking for ways to innovate and stay ahead of the curve, we think you'll love what we have in store. We've put in the hard work and research, and we're confident that our idea perfectly aligns with your vision, mission, and goals.
[Tease the idea.]
So, let's chat over a virtual cup of coffee! During our virtual coffee meeting, we'll dive into your business goals, the challenges you're facing, and how our idea can help you overcome those hurdles and see real results.
If you're not interested, no worries at all. But if you're up for it, let me know!
Thanks,
[Your Name]
Final Thoughts
Well, that's a wrap! It's time to put these virtual coffee meeting templates and tips to use and turn those prospects into clients.
Whether you're a sales pro, a marketer, or simply someone who loves coffee, there's no denying that virtual coffee meetings can be a fun and effective way to network, collaborate, and seal the deal.
It sure sounds more casual than asking them to book a formal meeting! 😉