I'm back, sales warriors, and I've got a secret for you: Facebook isn't just for scrolling through cat memes and stalking your high school crushes.
With nearly 3 billion users, Facebook can be a goldmine for finding email addresses and reaching out to potential leads. It's especially powerful if you're in relevant groups related to your industry.
In this article, I'll show you 4 ways you can use Facebook to find those elusive email addresses and make those all-important connections.
Let's get started!
How to Find Emails on Facebook
1) Yes, You Can Find Emails on Facebook Manually
Sometimes you just gotta roll up your sleeves and do it yourself.
If you're looking for email addresses on Facebook, the good news is that you don't always need a fancy tool or app. All you need is some patience, persistence, and a dash of good old-fashioned detective work.
Here's what you need to do to manually find an email address on Facebook:
Go to the person's profile by clicking either their avatar or name. You can also type their name into the search bar.
On their profile, go to About and scroll to the Contact and basic info section.
There, you will see the email address, along with other info like phone numbers and websites.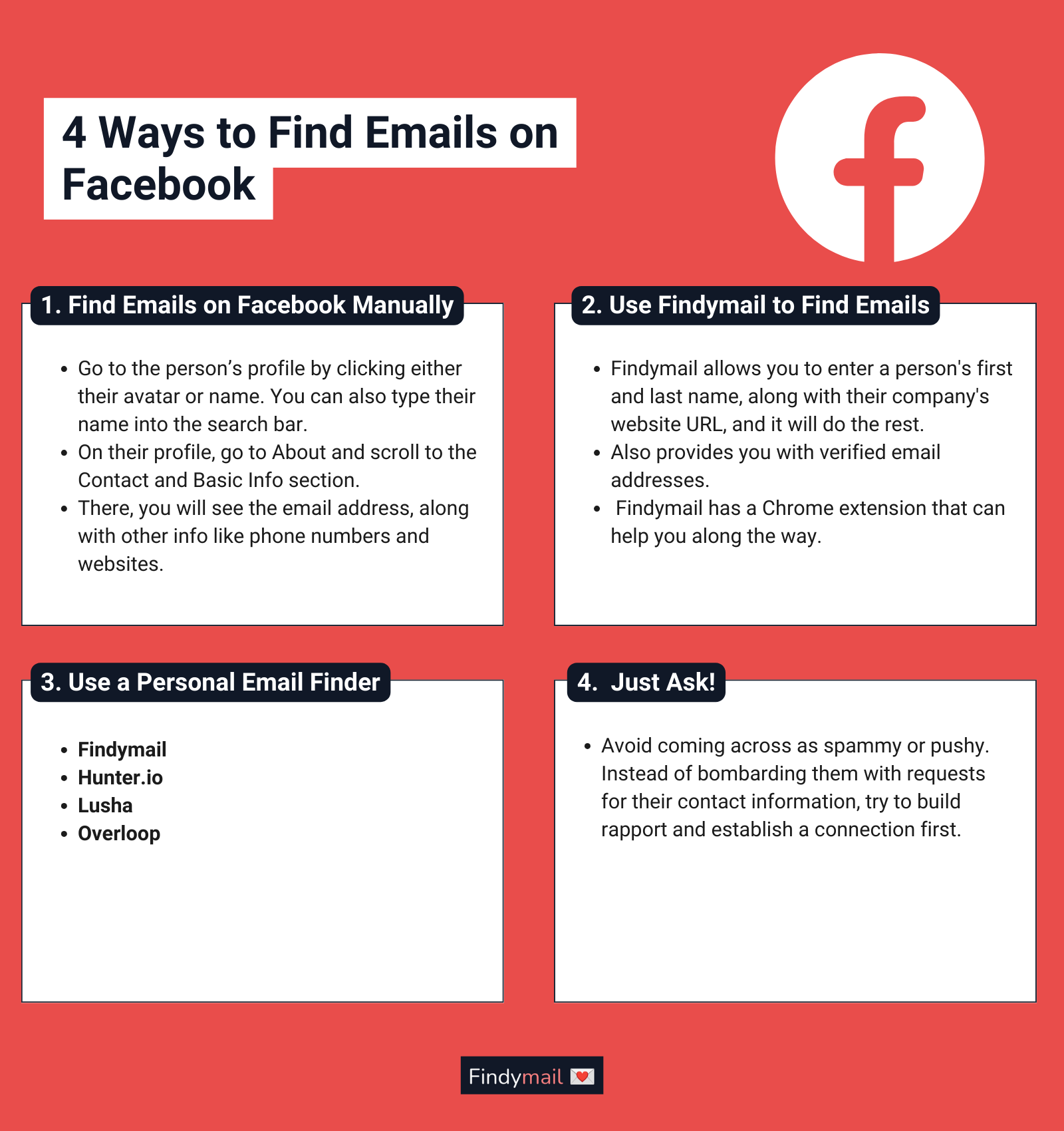 Keep in mind that not everyone wants to display their email address on Facebook. If that happens in your case, read on for other methods!
2) Use Findymail to Find Emails on Facebook
Let's be real; manually searching for email addresses on Facebook can be tedious and time-consuming.
Fortunately, there's a better way to find verified email addresses– enter Findymail. This nifty tool allows you to enter a person's first and last name, along with their company's website URL, and it will do the rest.
Not only is Findymail efficient, but it also provides you with verified email addresses, so you won't be wasting time emailing the wrong person or sending messages that get bounced back.
And for those times when you just can't resist doing it yourself, Findymail has a Chrome extension that can help you along the way. Simply install the extension and it will provide you with email addresses as you browse through Facebook profiles.
(Plus, if you often need to find leads' email addresses, you can use Findymail to scrape and export Apollo and Sales Navigator leads with verified emails.)
3) Use a Personal Email Finder
Of course, there are plenty of other tools you can use to help you find emails– and you're not limited to just using one.
Here are four of my favorites. And if you want more details about them, check out my blog about the best personal email finders.
Hunter.io
Hunter.io allows you to find verified email addresses in bulk. And with its nifty API, you can automate the process.
If you're new to the sales game, Hunter.io also features a cold email automation tool to help you kickstart your outreach game.
Lusha
Looking to find key players at the companies you're targeting? Lusha offers an intuitive chrome extension; you can easily browse sites like Facebook and find verified emails for decision-makers at your target companies
It also functions as a B2B contact database. Lusha also allows you to verify email addresses in real-time, so you can be sure you're targeting the right person.
Overloop
If you're looking to scale up your B2B sales game, Overloop is the automation tool you need. Besides finding verified email addresses for your leads, Overloop also allows you to automate your outbound email sequences, set follow-up reminders, connect with prospects on LinkedIn, and much more.
With its powerful features, Overloop is definitely one of the most versatile cold outreach tools.
Findymail
If you're only wondering how to find emails on Facebook (and other platforms - including LinkedIn and TikTok), Findymail is your best bet.


According to our power users, we've helped them track down even the most private CEOs' email addresses. You can use Findymail manually, as a Chrome extension, or to get leads' email addresses in bulk.
And when compared to other email finders, we offer much higher accuracy:
4) Just Ask!
Sometimes the best way to get someone's email address is to simply ask for it!
While this may seem like a bold move, it can actually be a very effective way to warm up a lead and start building a relationship.
When you message a lead directly and ask for their email address, you're showing them that you're interested in connecting with them on a deeper level and that you're willing to put in the effort to make that happen.
Of course, this approach is not foolproof, and not everyone is open to sharing their email address right away. But if you approach the conversation with a friendly, non-salesy tone and make it clear that you're genuinely interested in learning more about their needs and challenges, you may be surprised at how receptive some leads can be.
Here's the best piece of advice I can give with this one– avoid coming across as spammy or pushy. Instead of bombarding them with requests for their contact information, try to build rapport and establish a connection first.
Once you've established familiarity, you can gently ask if they'd be willing to share their email address so you can follow up with them later.
While it may not be the most efficient method for finding email addresses, asking leads directly for their contact information can be a great way to get your foot in the door.
Final Thoughts
Wrapping things up, finding emails on Facebook doesn't have to be a tedious task. I've given you some great tips, from the good old-fashioned way of manually searching to using personal email finders and even just asking the lead themselves.
But ain't nobody got time for all that! So, why not make your life easier and try out Findymail? With just a few clicks, you can find verified email addresses for your leads and have more time to focus on closing deals.
And here's the cherry on top– sign up now, and you'll receive 10 FREE credits for your first searches!