As someone who's been in the trenches of the sales world for quite some time, I know how crucial it is to find people to add to your team or help you with an upcoming project.
And what better place to do that than LinkedIn, the mecca of professional networking?
Luckily,  I've got some tricks up my sleeve to help you quickly spot those hidden gems using LinkedIn's "Open to Work" feature.
So let's dive in and see how you can quickly find people open to work on LinkedIn today!
How to Use LinkedIn Recruiter's Open-to-Work Filter
The easiest way to identify job seekers actively looking for new opportunities on LinkedIn is by using LinkedIn Recruiter's built-in "Open to Work" filter.
However, be prepared to pony up some serious cash for the full LinkedIn Recruiter, as the cheaper Lite version won't have this feature.
At a monthly cost of $835, it's not the most budget-friendly option, but trust me, the investment can be worth it if you're serious about finding qualified people to join your team.
Once you've subscribed to the full LinkedIn Recruiter, you'll gain access to advanced search options, including the coveted "Open to Work" filter.
This filter will appear in the Spotlights section on the left-hand side of the page (pictured below).
From there, simply combine it with other search parameters like location, job title, industry, and more to narrow down your search and find the perfect candidates.
As you can see, the "Open to Work" tag also pops up at the bottom of their profile blurb.
While it may come with a hefty price tag, using LinkedIn Recruiter's "Open to Work" filter can be a powerful tool in your sales arsenal for quickly finding job seekers who are open to new opportunities on LinkedIn.
But I understand that not everyone wants to spend that type of money just so they can use a single filter– I sure wouldn't. So let's take a look at another method using my good friend – Sales Navigator.
Finding People Open to Work on LinkedIn Using Sales Navigator
Chances are, you're already using Sales Nav to source leads (and if you're not, wtf?) However, you can also use it to find qualified candidates. And this method is just as effective as using LinkedIn Recruiter but at a fraction of the cost– Sales Nav starts from $99/month.
There are a few ways we can leverage Sales Nav this way:
1) Find Candidates Using the "Current Job Title" Filter or Keyword Search
Alright, my first tip is to use the "Current Job Title" filter or Keyword Search to find people open to work on LinkedIn.
You could simply type search terms like "actively seeking employment" or "looking for work." But there are a couple of things to keep in mind.
First off, if you rely solely on the job title filter and use simple searches, it can be limiting, and you might miss out on finding the perfect candidate for your sales team.
Instead, try using boolean modifiers to search for people who are "Open to Work" OR ((looking OR seeking) AND (work OR job OR opportunity OR opportunities))– (pro tip: you can copy and paste this exact phrase).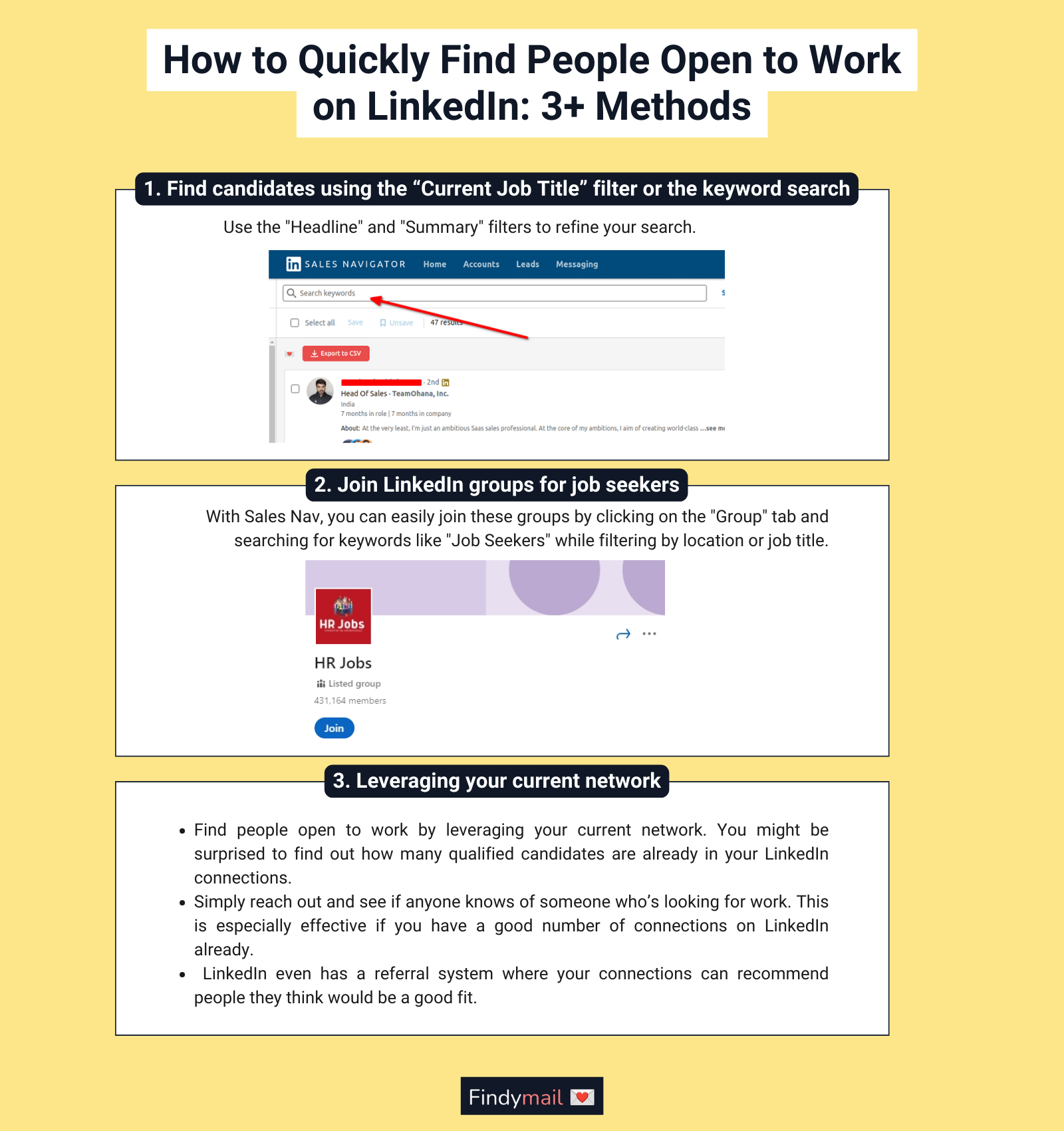 Want to scale your outreach? Save your potential candidates as leads and use Findymail to export them to CSV with verified personal email addresses.
This will give you a bigger pool of potential candidates, but be warned: there will be some false positives to sift through.
To avoid getting lost in the weeds, take the time to review each profile carefully to make sure they meet your criteria. If you find someone who looks promising, save their profile so you can come back to it later.
You can also use the "Headline" and "Summary" filters to refine your search.
For example, if you're looking for someone with sales management experience, you can use the "Headline" filter to search for candidates with the keyword "sales manager" in their headline.
Similarly, you can look for the alumni of specific colleges.
Using this method, you can find some great candidates on LinkedIn who are looking to work. But I have a few other tricks I like to use!
2) Join LinkedIn Groups for Job Seekers
Another great way to find people open to work on LinkedIn is by joining LinkedIn groups for job seekers.
With Sales Nav, you can easily join these groups by clicking on the "Group" tab and searching for keywords like "Job Seekers" while filtering by location or job title.
There are groups for different departments, roles, locations, and more!
For instance, if you're looking for a sales manager, you can filter by "Sales Manager" to find groups that cater to this role. Once you're in the group, you can start chatting with members and keeping an eye out for those who are looking for work.
3) Leveraging Your Current Network
One often overlooked strategy for finding people open to work is leveraging your current network. You might be surprised to find out how many qualified candidates are already in your LinkedIn connections.
Simply reach out and see if anyone knows of someone who's looking for work. This is especially effective if you have a good number of connections on LinkedIn already.
Plus, it's the most cost-effective method since it's free! And LinkedIn even has a referral system where your connections can recommend people they think would be a good fit.
So don't hesitate to tap into your connections network and see who they might know.
Wrapping Up
These are the 3+ methods I use to quickly find people ready to work on LinkedIn.
Whether you're using LinkedIn Recruiter, Sales Navigator, or just leveraging your current network, there are always creative ways to find the right candidates for your team.
Remember, finding the perfect person isn't just about their experience and qualifications but also about their personality and how they fit within your business culture. So, don't be afraid to reach out and start a conversation with them.
You might just end up finding a diamond in the rough!