Let's talk about Sales Navigator– more specifically, pricing.
Sales Navigator is LinkedIn's premium subscription service for sales professionals. It's like regular LinkedIn but with a bunch of extra features designed to help you find and connect with prospects. You can use it as your B2B contact database (without the emails, unless you use a LinkedIn scraper).
And as with any premium service, there are different plans, each with its perks and price points.
That's what I'm here to get into today! I will break down Sales Navigator's pricing in 2023 and help you choose the right plan.
Why Pay for LinkedIn Sales Navigator?
You might be thinking, "Why should I pay for Sales Navigator when I can just use regular LinkedIn for free?"
Well, it's simple– Sales Nav has a whole host of features that regular LinkedIn can't match. These include:
Unlimited searches: Search for as many prospects as your heart desires.
Saved searches: Keep your searches for future reference and receive alerts when new leads are added that match your criteria.
InMail credits: Reach out to prospects who are outside your network. However, you only get 50, but I've got a hack for this at the end.
Sales spotlights: You can see who's recently changed jobs, who's been mentioned in the news, and who's engaged with your company on LinkedIn.
Lead recommendations: Get personalized recommendations for new leads based on your activity and preferences.
And that's just scratching the surface. There are plenty of other features that can help streamline your sales process and make your life easier.
But how much does it cost?
Well, unfortunately, LinkedIn doesn't list the prices on their website. You have to either start a free trial or request a demo to get the full scoop.
But lucky for you, I've done the leg work and got the raw numbers.
Here are the different plans and pricing options:
Sales Navigator Core: $99/month
Sales Navigator Advanced: $149/month
Sales Navigator Advanced Plus: $1600/month (yes, you read that right)
And you can get a 25% discount if you pay the annual price upfront.
Now, let's look at each plan individually and see what they offer.
Sales Navigator Core Pricing and Features
If you're new to Sales Navigator and looking for a cost-effective solution, the Sales Navigator Core plan might be right up your alley. This professional package gives you access to Sales Navigator's core features without breaking the bank.
With Sales Navigator Core, you get advanced lead and company search capabilities helping you find potential customers you wouldn't have been able to locate otherwise.
You also get alerts on saved leads and accounts, so you can keep track of any updates or changes that might be relevant to your sales efforts.
And if you want to keep your leads organized, you can create custom lists that you can easily reference later on. (And if you use Findymail, you can also export your Sales Nav leads and get email addresses to avoid the InMail hassle.)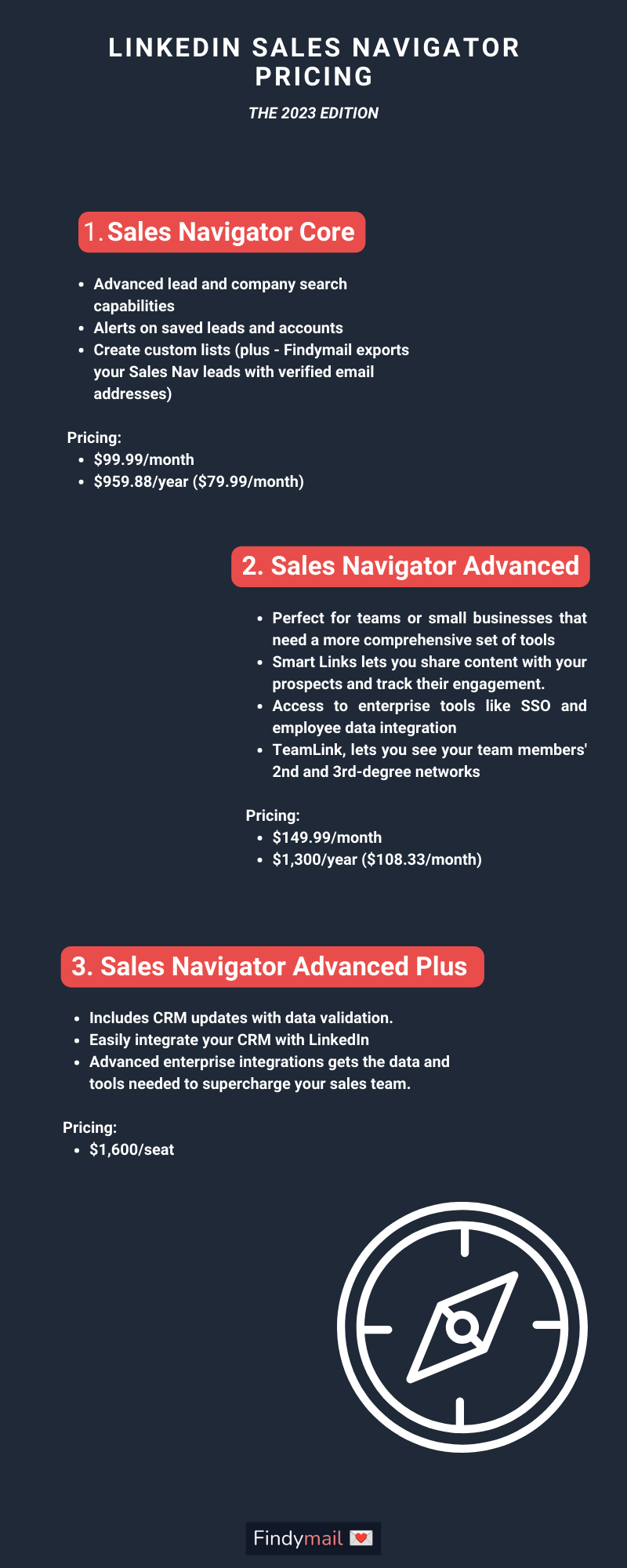 Findymail exports your Sales Nav leads with verified email addresses.
Overall, the Sales Navigator Core plan is a great starting point for anyone looking to dip their toes into the Sales Nav ecosystem without committing to a more expensive plan.
Sales Navigator Core Pricing 2023:
$99.99/month
$959.88/year ($79.99/month)
Sales Navigator Advanced Pricing and Features
Sales Nav Advanced is perfect for teams or small businesses that need a more comprehensive set of tools to help them get the job done.
With Sales Navigator Advanced, you get all the perks of the Sales Navigator Core plan, like advanced lead and company search and custom lists. But you also get a suite of extra features to help your LinkedIn game.
For example, Smart Links lets you share content with your prospects and track their engagement.
You also get access to enterprise tools like SSO and employee data integration, which can help you streamline your sales processes and make it easier for your team to collaborate effectively.
Then there's TeamLink, which lets you see your team members' 2nd and 3rd-degree networks– a great way to leverage your team's connections to find new leads and opportunities.
And if you need to create account lists, you can do so with a simple CSV upload.
Sales Navigator Advanced Pricing 2023:
$149.99/month
$1,300/year ($108.33/month)
Sales Navigator Advanced Plus Pricing and Features
Alright, we're getting into the big leagues now.
Sales Navigator Advanced Plus is the Enterprise-level plan, which means it comes with all the bells and whistles you could need to take your sales game to the next level.
The core features of Sales Nav Advanced Plus include CRM updates with data validation.
You can keep your CRM up-to-date with the latest information from LinkedIn, effectively treating it as a data enrichment service.
You can also easily integrate your CRM with LinkedIn, saving a ton of time and effort in the long run. And there are also advanced enterprise integrations to get the data and tools needed to supercharge your sales team.
However, with the price tag, it's geared more toward large businesses with the bankroll to justify it.
Sales Navigator Advanced Plus Pricing 2023:
Is Sales Navigator Worth the Money?
So, is Sales Nav worth the money?
Ultimately, it depends on your needs and goals. Overall, it's still the most extensive database of B2B prospects – in Q4, it reached 875 million registered users.
If you're just starting LinkedIn sales and looking for a cost-effective solution, Sales Navigator Core might be the way to go. It has all the basic features you need to get started and build your sales network.
If you're part of a team or a small business, consider Sales Navigator Advanced for its team-focused features and tools.
One thing to remember is that if you're serious about building your sales network and generating leads, it could be well worth the investment.
And here's the InMail hack I promised: you can skip the need for InMail credits by using Findymail to export your lead lists and contact them directly using your cold email methods– save money and still get in touch with potential leads.
Sign up for Findymail today and get started with 10 FREE emails!