Sales Navigator is fantastic at sourcing top-quality leads for your business and some would say, a must-have for lead generation. However, the platform does have a few drawbacks. For example, these leads stay on the platform unless you manually copy and paste their details. You can't export to CSV or Excel 😤
If only we could export LinkedIn search results automatically...
Sales Navigator also does not let download any emails, pushing to use Linkedin inMails instead.
Luckily, there is a simpler solution, so today, we'll show you how to export leads from Sales Navigator automatically and how to get emails from Linkedin Sales Navigator!
How to Export Leads from Linkedin Sales Navigator to Excel with Findymail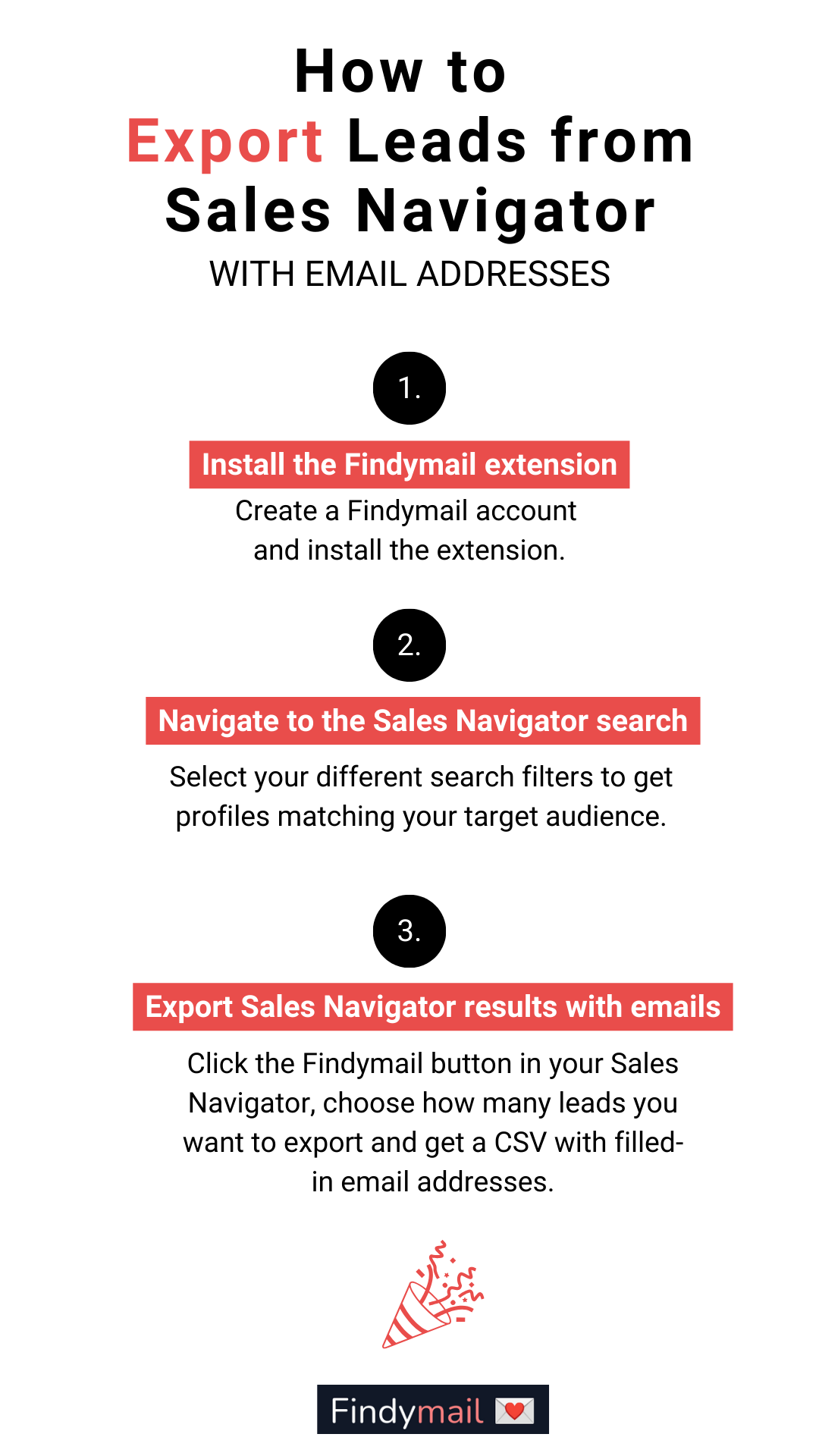 To export your leads from Sales Navigator, you need to install a Chrome Extension such as Findymail. This will add a new "Export CSV" button on Linkedin. Just click on it to start exporting the data of your prospects. This works on the standard Sales Navigator lead searches, but also on your custom prospects lists.
Findymail is one such tool allowing you to export the leads you find on Sales Navigator to CSV files. From there, you can use the Linkedin data with other tools such as Excel, Salesforce or your CRM.
Step 1: Create a Findymail Account

The first step is to create a free Findymail account. Once you log in, click on Scrape Sales Navigator in the sidebar.  
On the screen that opens, you'll see a short guide on how to export leads from Sales Navigator.
The first step in the guide is to download & install the Findymail Sales Navigator Chrome extension. Here, you have two options.
The first is to go to the following Chrome Web Store link, type Findymail in the search box, and click on Findymail in the list of results.
The other, easier option is to simply click on this link which will take you directly to the Findymail extension's page.
Either way, on the Web Store page that opens, you can then add the Findymail Chrome extension by clicking Add to Chrome. A dialog box will appear where you can just click OK.
Once you've added the extension, it will appear in your taskbar.
If it doesn't, you can click the puzzle symbol and then on the pin to add it to the taskbar.
Step 3: Authenticate to the Findymail Chrome Extension

When you've added the Findymail extension to your Chrome browser, the next step is to connect your account to it.
To do this, you'll head back to the Findymail website and click on API in the sidebar.
(You can also go to the guide we mentioned earlier and click on the link in step 2 of the guide.)
You'll land on the API screen, where you'll be able to create an API token that will be used to authenticate yourself. Here, you'll give your token a name, in this case, Chrome extension, and then click on CREATE.
Once you've clicked on CREATE, a dialog box will open and display the API token to activate the extension.
To activate the extension, you'll copy this API token and paste it into the dialog box that opens the first time when you open the extension.
With the API token pasted in the box, you can click on Sign in. A confirmation box will then appear to confirm that you've been logged into the extension.
At this stage, it's important to remember that if you don't intend to activate the extension right away, you should save the API key in a text file or note. Once you close the window, it won't be shown again.
How to Use Findymail To Export Leads from Sales Navigator
Once you've created a Findymail account and installed and logged into the Findymail Chrome extension, you're ready to start exporting leads from Linkedin Sales Navigator.
However, before you continue, you should ensure that you have Email Finder credits available. Findymail is free to use up to 10 emails for you to try it out, but you will likely need more data.
You can always get more credits by subscribing to one of Findymail's paid plans. You can see how many credits you have in the top-right corner of your Findymail dashboard.
You'll only pay for verified email addresses because Findymail verifies and ensures every lead's email address works and doesn't result in a bounce. This is very important when doing email outreach, as sending to invalid emails impact your email deliverability and makes you land in spam, ruining all your lead generation effort.  

Head over to Linkedin Sales Navigator.
On the home page, search for the leads you would like.
In this example, we'll search for Chief Executive Officer. We'll also filter the results to include only CEOs of companies in North America with less than 50 employees in the retail industry.
(If you're a Linkedin Sales Navigator power user, you can use more advanced features like the Boolean search.)
If we look at the results as they would usually appear, you'll see a list of CEOs, from which you can then select the leads to save to your list. You can also check the Select all box to save all of them.  
However, with Findymail activated, you'll notice that there's now an Export to CSV button.
When you click on this button, a dialog box will open. Here, you can choose how many leads you'd like to extract (to a maximum of 2,500 - this is a Linkedin limit).
You can also select the Findymail list you want to add the Linkedin leads to, to organize yourself.
In addition, you can speed up the process by selecting Fast mode. Generally, the scraping process is intentionally slowed down in order to avoid getting flagged by LinkedIn for using abusive automation. The fast mode might speed up this process a bit, but you'll get fewer potential email addresses.
Once you've selected your preferences, you can click on Export CSV. When the process is completed, you'll be able to save your CSV file on your computer. You can then open it on Microsoft Excel, Google Sheets, or import it to your favorite sales platform.
This CSV can then be opened in your favorite editor (Excel, Google Sheets) for you to review the leads and/or imported directly to your sales tool.
All the leads that you export from Linkedin Sales Navigator search results will also be saved automatically to your Findymail contacts page so that you can find them later. Job done!
Export lists from Sales Navigator
That same process is also applicable to your saved lead lists on Sales Navigator! Follow the above tutorial to install Findymail and the "export to CSV" will also appear in your saved lists.
Importing Linkedin prospects to your company CRM
If you're looking to export Linkedin's data to import in your CRM, this is what you should do:
Follow the steps above to export prospects' contact data from Linkedin
Depending on your CRM, import methodology will vary. Usually, you can import the output CSV file directly.
Here's how to do it on Salesforce:
Log into Salesforce
Click "Contacts" in the Salesforce dashboard
Click the "Import" tab and follow the prompts
And here's how to do it on Hubspot:
Log into Hubspot, select Contacts
Click Import > Start an import
Since we're importing contacts from an excel sheet, we will select File from computer instead of opt-out list
Click Next
Select One file and click Next
Select One object and click Next
Select the object you'd like to import, Contacts then click Next
Recap: extracting leads from Sales Navigator
To export leads from Sales Navigator, you should:
Install the Findymail Chrome Extension
Log in with your Findymail API key and purchase some credits if needed
Click "Export CSV" on your Sales Navigator search to start exporting your leads with emails
Tada 🎉
Exporting accounts from Sales Navigator
Findymail is not only used to export leads. If you need to build a Sales Navigator account list before, you can do that with the extension too.
Simply head over to the "Account" tab of your Sales Navigator search page once you have installed the extension.
You will see the export to CSV button allowing you to export Company Accounts data to a CSV (to import in your CRM, for example).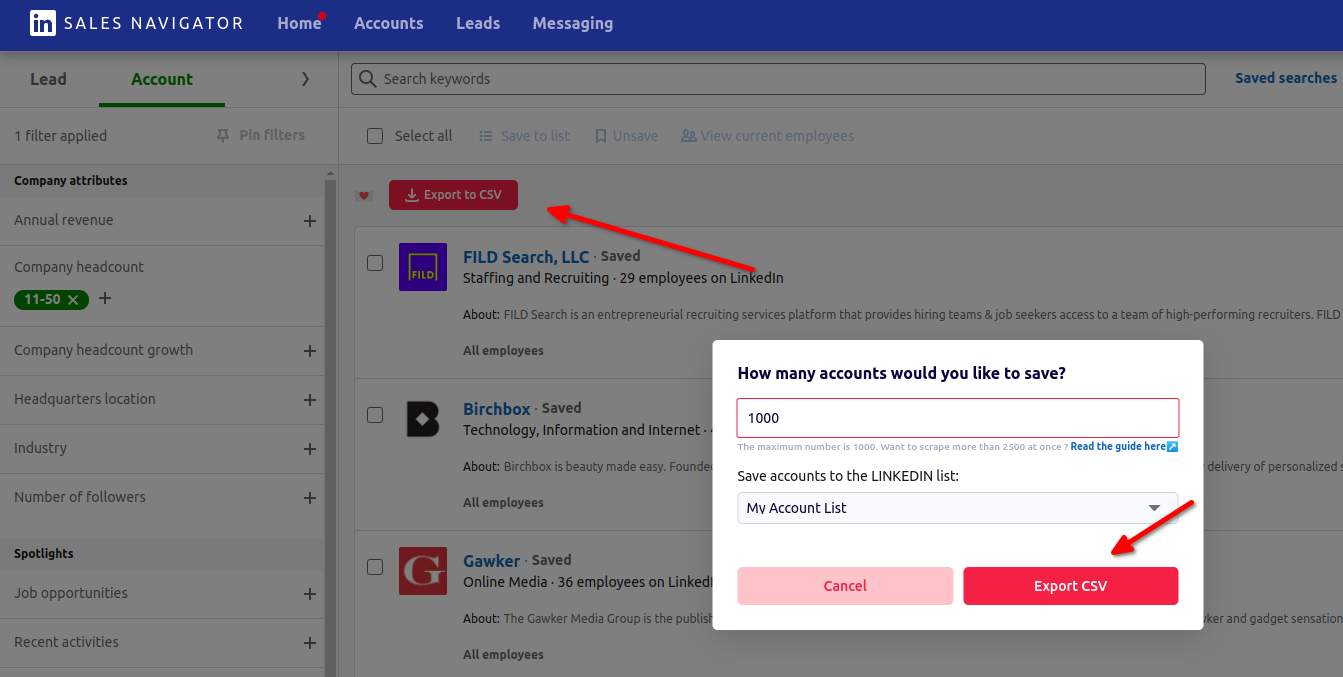 If you don't need to export, you can also use the extension to build your account list quickly.
Instead of doing "Select all" > "Save to List" > "Next page" manually 10 times, you can simply click on the export and select your Sales Navigator account list. All your accounts will be saved natively to your Sales Navigator account list in seconds so that you can use them right away (in a lead search for example).
The Linkedin "Account" export is a free tool, so enjoy!
Isn't it Time You Gathered Leads From Sales Navigator Faster?

And there you have it! There's no need to copy and paste leads or look up verified email addresses manually. With Findymail, you'll get all the information you need to sell more with your outreach in just a few minutes. What are you waiting for to send more emails?
Spend your doing your job, not copy-pasting.
Find out more about Findymail; get started for free today.