You already know that personalized cold emails are a crucial part of your sales strategy.
But if you're chasing those big deals – the ones that make your heart skip a beat and your bank account smile – then listen up: you need to take your cold emails to the next level of personalization.
I'm talking hyper-personalization, buddy.
Forget generic templates and spray-and-pray tactics. In today's crowded and saturated inbox, you need to stand out to grab their attention and build those genuine connections.
And that's where hyper-personalization can help you win. Trust me, I've been there, done that, and I've learned a thing or two about what works and what doesn't.
So, buckle up and get ready to dive into the world of hyper-personalization. I'm here to be your guide, confidant, and mentor as we unleash the power of hyper-personalized cold emails so you can supercharge your sales game.
Let's do this!
Why Hyper-Personalization Matters
Before we jump into the nitty-gritty of crafting hyper-personalized cold emails, let's take a moment to understand why it's so damn important.
A well-crafted personalized email campaign has the potential to skyrocket your ROI. In fact, studies have shown that businesses that invest in personalization can expect a return of up to 122%.
But it doesn't stop there. Hyper-personalization can work wonders for your open rates and click rates too. Imagine this: by tailoring your cold emails to the individual recipient, you can boost your open rates by 29% and your click rates by 41%.
So, why does hyper-personalization pack such a powerful punch?
Well, think about it. In a sea of generic, one-size-fits-all emails, a message that speaks directly to your recipient's needs, pain points, and aspirations is like a breath of fresh air.
It shows that you've done your homework and that you genuinely care about solving their problems.
When you put in the effort to make your cold emails hyper-personalized, you're not just sending another pitch into the void. You're creating a connection, sparking interest, and increasing the likelihood of getting a response.
And that response can be the gateway to those big deals that will make all your hard work worthwhile.
Digging up the Info for Hyper-Personalized Emails
When it comes to hyper-personalization, data is your best friend. The more information you have about your prospects, the better you can tailor your cold emails to resonate with them.
But let's face it, gathering all that data manually can be a real pain in the you-know-where. That's where data enrichment tools and B2B contact databases come to the rescue.
Data Enrichment Tools
Think of data enrichment tools like private detectives that scour the web to gather valuable info about your leads. They fill in the gaps, providing you with a wealth of data that can be used for your hyper-personalization efforts.
And trust me, when you're dealing with hundreds or even thousands of entries in your lead lists, using these types of tools is a godsend.
Here are some top-notch data enrichment tools to consider:
The Best B2B Contact Databases for Email Personalization
Now, let's not forget about B2B contact databases.
These treasure troves of business information give you access to a wealth of potential leads, saving you time and effort in your search for the perfect recipients of your hyper-personalized cold emails.
Here are some notable B2B contact databases:
LinkedIn Sales Navigator: With LinkedIn Sales Navigator, you can tap into the world's largest professional network, finding and connecting with decision-makers in your target industries. (Plus, if you integrate it with Findymail, it'll scrape verified email addresses from Sales Nav for you – and addresses from LinkedIn post commenters, too.)
ZoomInfo: As mentioned earlier, ZoomInfo not only offers data enrichment capabilities but also serves as a powerful B2B contact database, providing you with detailed profiles and contact information.
Lusha: Lusha is another fantastic tool for finding accurate contact details, allowing you to reach out to the right people at the right companies.
Apollo.io: Apollo.io focuses on connecting you with high-quality B2B contacts, ensuring that your cold emails land in the inboxes of decision-makers who can make a real impact on your business.
By leveraging these tools to your advantage, you'll be armed with the insights and contact information necessary to create hyper-personalized cold emails that hit the bullseye.
If you want to learn more about these tools (and some others) and how they work, I've already done a deep dive into data enrichment services and B2B contact databases, where I go into what you can expect from them and the best way to use them.
How to Craft Hyper-Personalized Cold Emails
Now let's get down to business and explore the steps you need to take in order to write a winning hyper-personalized email.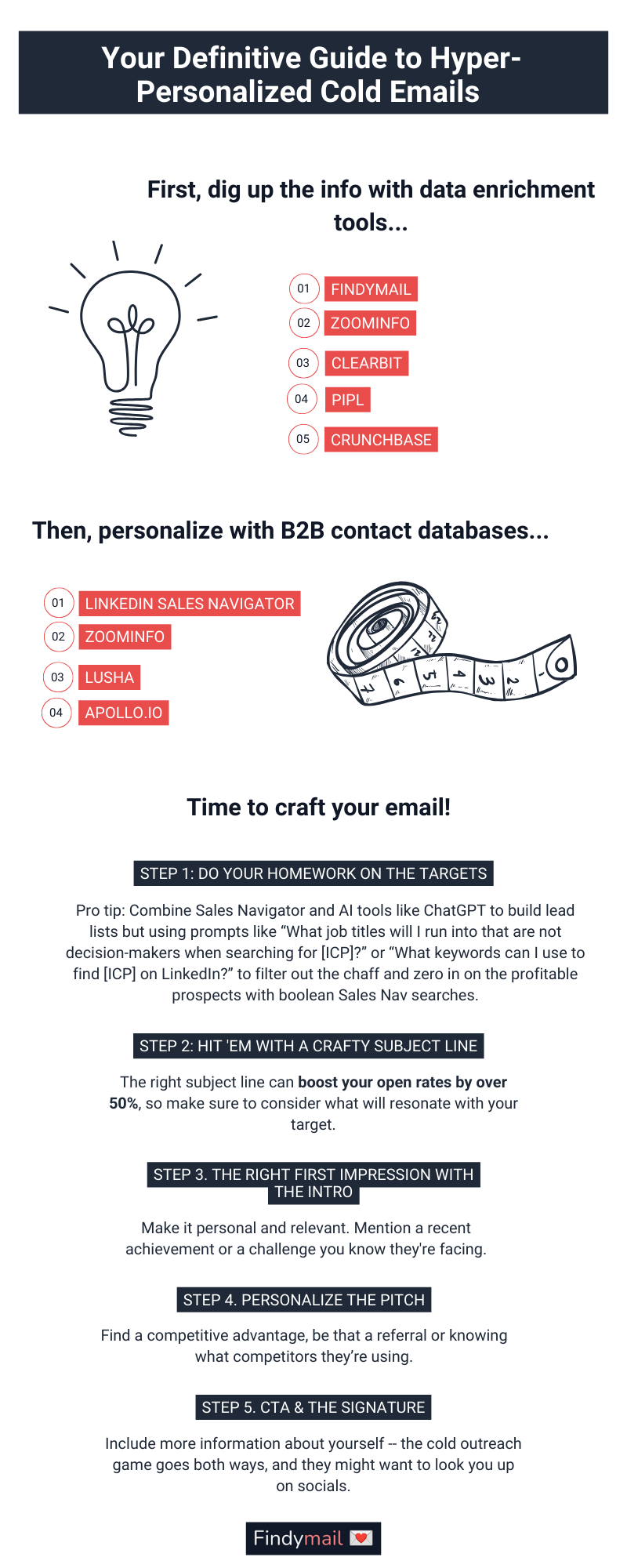 In my previous guide on cold emails, I covered the topic extensively, but here's a brief recap to refresh your memory:
Step 1: Do Your Homework on Targets
You need to have a solid understanding of your audience. Take the time to research their interests, pain points, and demographics (such as age, gender, location, role, and industry). Utilize data enrichment services and B2B contact databases to streamline this process and gather the necessary insights.
And here's a pro tip I've been playing with recently.
You can combine Sales Navigator and AI tools like ChatGPT to build lead lists but using prompts like "What job titles will I run into that are not decision-makers when searching for [ICP]?" or "What keywords can I use to find [ICP] on LinkedIn?"
That way, you can really filter the chaff out and zero in on the wheat when using Boolean searches in Sales Nav.
Step 2: Hit 'em with a Crafty Subject Line
The subject line is super important because it determines whether your email gets opened or ignored. Spend time crafting a subject line that truly grabs attention.
The right subject line can boost your open rates by over 50%, so make sure to consider what will resonate with your target. Highlight their interests, goals, or a mutual connection.
Remember, the goal is to show them that this email is specifically tailored to them.
Step 3: You Need a Killer Introduction
Just like approaching someone you're interested in for a date, the introduction sets the tone for the conversation.
Make it personal and relevant.
Mention a recent achievement or a challenge you know they're facing. This demonstrates that you've done your homework, establishes a connection, and helps build rapport from the get-go.
Step 4: Personalize the Pitch
Take personalization a step further and tailor the entire message to your recipient. One effective approach is to use referrals.
For example, mention a mutual contact who recommended your product or service as the perfect solution for their specific challenge. Or, if you know they're using a competitor, highlight how your offer is the better option.