When social selling first became popular, sales pros needed guidance. And as a platform that made big bucks from connecting you with your ideal prospects, LinkedIn jumped in to help with the LinkedIn SSI (Social Selling Index) score.
These days, with over 50% of sales reps actively engaging in social selling, the role of the SSI score has changed. But it's still a fantastic proxy for knowing if you're doing LinkedIn right.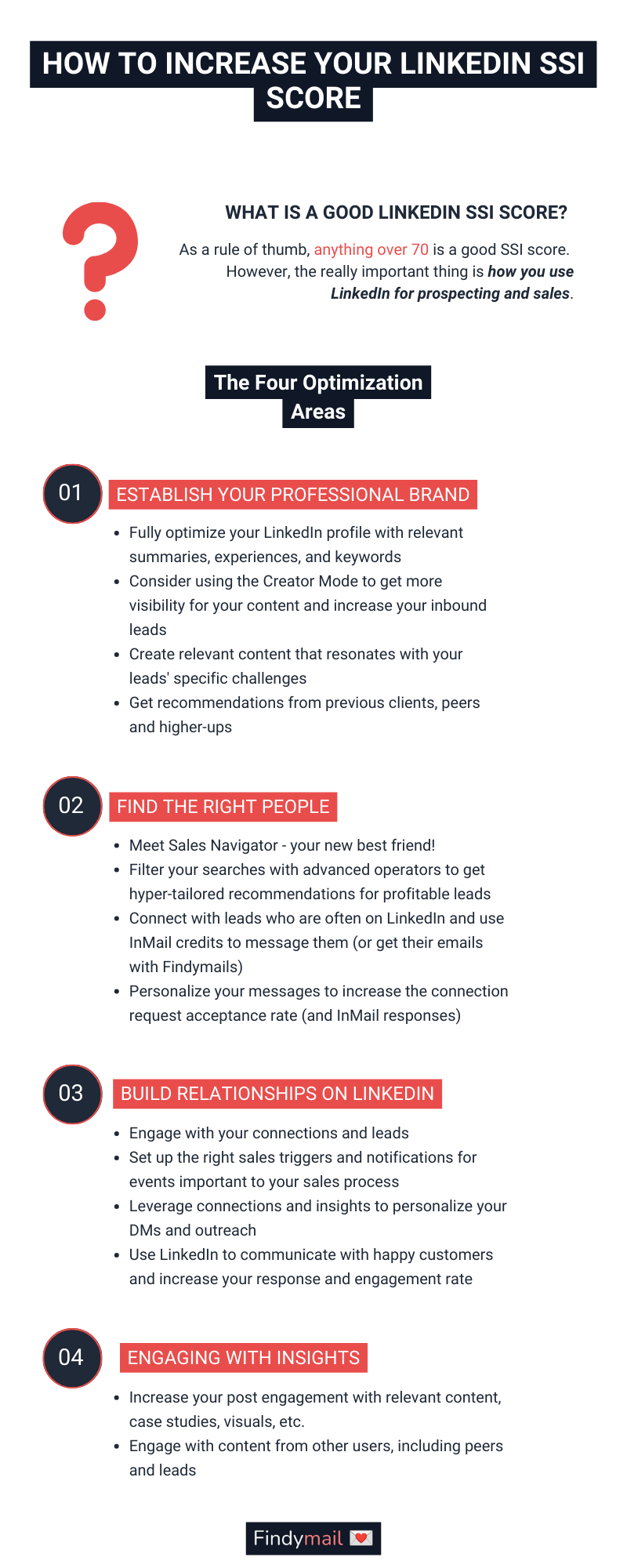 Today, I'll show you how to use the LinkedIn SSI score properly, including mapping it to your sales KPIs, so you don't fall into the vanity-metric rabbit hole.
1. What's the LinkedIn SSI Score, Really?
The LinkedIn Social Selling Index (SSI) looks at the content you post and engage with on your LinkedIn Premium or Sales Navigator accounts, as well as the people you're communicating with, to generate a number between 0 and 100 that visualizes your social selling effectiveness.
In reality, it's a great proxy for knowing if you're performing the right social selling activities on LinkedIn.
The Problem with the LinkedIn SSI Score
The problem is, it's easy to chase SSI score growth instead of looking at your strategy and how your KPIs map to LinkedIn's score.
The SSI score looks at 4 criteria:
Establish your professional brand
Find the right people
Engage with insights
Build relationships
When you translate this to your KPIs, you'll get a better perspective:
Then, use the SSI score to get a micro-perspective of the tasks you complete every day to achieve growth.
For example, if your goal is to get more high-quality clients through Sales Navigator, you should be looking at the "Find the right people" metric. It monitors the activities you perform, such as setting up sales triggers.
SSI score should be a tool to help you evaluate how well you're doing socially, not your end goal. Improving the score doesn't necessarily translate in better marketing, and vice-versa.
Where Can I Find My SSI Score on LinkedIn?
Log into your LinkedIn account.
Then, head to https://www.linkedin.com/sales/ssi.
You'll see your dashboard, including comparisons to your industry and network peers.
Will I Get More Customers If I Increase My LinkedIn SSI Score?
LinkedIn won't magically send new customers your way as a direct result of increasing your SSI score. However, the activities it recommends are generally considered best practices for social selling, so you should indirectly close more deals.
What Is a Good LinkedIn Social Selling Index Score?
As a rule of thumb, anything over 70 is a good LinkedIn SSI score.
However, the really important thing is how you use LinkedIn for prospecting and sales.
If your sales process already generates plenty of high-quality leads and that's working for you, then you don't need a high SSI score.
Conversely, if you are building a brand on LinkedIn, you'll want to ensure your LinkedIn profile is optimized, and having a good grade shows you're on the right direction.
Don't use the SSI score in a vacuum. Instead, pair it with the profitable activities in your strategy and measure your success that way.
Always let your real-world sales funnel KPIs guide you!
2. The Four LinkedIn SSI Score Components
Fortunately, there are a few things you can do to influence each part of the SSI score:
2.1. Establish Your Professional Brand
Fully Optimize Your LinkedIn Profile
You'll want to tackle all the basics, including a good profile pic, a headline, adding your experience, etc. (I mentioned everything you should cover in my article on optimizing your LinkedIn profile.)
Your LinkedIn profile is going to be your storefront. It needs to look good:
Headline: Quickly describe what you can do for your prospective customers
Summary: Treat your summary like an elevator pitch
Reference your experience in your ideal buyer's industry
Get recommendations from relevant customers and peers
In short: you want to sound like a consultant to your customers who knows exactly what they're struggling with and has the right experience and products to help.

For example, Kevin here is specific regarding what he can do and who he does it for. Instead of saying: "I help sales teams get more revenue," he specified he helps execs with a specific goal: pipeline growth.
Consider Using the Creator Mode
If you'll use content to grow your audience on LinkedIn, turn on the LinkedIn Creator Mode.
It'll let you use hashtags to explain which topics you cover, and LinkedIn users will be able to follow you.
Ultimately, Creator Mode gives you street cred: your followers will start perceiving you as an industry expert.
Create Relevant Content
This optimization helps with both Professional Brand and Engagement/Building Relationships components. I recommend this approach whenever you want to get more inbound leads.
Depending on your target audience, try:
Long-form content that explains how you've helped clients tackle Problem X in the past, and the type of results you generated.
Educating your audience on an especially painful challenge (that ties into your product).
Sharing shorter and catchier posts.
Humorous or casual content like memes. (I post them all the time, and my audience loves them!)
Then, consider the formatting.
Unless you have a good hook, people will just scroll past your posts on the feed. LinkedIn carousels, on the other hand, give you more LinkedIn feed real estate because you can visually capture interest:

Don't let the metrics get you down. If you're just building your audience, it's normal to have fewer reactions. You're still being seen by people.
As you grow, focus on engagement, reactions, and leads generated to see if you're adding value to the people you want to turn into your customers.
That being said, do your research before posting. Growing your LinkedIn SSI score can be a trial-and-error affair, but you should still ground it in knowing who your audience is and the topics they're interested in.
Bonus points if you have social proof and discuss topics few salespeople in your niche can!
Get Recommendations
Get targeted recommendations from not only your bosses and colleagues but from happy customers too.
You can ask for them through LinkedIn Recommendations first, and then display the testimonials in your profile banner image, too.
2.2. How to Increase Your LinkedIn SSI by Finding the Right People
Sales Navigator Is Now Your Best Friend
Since the "Finding the right people" metric evaluates how successful you are at finding the right prospects and connecting with them, you'll want to get familiar with Sales Navigator:
Don't Stay in the Walled Garden
You'll hit LinkedIn limits sooner or later. So connect with the leads who use LinkedIn often and use your InMail credits to message them.
Then, leverage your Sales Navigator lead gen list: get other LinkedIn leads' email addresses and reach them via email.
Scrape your Sales Nav lead list with Findymail to get verified addresses in bulk:

Findymail's extension adds a convenient "Export to CSV" button, so you can export your leads and automatically get their verified email addresses
Increase Your Connection Request Acceptance Rate
Once you've found the right people, LinkedIn will look at how successful you are at connecting with them. You'll need a mean connection request.
Ideally, you'll do your research for leads and personalize your LinkedIn connection note:
Reference the things you have in common
Mention the challenges you've found while researching their company
Reference their content in your connection request
2.3. How to Build Relationships on LinkedIn
Engage with people
LinkedIn, of course, wants to encourage you to use their product. Boosting this component of your SSI score is all about engaging with people in the feed, messaging them (via text or voice messaging), and replying to the comments on your posts. In short, being social! (it is, after all, a social network)
Sales Triggers + Connections + Insights = Relevant DMs
If you want to heat up your leads before you pitch, use Sales Navigator to establish sales triggers. Get relevant information when the lead's company changes structure, raises funding, etc.
Make a list of the hottest content creators to interact with regularly in your feed.
Then, slide into their DMs armed with insights and a perfectly tailored pitch.
Time-consuming? Definitely. But you can automate plenty of this with LinkedIn and cold outreach tools. It's not a strategy for everyone (most sales professionals would just use LinkedIn to get email addresses and an introduction before they fire off the intro email), so don't feel bad if you want this LinkedIn SSI score component to stay low.
Communicate with Happy Customers
Connect with your satisfied customers on LinkedIn and talk to them. While this may not directly help your prospecting, you will have higher response and acceptance rates, so your SSI score will increase.
Additionally, you can always use LinkedIn to ask for sales referrals.
2.4. What Does Engaging with Insights Mean in the LinkedIn SSI Score?
Increase Your Post Engagement
LinkedIn first looks at your content and how much engagement it gets. It uses the engagement score to evaluate how well you're staying on top of industry trends (and using LinkedIn).
This ties back into the content strategy I mentioned above. You want to cover topics that are interesting, and make your content easy to consume and insightful enough to start conversations in the comments sections.
Again, if you're mainly using LinkedIn to create lead lists, you won't have to worry too much about this score component.
Engage with Content from Other Users
Don't be a lurker! If you want to increase your LinkedIn SSI, set aside some time every day to contribute to posts in your feed with relevant comments, visit leads' profiles and overall increase your LinkedIn usage.
The strategic part of engagement is crucial:
Make a list of top accounts (especially if you're on LinkedIn for smarketing or ABM)
Check out their content regularly
Pose insightful questions
… all to stay top-of-mind and time your pitch perfectly.
LinkedIn SSI Score: Just a Vanity Metric?
Ultimately, the LinkedIn SSI score is more useful for beginners than for sales pros. If you already have a defined social selling or prospecting strategy that you measure, you may not need to check your SSI score to know how well you're doing.
However, if your targets love LinkedIn and you want to get closer to them, focus on the components of the SSI score that matter most for your sales approach.
As with any number, the SSI score can point you in the right direction. But it's the legwork that you'll have to do yourself!