I love LinkedIn. It's a treasure trove of potential leads, plus it provides invaluable insights about them to help with tailoring my approach.
But let's be real – the hard part is actually reaching out to them and making that connection.
How do you do it? Well, it's tricky, but trust me, the reward is well worth the challenge.
In this article, I'm going to give you the blueprint to start reaching out to prospects on LinkedIn like a pro.
These tried and true methods will help you break through the noise and make meaningful connections!
So, buckle up and get ready to take your LinkedIn game to the next level!
Why Prospect on LinkedIn?
So why is LinkedIn the place to be when it comes to prospecting?
First off, a whopping 80% of B2B leads come straight from LinkedIn. Then when you combine that with $42 to $1 ROI from cold emails, you could be a lead-gen god.
Really, LinkedIn has revolutionized the way we identify new prospects by providing a wealth of information right at our fingertips.
It's not just because everyone is on the platform but also due to its detailed member insights. Job titles, company names, sizes, pain points, needs—LinkedIn's Sales Navigator knows it all.
It holds the key to determining if they are high-quality prospects worthy of your time and effort. And on the flip side, you can use all this data and info to perfectly tailor your outreach approach.
Now let's hop into actually getting the deed done.
How to Reach Out to Someone on LinkedIn
Prospecting on LinkedIn is a lot like cold emails; you can apply many of the same tactics.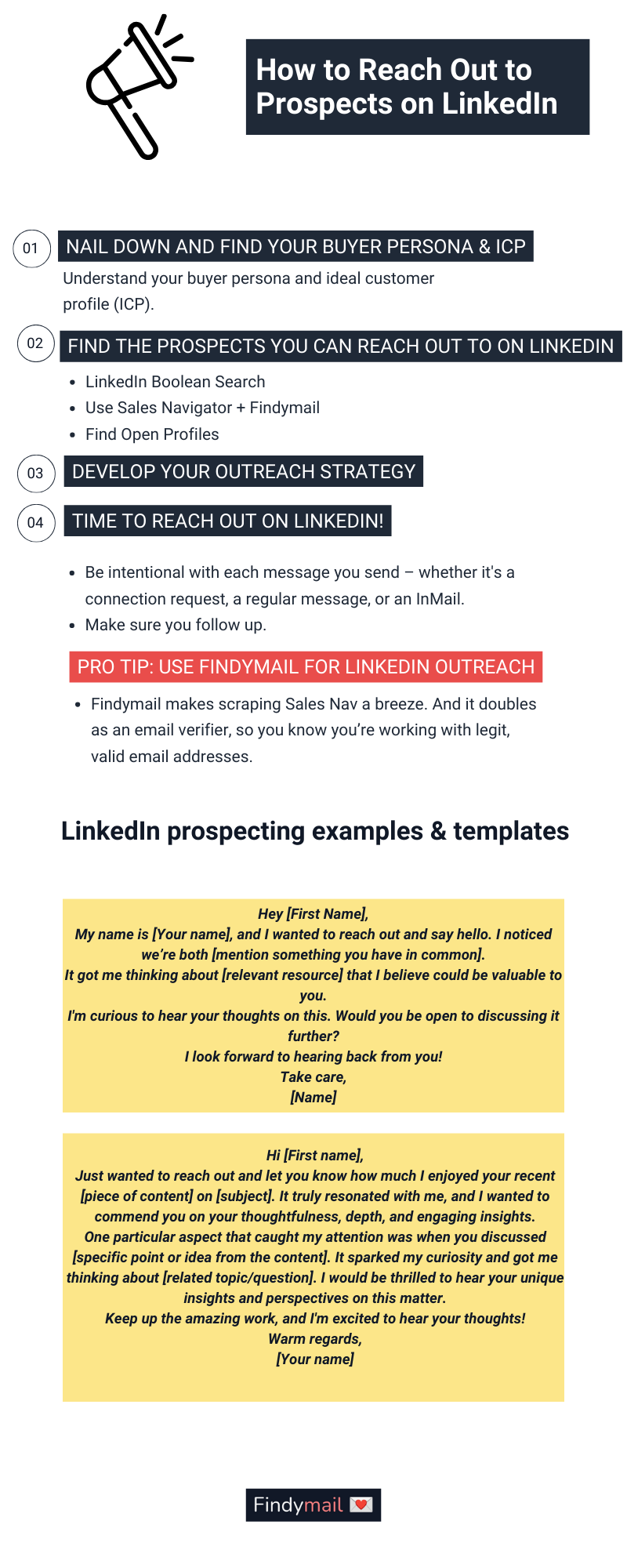 The good news is, it's not rocket science!
With the right approach and a sprinkle of creativity, you can unlock a wealth of opportunities on this powerful platform.
Here are the steps I take when I prospect on LinkedIn:
Step 1: Nail Down and Find Your Buyer Persona & ICP
Defining the ideal attributes of your qualified prospects is like putting on a pair of specialized glasses that help you zoom in on the most promising leads. Typically, you want to understand your buyer persona and ideal customer profile (ICP).
Think of ICP as a description of the companies that would benefit from your product or service the most.
These are the ones that will convert faster, stay long-term customers, and likely spread the word to other businesses. You want to focus your marketing and sales efforts on pursuing these specific, highly-qualified leads that have a high likelihood of converting into loyal customers.
And then the buyer persona is a detailed representation of your ideal customer.
I'm talking about their demographics, behaviors, pain points, goals, etc.
They can be direct or indirect decision-makers, playing a vital role in the buying process.
When combined with the ICP, they create a dynamic duo that shortens the buying cycle.
Now how do you actually find these people and businesses?
Step 2: Actually Find the Prospects You Can Reach out to on LinkedIn
Now that you have our ideal customer profile defined, it's time to roll up your sleeves and start hunting for those valuable prospects on LinkedIn. Lucky for you, there are several effective methods to find the right people.
Here are some of my favorite techniques:
LinkedIn Boolean Search
(Source)
Boolean search is a powerful feature that allows you to refine your search using specific keywords, job titles, company names, and more.
By using operators like "AND," "OR," and "NOT," you can create targeted searches to find prospects that match your criteria. These are some of my favorites:
Use Sales Navigator + Findymail
LinkedIn's Sales Navigator is a premium tool that provides enhanced search and prospecting capabilities. It allows you to create custom lead lists, save leads for future reference, and get real-time insights on your prospects. Sales Navigator can be a valuable asset for identifying and engaging with high-quality leads.
Then, use Findymail's Chrome extension to automatically get those leads' verified email addresses.
Find Open Profiles
Some people on LinkedIn have their profiles set to "open," which means you can message them even if you aren't connected. It's like a sign that they're willing and ready to listen to what pops up in their inbox.
With these methods, you'll easily find plenty of prospects. And if you really want to beef up your lead list, combine it with data enrichment tools so you can hone in on those quality prospects.
Step 3: Develop Your Outreach Strategy
You can't just send a connection request and expect high-quality leads to start rolling in. I mean - if your request messages are good, you'll see some ROI. But if you want to maximize your effectiveness, you'll need a robust LinkedIn outreach strategy.
Think about how the message of your copy will flow. What will be your message frequency, including follow-ups?
And you need to determine your prospect's preferred means of communication – it could be a LinkedIn message, InMail, or maybe it'll need to be an email or a phone call. In some cases, they might even be receptive to a LinkedIn voice message!
And, of course, you'll need to decide how to adapt your position statement and introduce your sales pitch.
Step 4: Time to Reach Out on LinkedIn!
It's time to kickstart your LinkedIn outreach efforts. But don't just leave things to fate or luck.
Be intentional with each message you send – whether it's a connection request, a regular message, or an InMail. Everything should be carefully crafted and personalized.
Show that you've done your research, demonstrate your understanding of the person you're reaching out to, and leave room for the conversation to grow.
The biggest key is to make sure you follow up. Not everyone you engage with will be ready to dive into business discussions right away. Especially when targeting busy decision-makers, think about the deluge of connection requests and messages they receive every day.
Persistence is key, but it's equally important to recognize when to step back. Perhaps the timing isn't ideal, and that's okay. It doesn't mean you can't seize another opportune moment in the future to reconnect.
Of course, I will share examples and templates of what a good outreach message looks like below.
Combining LinkedIn Outreach with Cold Email using Findymail
By combining the power of LinkedIn outreach with cold email, you can broaden your reach and increase the chances of connecting with your target audience.
And with the help of Findymail, the process becomes even more seamless, so you can be confident you're working with valid and reliable email addresses.
Here's how you can use Findymail to scrape emails from Sales Nav:
Use Findymail for LinkedIn Outreach
Findymail makes scraping Sales Nav a breeze. And it doubles as an email verifier, so you know you're working with legit, valid email addresses.
Install the Chrome extension
Grab your API key
Open the extension and use your key to activate Findymail
Do your search on Sales Nav
Export and save your search results
And voilà! Findymail does the hard work for you by verifying all the emails it finds. You can import them into your preferred CRM or outreach tool without hesitation.
LinkedIn Prospecting Message Examples & Templates
General Outreach Email
This is a simple example of a LinkedIn outreach email you can use in almost any situation.
Hey [First Name],
My name is [Your name], and I wanted to reach out and say hello. I noticed we're both [mention something you have in common].
It got me thinking about [relevant resource] that I believe could be valuable to you.
I'm curious to hear your thoughts on this. Would you be open to discussing it further?
I look forward to hearing back from you!
Take care,
[Name]
You're not asking for anything. You're offering them something of value and keeping things straight to the point.
Acknowledge Their Content
People love to be flattered and have their egos stroked a bit. You can use this to your advantage and tailor your outreach message to praise their content and show interest.
Hi [First name],
Just wanted to reach out and let you know how much I enjoyed your recent [piece of content] on [subject]. It truly resonated with me, and I wanted to commend you on your thoughtfulness, depth, and engaging insights.
One particular aspect that caught my attention was when you discussed [specific point or idea from the content]. It sparked my curiosity and got me thinking about [related topic/question]. I would be thrilled to hear your unique insights and perspectives on this matter.
Keep up the amazing work, and I'm excited to hear your thoughts!
Warm regards,
[Your name]
Recognize an Achievement
If you see your prospect or their company recently reached a milestone, it's a great opportunity to make that connection.
Maybe they got a new round of funding. Maybe they got promoted. Whatever it is, that's your way in.
Hey [First Name],
I couldn't resist reaching out to extend my heartfelt congratulations on [ recent achievement]. It's truly inspiring to witness your success and the impact you're making in [their field].
I have no doubt that you'll continue to thrive and push boundaries, bringing fresh perspectives and innovation to [industry].
Wishing you continued success.
Best,
[Your Name]
Show Them Something They Might Like
If you come across a relevant and interesting piece of content – like an article or a Youtube video – don't be afraid to use that as your gateway.
Hi [first name]
I couldn't help but notice your recent [piece of content] on [subject]. It was truly impressive! As I was exploring [related topic], I came across [another piece of content relevant to theirs] that I thought you might find interesting.
You can check it out here: [link]. I would love to hear your thoughts and insights on this particular subject. Your perspective is highly valued, and I believe your input would add a valuable layer to the conversation.
Thank you for sharing your expertise through your content, and I'm excited to engage in a thoughtful discussion with you.
Best,
[Your Name]
Reach Out to Your Competitor's Followers
Go ahead and snoop around your competitor's posts and look at who's interacting with them, liking posts, commenting, and sharing content. If they like them, they'll likely like what you have, too, if it's a new or better product/service.
Hey [First Name],
I noticed that you follow [Competitor's Name]. Are you currently using their product/service? Or are you just a fan of the content?
If you do use [competitor's product/service], I'd love to hear your thoughts about it.
Best,
[Your Name]
Make Use of Existing Clients
Another tactic I like is reaching out to my clients' competitors to see if there's a potential deal. Of course, make sure there aren't any contract clauses barring you from working with similar companies.
Similarly, you can ask your super-happy customers for referrals.
Hey [First Name],
We've been working closely with [Client] to tackle [specific problem or pain point], and the results have been impressive. I believe we could help you achieve similar success.
If you're interested in exploring how our solutions can address your [problem or pain point], I'd love to connect and discuss it further.
Let me know if you're available for a quick chat.
Best regards,
[Your Name]
Best Practices for LinkedIn Prospecting
Here are a few tips to keep in mind when you're using LinkedIn for prospecting.
1) Focus on Providing Value
The initial contact should be all about providing value to them.
The goal is to position yourself as someone helpful and expert in the industry. This will make them more likely to do business with you.
For one thing, they'll recognize you have the knowledge. And second, they'll be grateful you've provided so much for free.
So how do you provide value? For me, I like to share an ebook or an interesting video.
But heck, you can even simply reach out with a little advice if you see someone facing a challenge!
2) Personalize Your Outreach
One of the greatest advantages of LinkedIn is the wealth of information it provides about prospects. I love it because it makes personalization so much more effective.
Remember, it's more than [First Name] tags, though. It's about conducting thorough research and really understanding who you're talking to. Plus, you can segment data to automate outreach efforts and make every email feel 100% personalized.
This brings me to my next tip…
3) Automate Reaching out on LinkedIn
Of course, it would be tedious to go through each person's profile one by one and then send them a message one by one as well.
No, thank you! Luckily, there are tools that can help automate getting leads and reaching out to them from LinkedIn.
A few of my favorites are:
The cool thing is most of them work beyond LinkedIn, so it's stuff you need in your sales enablement stack anyway.
4) Move the Conversation Away from LinkedIn
While LinkedIn messaging can be a convenient starting point, eventually, you'll want to take it elsewhere.
I prefer email, but you can even do phone calls or hop on Zoom.
It'll be easier to handle key things like qualifying the leads, nurturing those qualified leads, and moving them down the sales funnel.
5) Optimize Your Profile
Your LinkedIn profile is like your digital business card.
Make sure everything is optimized.
You also need to fill out all the sections. I'm talking about your headline, bio, work experience, recommendations, and education – everything!
Incorporate targeted keywords that align with what you're selling, as this can help prospects find you when they're searching for what you're offering.
Unlock the Power of LinkedIn Prospecting
LinkedIn prospecting offers immense potential for connecting with high-quality prospects and driving business growth.
Throughout this article, I've shown you the key ways to reach out to your leads on LinkedIn. And now that you're armed with knowledge, you're ready to dive into the world of LinkedIn prospecting and start connecting with high-quality prospects.
Remember, personalization and value are the cornerstones of effective outreach, and automating tasks can streamline your efforts.
But if you really want to supercharge your LinkedIn prospecting, you need Findymail.
With its advanced web scraping capabilities and email verification functionality, Findymail lets you get high-quality email addresses from LinkedIn. So add Findymail to your tech stack today and get the first 10 emails for free!