LinkedIn is all about growth. But to get more leads from the platform, you'll need to grow your network, which sounds simpler than it is. In reality, growing a network that generates high-quality leads takes a lot of effort.
Fortunately, you can use growth hacks! Today, I'll walk you through the best LinkedIn growth hacks I've seen - I hope they inspire you for your next sales push!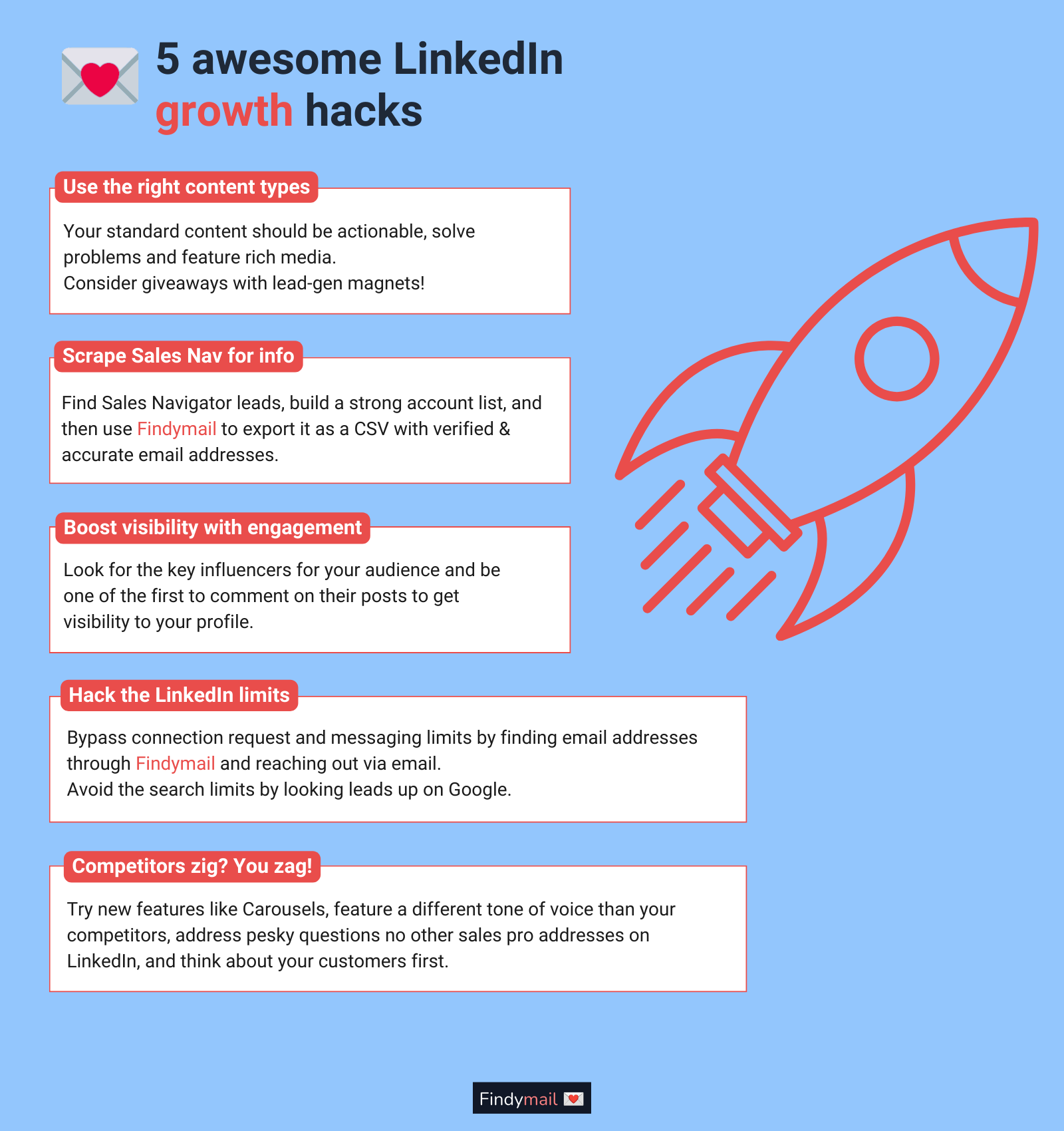 1. How to Use Content to Growth Hack LinkedIn like Ilya Azovtsev and Super Send

Let's face it, you can send connection requests to as many people as possible on LinkedIn to grow your network. The problem is that many people don't accept connection requests on the platform without knowing what kind of value you can offer them, and LinkedIn has imposed connection request limitations.
It's far better to create content on the platform. The LinkedIn algorithm will point more people to your profile, so you grow your network consistently.
Take Ilya Azovtsev as an example. His content frequently generates 10x more impressions than his number of first-degree connections:

If you want your content to be effective for lead gen, remember the rules:
Action is essential - Can you provide unique research, insights, and takeaways? Don't just rehash what everyone else is saying.
Solve problems - Shift away from selling and focus on helping. You can pitch your product, but provide value to your target audience first.
Rich media - LinkedIn carousels, videos, memes… Everything is fair game, and the more unique your presentation is, the more attention it will grab!
Similarly, the folks at Super Send run giveaways with cold email follow-up sequence templates on LinkedIn.
Leads just have to leave their email address to get access to their documents:

No connections were needed, and Super Send added over 500 leads to their mailing list!
2. Scrape LinkedIn for Information & Reach out via Email
(Too) many sales reps and ambitious startup founders rely on LinkedIn's ecosystem for everything from sourcing leads to contacting them. This becomes a huge problem when you hit the daily limitations or run out of cold DM templates.
I do the following:
Step 1: Find Sales Navigator Leads
I wrote a whole article on how I filter for the right leads (spoiler alert: I go pretty in-depth), but once Sales Navigator has prepped them for me, I stay up-to-date on any job changes and other alerts.
Step 2. Choose & Export Sales Navigator Leads
I divide my Sales Navigator leads into priority accounts and accounts I want to stay updated on (LinkedIn Lists work like a charm).
When I want to do cold outreach, I simply use Findymail to export Sales Navigator leads as a .CSV file.
Step 3. Verify Email Addresses
Landing in the spam folder is a rookie mistake. You want to make sure that:
Your inbox is sufficiently warmed up
Your leads' email addresses are correct
When I couldn't get all those features in one place, I built Findymail, which now pre-verifies your leads' email addresses, so you don't land in a catch-all email or (God forbid) the junk folder.
You can verify email addresses individually, or Findymail will automatically verify them for you as you export them from Sales Navigator.
Step 4. Write the Perfect Cold Email
Personally, I believe in memes (and so does my target audience):
Cold email personalization will significantly increase your response rate. Sometimes it's as simple as:
Using Vidu.io for personalized videos
Adding spintax to randomize your cold emails
Adding job titles, boss names, and other personalization points
For example, your cold email can reference your lead's existing position and their previous one to create a feeling like the two of you met.
3. New Profile? Engage and Comment!

Create your content but engage with other popular content to increase your visibility.
Look for the key influencers in your target industry. If your audience consistently comments and shares their posts, add them to a list.
Then, check up on them frequently. (Heck, set alerts to get notified when they post!)
You want to be among the first to comment on their highest-value posts and with a good addition. For example, share your relevant experiences highlighting your expertise, point the other commenters in the right direction with a resource, or provide your perspective on solving that particular problem.
You can also use comment sections to identify potential new connections.
Because they're commenting on the content, they're likely interested in the specific industry or product, and they'll be more likely to connect and engage with you based on the products and services you offer.
4. Growth-Hack LinkedIn's Limits

Firstly, the platform limits the number of connection requests you can send in a given period. While you could send about 100 connection requests per day in the past, you're now only able to send 100 or 200 connection requests weekly.
Another limitation is the number of searches you can do (unless you have LinkedIn's Sales Navigator or Recruiter plans).
Fortunately, there are ways in which you can bypass these limits.
For example, you can search for other LinkedIn users using Google. Then, reach out to them via different social media channels or…
If you want to connect with leads, just use an email scraping tool and fire off that cold email! You can ask them to connect with you or start pitching. You'll have no problem getting them to accept your connection request once you convert them.
5. If Your Competitor Zigs, Zag
If you want to growth-hack LinkedIn impressions and views or simply increase your inbound traffic, you'll need to stand out. And no, this doesn't mean LinkedIn broetry (unless you have a solid hook and something interesting to share).
Instead, look at what other sales-oriented folks are doing in your industry. If the space is saturated with one content type, post another.
Try to take advantage of new features as soon as possible. For example, LinkedIn carousels were all the rage when they first appeared. You can still stand out with them like Amanda Natividad:
Similarly, if your audience is receptive to one style, but your competitors are still posting dry LinkedIn content, take notes from Jason Hewett's humorous post:

Lead with value, but make yourself impossible to miss.
Growth Hack Your Way to LinkedIn Success

LinkedIn is full of outstanding examples of growth hacking and successful lead generation if you know where to look. However, the best salespeople I know figured out their own stacks that work for them and their leads.
Add some humor, strengthen it with technology, and fire away!
(P.S. Want to get high-quality leads' email addresses faster? Try Findymail. Your first few credits are on us!)