If you add up the time wasted on finding leads, manually searching for their email addresses, and adding them to your lead gen database, you'll find that you could have a lot more time to spend on what you do best: sales.
This is where LinkedIn scraping tools make it easy for you to extract email addresses and other contact information from LinkedIn. But, with so many of them, how do you choose the right one?
In this post, we'll answer this question by looking at the top 5 best LinkedIn scraping tools available in 2022.
What Is a LinkedIn Scraping Tool?

At their core, LinkedIn scraping tools simplify the process of finding leads on LinkedIn. They automatically go through a lead's LinkedIn profile and extract information like their:
Name
Email address
Phone number
Company
Job and role
In essence, they all show you a lead's contact information, which makes it much easier to find leads and their contact information on the LinkedIn platform.

Why Should You Use a LinkedIn Scraping Tool?

Being able to extract contact information from LinkedIn automatically saves you a lot of time, but the benefits of LinkedIn scraping tools go far further:

LinkedIn scraping tools connect you with the right people. You can find potential customers, business partners, or skilled employees effortlessly. Then, by using a LinkedIn scraping tool, you can easily export their contact details from the platform.
Understand your competition. Apart from finding more information on potential customers or business partners, you can also use a LinkedIn scraping tool to get more data on your competitors. As such, you'll learn who their employees are, what skills they have, and what they're good at.
Contact users who visit your profile. Since LinkedIn shows you who visited your profile, a scraping tool allows you to extract these users' contact details and reach out to them. And because they viewed your profile, you're getting leads ready for warm calling.
Generate targeted leads. With the LinkedIn platform, especially when using Sales Navigator, you can create lists of leads that meet your target criteria. Once this list is created, you can export their contact information in one go without looking at the profiles separately.
Create a lead database. Finally, as you extract contact information from LinkedIn with a LinkedIn scraping tool, you can compile a database of leads that could eventually turn into customers.

The Top 5 Best LinkedIn Scraping Tools

When you decide it's time to supercharge your lead gen strategy, you'll need a good LinkedIn scraping tool to help you! Fortunately, we've got just what the outbound specialist ordered.
1. The Best LinkedIn Scraping Tool in 2022: Findymail

Findymail (that's us !! 🙈) is a tool (and a Chrome extension) that allows you to get the email address from any LinkedIn profile or search for a specific email address using a person's name and website.
Findymail also uses a proprietary EmailDiscovery™️ algorithm that provides more accurate results, meaning you get fewer bounces and more of your emails land in your target lead's inbox.
When using Sales Navigator, you can export the email addresses of all your leads as a CSV file in one go!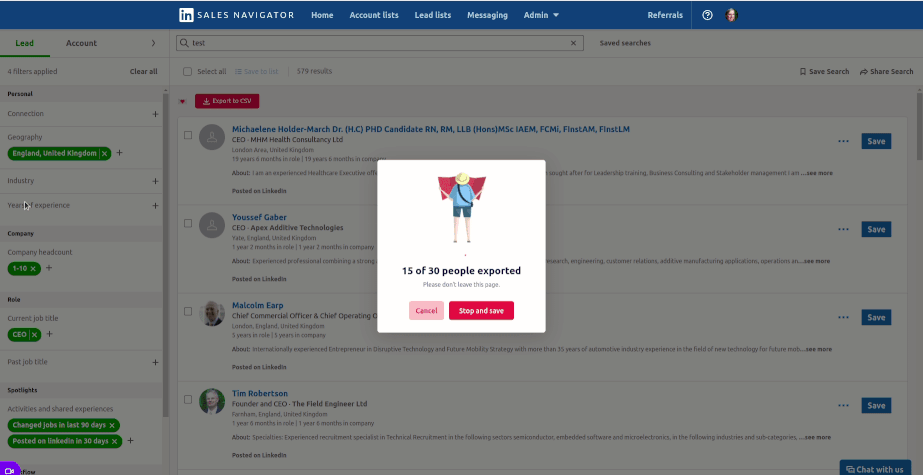 Once you have the email addresses, you can email the leads confidently, knowing they have been verified in real-time.
(As a bonus, Findymail also offers a free trial: start with 10 free emails to see if it's a fit for you!)
2. Snov.io

Snov.io is an all-in-one CRM with a focus on cold outreach. As such, it offers an email finder that can extract email addresses from LinkedIn. The tool, available as both a web application and Chrome extension, also provides additional prospecting features, including:
Bulk email searches
Email verification
Integrated mailing service
Mailing domain warmup
Finally, the tool also offers integrations with other platforms, including Sales Navigator.
3. Apollo.io

Apollo.io is a sales intelligence platform that provides tools that simplify prospecting for leads, connecting with them, and making more sales.
One of its features is a LinkedIn scraping tool that helps you extract email addresses and phone numbers from LinkedIn. You can also get a prospecting database if LinkedIn leads run dry.
As with the tools mentioned above, Apollo also offers email verification and is available as a web application and Chrome extension. In addition, the tool also allows you to push your leads' contact details directly to your CRM platform.
4. GetProspect

Available as a Chrome extension, GetProspect is an email scraping tool that provides you with leads':
Job descriptions
Companies
Email addresses
LinkedIn profile URLs
And more. It also features email verification, project management tools, bulk email import and export, and a contact database with 200 million contacts.
You'll be able to get email addresses without being limited by LinkedIn. When you use it as an extension and browse LinkedIn, GetProspect will control the number of your profile views, so you never exceed your limit.

5. LeadGibbon

LeadGibbon is a Chrome extension that allows you to extract email addresses from Sales Navigator and push them to your CRM platform.
Other features include email verification, bulk email search, and the ability to search for phone numbers.
In addition to its scraping capabilities, the LeadGibbon platform also offers an extensive, verified lead database that you can use to gather, and export leads with the click of a button.
Improve Your Lead Generation Efforts With a LinkedIn Scraping Tool

There is a way to bridge the quantity of leads with quality. All you need is a reliable LinkedIn scraping tool. If there's nothing you like more than catching leads out in the wild (read: on Sales Navigator), make sure you partner up with a tool that supports your efforts and ensures you're only mailing verified contacts.
If you're ready to double your lead gen success, sign up for Findymail today!
(We promise you: lead gen doesn't have to be complicated.)