LinkedIn is great for gathering leads and outreach. However, it does have some limitations for messaging, connection requests, and even searches.
If you want to scale your lead gen, you may need more than one LinkedIn account. But are you allowed to? And how would you manage multiple LinkedIn accounts?
It's time to find out!
Why Would You Want Multiple LinkedIn Accounts?
There are various reasons you might need multiple LinkedIn accounts, including:
LinkedIn limitations. Suppose you want to get even more connections to fill up your sales pipeline. LinkedIn sets your cap to a maximum of 30,000 connections. Similarly, there are limits to profile views, connection requests, messages, and posts.
Anonymity. One of the primary reasons why people want multiple LinkedIn accounts is anonymity. For example, LinkedIn can show someone you looked at their profile. Other cases where anonymity might be helpful are for employees looking for jobs (without their current employers finding out) or companies doing competitive research.
Are You Allowed to Have Multiple LinkedIn Accounts?
Can you use multiple LinkedIn accounts? The simple answer if you want to follow the rules is no.
To have two accounts, you'll need to provide false information in one of them to have two accounts. LinkedIn's terms and policies expressly prohibit this. You could be removed from the platform.
Can you manage a LinkedIn account on behalf of someone else?
In terms of LinkedIn's policies, you're also not technically allowed to do this. There also doesn't seem to be a clear-cut answer if you can do this with the person's express permission. Despite this, there seem to be cases where LinkedIn users manage accounts on behalf of and with other users' permission.
So, it is an option to have LinkedIn accounts for all your team members and manage them under one umbrella to gather more leads.
How to Manage Multiple LinkedIn Accounts Anyway
Now, if you choose to take the risk, there are a few ways to manage multiple LinkedIn accounts in 2023.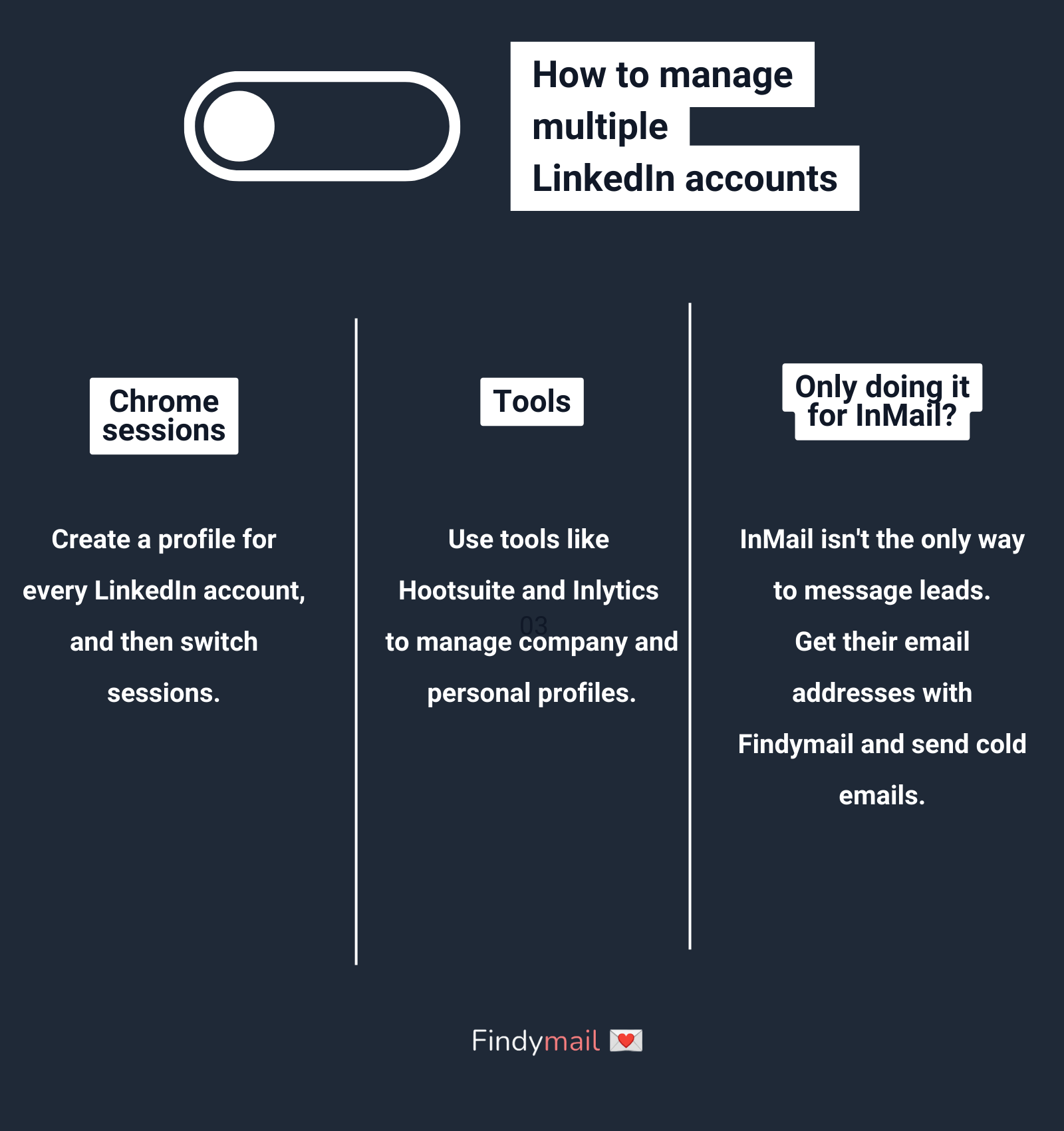 How to Manually Manage Multiple LinkedIn Accounts

The simplest way to manage multiple LinkedIn accounts is to do it manually. This means you'll log into the account, do what you need to, log out of the account, and rinse & repeat.
Understandably, this isn't the most efficient and effective way to do this and depending on the number of accounts you manage, it can take some time.
How to Manage Multiple LinkedIn Accounts with Chrome Sessions

An alternative that could be more efficient is by using Chrome Sessions. With this method, you'll create a Chrome profile for every LinkedIn account you need to manage:
Open Google Chrome
Find your icon in the top right corner
Navigate to the "Other Profiles" section in the card that opens
Click "Add new"
Then, switch between different Chrome profiles to avoid logging out of and into different LinkedIn accounts. Depending on the number of accounts, you can even open a Chrome browser window for every account you need to manage.
The big plus of that method is that it's completely free and works decently if you just have to post content or schedule posts on multiple accounts.
However, note that this method has some strong limitations. It will work well for a few accounts, but you still share the same IP address on all accounts. If you want to have more accounts and/or be extra safe, it's recommended to use a dedicated IP address for each account by using a proxy.
As you'll be using it on Linkedin, the proxy IP needs to be from a residential network and be 100% clean, otherwise it will do more harm than good.
No matter what option you use, it's far more efficient to manage multiple LinkedIn accounts in this way.
Managing LinkedIn Accounts with a Dedicated Tool

Finally, you can also use a dedicated tool to help you manage multiple LinkedIn accounts. Social media tools like Hootsuite should be able to help and dedicated Linkedin outreach tools like Expandi.
Technically, they'll function as your social media HQ, so that you don't need to connect to your Linkedin accounts manually anymore.
However, there are a few things you should be aware of when using tools to manage multiple LinkedIn accounts:
Log into the account from the same location the tool is using. This often requires that you use a VPN service or a proxy service, depending on where you and the account owner are located.
Avoid logging into the account simultaneously from different locations.
Some functionality may be limited, depending on the tool and their level of integration with LinkedIn.
Using those tools, you should be able to scale your Linkedin campaigns with multiple accounts. Remember that those automation tools are not really allowed on Linkedin and that those accounts may be restricted if Linkedin cracks down on such methods.
Setting limits
When doing automation, you always want to set limits so that your Linkedin does not get flagged.
This is even more true when managing multiple accounts. Since you're multiplying activities coming from the same source (eg. if you do not use proxies and share the same IP address between accounts) then you're increasing the risk of getting caught.
Simple maths: the more you're doing, the more risk you're taking.
That's why it's even more important to stay reasonable and put strong, safe limits on connection requests, messages and profile visits when you're doing it on multiple accounts rather than one.
Is There a Safer Alternative to Managing Multiple LinkedIn Accounts?

Considering that it's against LinkedIn's policies to have multiple accounts and that managing other peoples' accounts is risky, is there a safer alternative?
You could operate several different LinkedIn company pages by using multiple companies or brand pages. This is entirely within LinkedIn's rules and won't put your account at risk.
To do that, simply:
Click "For Business" at the top
Click on "Create a Company page"
Follow the creation flow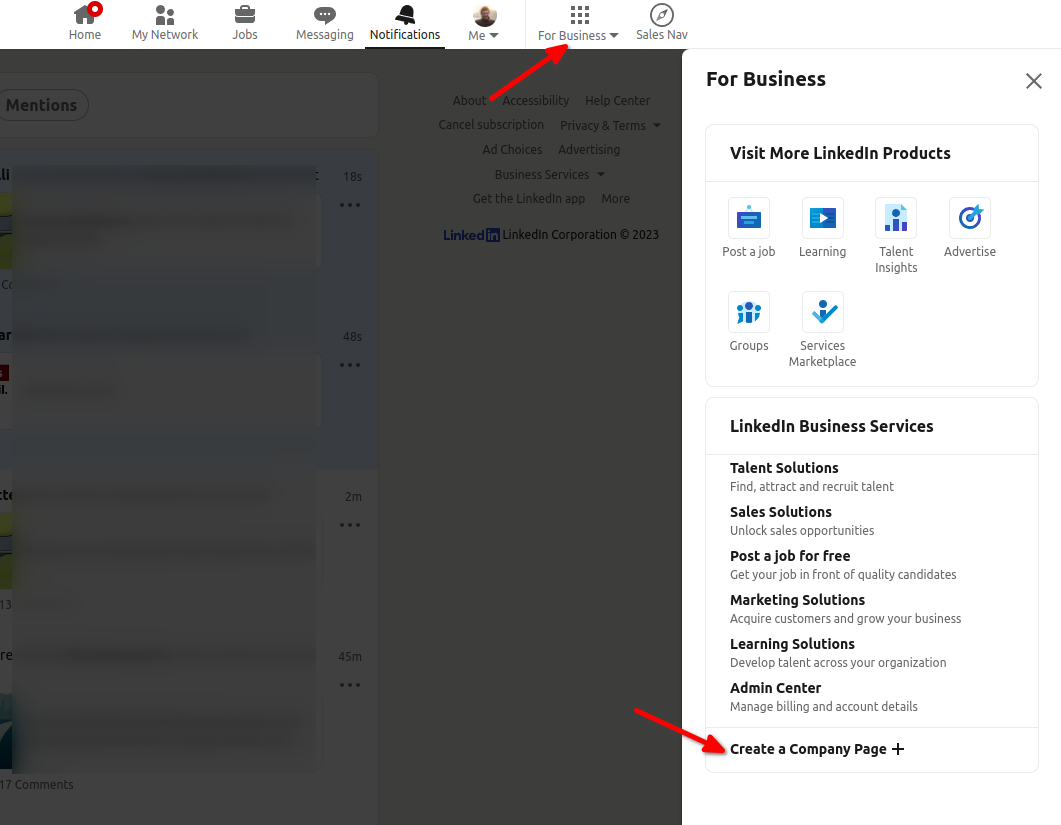 Unfortunately, people engage more with personal LinkedIn profiles than company pages. Using a company page for lead generation is more challenging to test and execute. You also won't be able to message other users, but it can be a safer alternative to multiple Linkedin accounts.
Do You Need Multiple LinkedIn Accounts to Avoid Messaging Limitations?
If your main goal is to scale your outreach and you're hitting the messaging cap every time, just combine LinkedIn + email + a LinkedIn scraping tool.
For example, you can export your Sales Navigator leads or navigate to a specific lead's profile.
Add them to your email outreach flow, and you'll be good to go!
Unlike managing multiple LinkedIn accounts, relying on LinkedIn to generate leads and using more powerful tools to find their contact information is okay. In fact, it's excellent, as you open up new opportunities and don't have to worry about limitations.
The Bottom Line: Managing Multiple LinkedIn Accounts Is Possible (but Risky)

If you want to increase your lead generation and outreach efforts on LinkedIn, having more than one account might be the solution you're looking for. Unfortunately, the practice is grey-hat at best, with LinkedIn forbidding you from creating profiles with incorrect information.
Thankfully, there are smarter alternatives to scaling your LinkedIn outreach with a bit of help from email and Findymail. Try the Findymail way today!