Twitter has become the go-to hub for brands, companies, creators, and just about everyone else looking to make their mark.
For sales reps, Twitter holds a world of opportunity. It's a trove for connecting with influencers, engaging potential B2B leads, and showcasing your expertise to a global audience.
But sometimes, sliding into DMs doesn't quite cut it when you want to make a lasting impression and get more personal. That's where Twitter email finders come into play!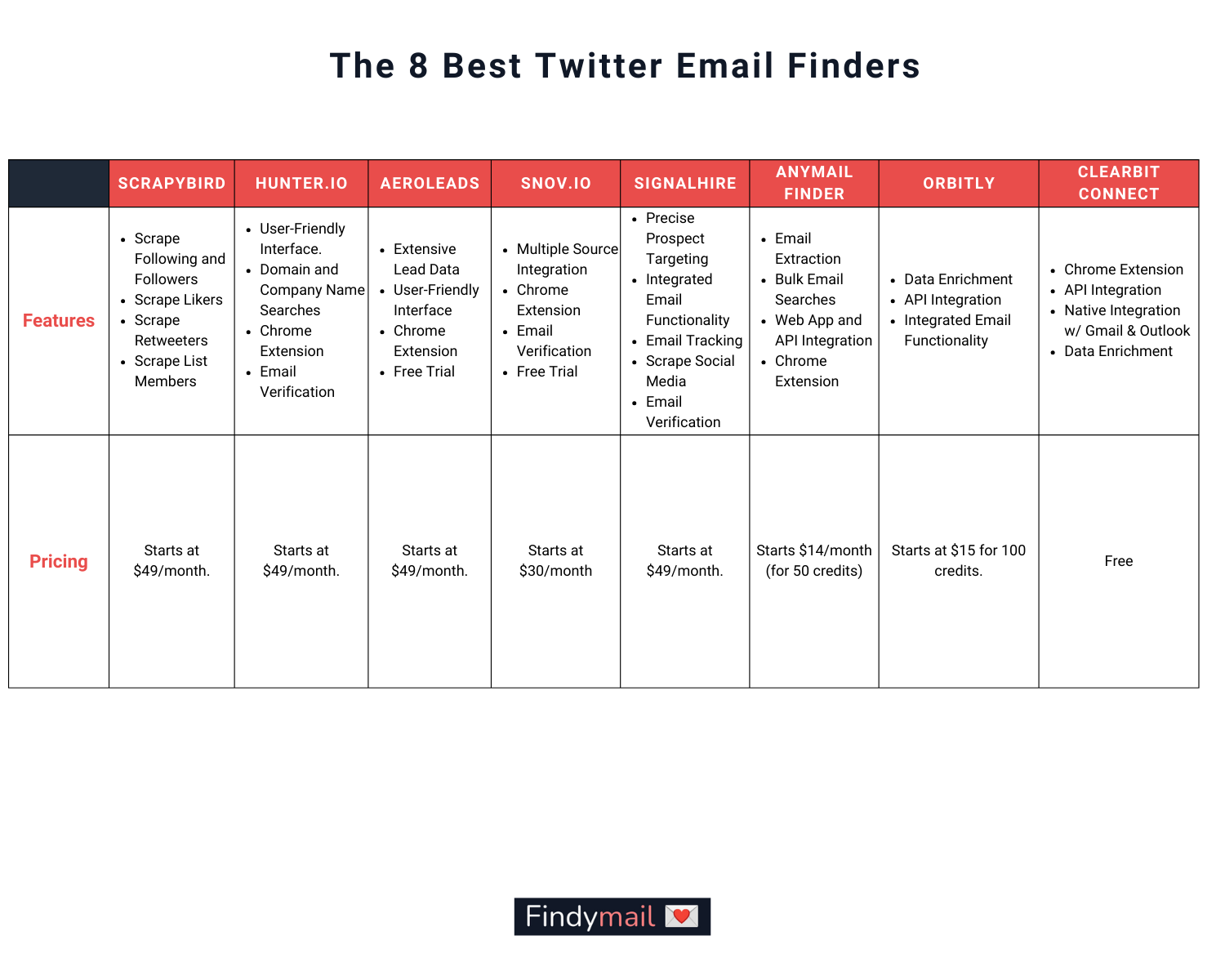 In this article, I'm going to walk you through the 8 best Twitter email finder tools to add to your outreach tech stack.
1) Scrapybird: The Best Twitter Email Finder
When it comes to Twitter email finders, I took it upon myself to create the ultimate solution: Scrapybird.
Yep, that's right, yours truly designed this game-changing tool that's here to revolutionize your lead generation efforts.
Scrapybird is not just any run-of-the-mill email scraper; it's designed to be the last Twitter email finder you'll ever need.
With Scrapybird, all you have to do is enter your target's Twitter account, and like magic, it swiftly exports all the business email addresses to an easy-to-use CSV format, complete with the accompanying Twitter metadata.
Here are some of the fantastic features that make Scrapybird soar above the competition:
Scrape Following and Followers
Scrape Likers
Scrape Retweeters
Scrape List Members
Scrapybird is a 100% cloud-based, automated solution. No need to worry about downloading and installing any software. Plus, it doesn't require an account or proxies.
Price: Starts at $49/month.
2) Hunter.io
While not specifically built for Twitter, Hunter.io is a versatile and popular email finder tool that deserves a spot on our list. It's easy to get started with.
However, it's not always accurate, but what's cool is that it gives you a score for each email, so you can better decide if it's a hit or not.
Here are some of the core features of Hunter.io:
User-Friendly Interface.
Domain and Company Name Searches
Email Verification
Hunter.io rates pretty well with customers, so if you're already a fan, you can use it to start digging up Twitter emails too.
Price: Starts at $49/month.
3) AeroLeads
AeroLeads takes advantage of web scraping technology to collect data from a variety of sources, including Twitter. So it's another good tool to have for lead gen and data enrichment.
Here are some of the key pros I like about it:
Extensive Lead Data
User-Friendly Interface
Chrome Extension
Free Trial
However, it can be a little iffy in its accuracy. But it can still be good if you're looking for a comprehensive tool.
Price: Starts at $49/month
4) Snov.io
You can also use Snov.io to extract Twitter email addresses as well. What I really like about Snov.io is that it seamlessly integrates with other tools like Hunter or ClearBit.
And it comes with an extension so you can get emails while you're browsing your Twitter feed and find someone interesting.
Key features include:
Multiple Source Integration
Chrome Extension
Free Trial
But similar to other entries besides Scrapybird, it's not specifically built for Twitter, so you're missing out on features like scraping followers or tweet likers.
Price: Starts at $30/month
5) SignalHire