So you want to write a cold email that actually converts, huh? Well, you know I got you! With years of experience in cold outreach, I won't tell you that there is This One Formula That Just Works - there's no such thing.
However, what I'm about to show you is a crash course in cold email, with all your questions answered (and plenty of templates to get you started). By the end of this article, you'll feel like a battle-tested cold outreach expert.
So grab a cup of coffee (this will be a big one – you may want to bookmark it), and let's dive in!
Wait, Does Cold Email Work?
Is spending time sending cold emails even worth your time? The short answer is: hell yeah.
Don't take my word for it; let's look at the numbers:
These are just a few stats, but the point is clear: email is still king. With a well-crafted cold email, you can connect with potential customers in a personal and effective way.
So, don't be discouraged by the thought of a cold email. Instead, embrace it as a powerful tool in your sales arsenal!
Best Practices: How to Write a Cold Email
Now it's time to learn the ins and outs of how to write a cold email that doesn't suck.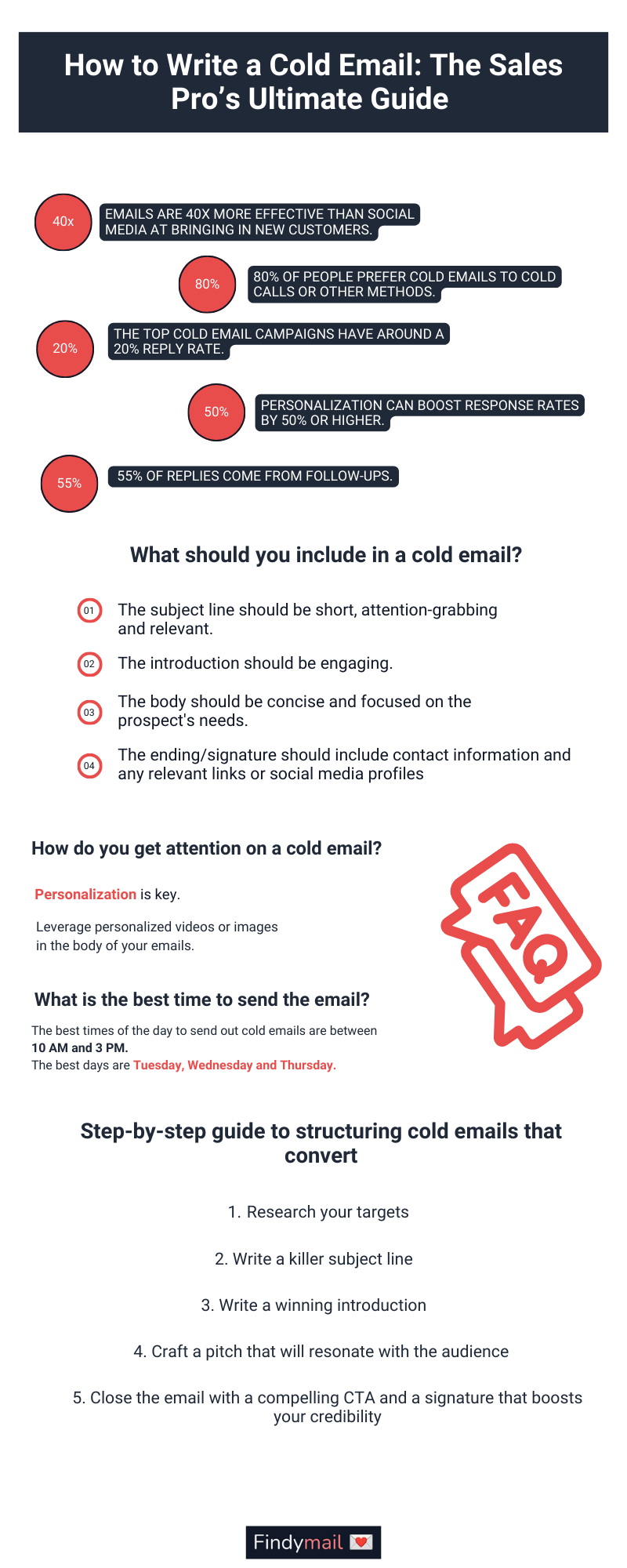 Trust me; I've written my fair share of cringe-worthy emails. So here are the tips I've picked up from my successes (and failures) so you don't make the same mistakes!
How Long Should a Cold Email Be?
According to data from Boomerang and my personal experience, a good cold email length is around 100 to 125 words– and no more than 200.
That's enough for around 2 to 5 well-crafted sentences. In fact, emails at this length had a whopping 51% response rate from over 40 million emails in the study.
Now, I know what you might be thinking: "But I have so much to say! I need to show them I'm the best in the biz!"
Hold up there, champ! It doesn't take a novel to get someone interested and hit the critical points of your offer. You want to clearly state who you are and your value proposition.
Don't be this guy. Source: SalesFolk
People have shorter attention spans and read most emails on their mobile devices. So, by keeping your cold email short and sweet, you show that you value their time and increase the likelihood that they'll actually read your message.
So, don't overthink it. Keep it concise and get to the point. Your prospects will thank you for it.
Remember, the goal of your first cold email is to initiate a conversation - not close the deal immediately!
What Should You Include in a Cold Email?
When it comes to crafting a killer cold email, I've broken it down into 5 core components that you should keep in mind:
The Subject Line: This is the first thing your prospect will see, so make it count! Your cold email subject line should be short, attention-grabbing, and relevant to the content of your email.
The Introduction: Your introduction sets the tone for the entire email. It should be engaging and explain why you're reaching out.
The Body: The body of your email is where you'll provide more detail about your value proposition, product, or service and how it can benefit your prospect. Keep it concise and focused on the prospect's needs.
The CTA: Your call-to-action (CTA) is what you want your prospect to do next. It should be clear, specific, and encourage them to take action.
The Ending/Signature (optional): Your email signature should include your contact information and any relevant links or social media profiles.
Yes, that was a really quick rundown but don't worry!
We'll dive deeper into each of these components when we get to the actual structure and writing of cold emails below.
What Mistakes Should You Avoid in Cold Email?
I'm a huge believer in learning from other people's mistakes. When it comes to writing cold emails, there are some common errors that you need to avoid at all costs– not only are they embarrassing, but they can cost you big bucks in the end.
Here are some I've either seen in the wild or (*gasp*) I've committed myself:
Emailing the Wrong Person: Always ensure you're emailing the right person. Avoid "spray-and-pray" methods and use a tool like Findymail to find key decision-makers and their verified email addresses.
Being Self-Centered: Don't make the email all about your offer. Instead, focus on how you can provide value to the recipient.
Being Too Sales-y: Don't make the email feel like a sales pitch. Keep it conversational and focused on building a relationship.
Using Poor Grammar and Spelling: Double-check for spelling and grammar mistakes before hitting "send." They make you look unprofessional, careless, and spammy.
Over-Explaining: Keep your message short and to the point. Avoid long-winded explanations that might bore the reader.